Here is a cute little Mini Milk Carton to fill with a small Christmas gift or some Christmas treats.  This is another quick project you can make when you remember someone needs a little surprise.  You can change the Card Stock Color and use the Every Little Bit, or Spooky Bingo Bits stamp sets or any 1″ to 1-1/2″ stamp to help decorate your Mini Milk Carton for any Occasion you need.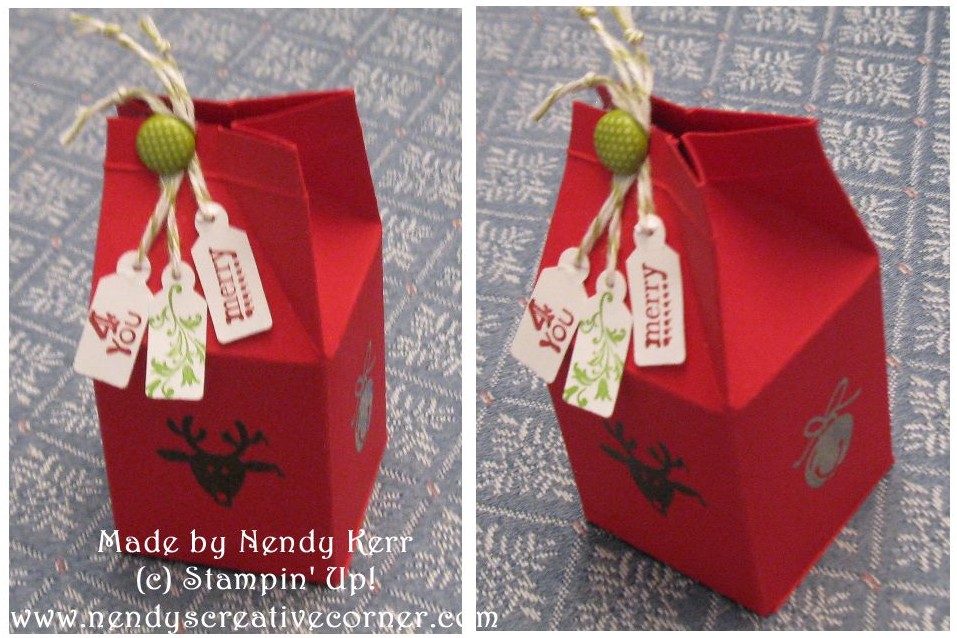 SUPPLIES:
Stamps:  Jolly Bingo Bits w#120857  c#121187
Tiny Tags  w#118091  c#118592
Big Shot:  Mini Milk Carton Bigz L Die #117310
Punch:  Jewelry Tag #117190
Card Stock:  Real Red
Whisper White
Ink:  Cherry Cobbler
Gumball Green
VersaMark
Embossing Powder:   Pewter #124114
Early Espresso #128980
Other:  Heat Tool #129053
Glue Dots
Sticky Strip
Lucky Limeade Baker's Twine #125572
Piercing Tool and Mat
In Color Printed Brads #122940
INSTRUCTIONS:
1.  Cut your Mini Milk Carton out with your Bigz die using a 501/2″ x 8-1/2″ piece of Real Red card stock.  I used a shim (piece of card stock) under the die and the crease pad on top of the die and card stock.
2.  Fold and crease all score lines except the diagonal ones.
3.  Decide which two stamps to use from the Jolly Bingo Bits stamp set.  I chose the reindeer and jingle bell.  Stamp one image in VersaMark ink alternating sections.  Sprinkle with embossing powder and pour excess back in jar.  Melt with Heat Tool on High.  Repeat stamping and embossing process with the other stamp.
4.  Put Sticky Strip on the side tab and three of the bottom tabs.  Flip over so the images are laying against your table and put Sticky Strip on the last bottom tab.  Remove backing from side tab and adhere to the side.  Remove backing from the first three bottom tabs and adhere together.  Remove backing from the last bottom tab and adhere it to the bottom of the Milk Carton.
5.  Stamp desired images and words from the Tiny Tags stamp set onto Whisper White card stock paying attention to the direction you want them to go when you are finished.  Punch out using the Jewelry Tag punch.   Use your Paper Piercing Tool and Mat and Pierce holes at the end of each little Tag.  Thread Baker's Twine through the holes and tie the ends together. Pierce a hole through two layers of the top of the Milk Carton.  Insert brad and wrap the Baker's Twine ends around the stem of the Brad.  Flatten out Brad tabs.  Put Sticky Strip over the Brad Tabs and stick the back section of the top portion together.  (I used Glue Dots and they didn't hold well, so I would recommend that you use Sticky Strip instead.)
6.  Fill with a little surprise or treats for someone special.
You can get all the supplies to make this cute Christmas Mini Milk Carton in My Online Store.
Happy Gifting!
Nendy