I made this Happy Birthday Shaker Card for my grandson's birthday. It is pretty easy to make though it takes a little time. Kiev made the original Shaker Card design. I have now made two. This is a fairly quick and easy card to make. I will also show a picture of the other Shaker Card I made.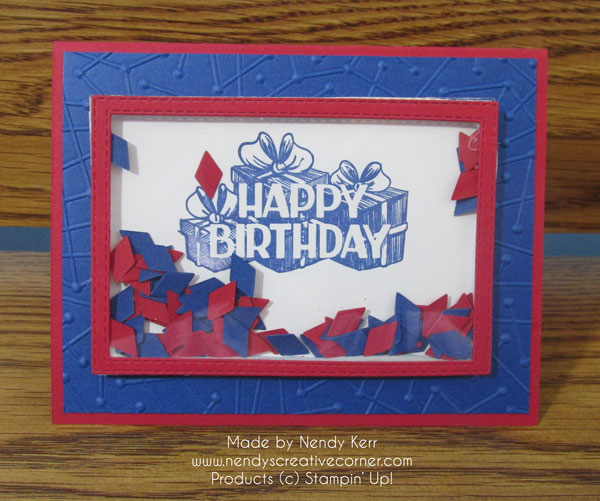 SUPPLIES:
Stamps: Big Wishes Rubber Wood-Mount #146422, Clear-Mount #146425
Ink: Blueberry Bushel
Cardstock: Whisper White
Real Red
Blueberry Bushel
Window Sheets #142314
Big Shot: Rectangle Stitched Framelits #148551
Maps etc Embossing Folder #146822
Eclectic Layers Thinlits #143774
Adhesives: Tombow Glue
Foam Adhesive Strips #141825
INSTRUCTIONS:
1. Cut your Real Red card base at 5-1/2″ x 8-1/2″. Score and fold at 4-1/4″.
2. Cut your Blueberry Bushel card front at 4″ x 5-1/4″. Run through your Big Shot with the Maps Embossing Folder. Glue to your card base.
3. Choose two Rectangle Stitched Framelits for your frame. With the Larger of the two cut:
~one Whisper White to stamp on
~one Window Sheet
4. With both Framelits and Real Red cardstock:
~Lay both Framelits on the Real Red cardstock on your Big Shot Platform. Make the red line between them even. Cut out. I did have to crank them back and forth several times to get them to cut all the way through. To check if they are properly cut pick up both cutting plates with the cardstock and Framelits still inside.
~Flip over so you can see the bottom. If it has cut through all the way, then you are finished. If it does not look like it has cut through properly, then run through the Big Shot again with this bottom side up. I still ran it through a couple of times

5. Put a really thin line of Tombow Glue on the back of your Real Red frame. Carefully attach it to your Window Sheet lining up the corners and edges. Gently press the Frame to the Window Sheet. Set aside to dry.
6. Stamp Happy Birthday in Blueberry Bushel ink on the Whisper White Rectangle. I stamped it towards the top.
7. Put the Foam Adhesive Strip around the edges of the stamped Whisper White Rectangle. Make sure they are exactly on the edge as the Foam Strip is the same width at the Frame you cut. Also, make sure there are NO gaps between the Foam Adhesive Strips ends. Rub your Embossing Buddy on the Whisper White cardstock and the inside edges of the Foam Adhesive Strip. This helps keep the Shaker parts from sticking to the edges of the Foam Adhesive strips and helps them shake well.
8. Use the Eclectic Layers Framelit with all the diamond shapes to cut out all your diamond shapes that will go inside your Shaker Card. I cut two each from Real Red and Blueberry Bushel cardstock. While I am cutting them out I keep them in a bowl. Put them on the Whisper White stamped cardstock inside the Foam Adhesive Strips. This amount filled up the inside too much so a took a couple of big pinches out.
9. Peel off the backing from the Foam Adhesive Strips. Gently line up the Frame corners and edges with the Whisper White corners and edges. Press down firmly so the two attach well. Use Tombow Glue to attach your Shaker Part to your card front. Put a large stamp block or medium weight book on top of the whole card. This will help the Shaker Part lay flat and give the Glue time to set. Leave at least 5 minutes.
10. Your Happy Birthday Shaker Card is finished. Have some fun shaking it!
Here is a picture of another Shaker Card I made. I used Melon Mambo ink and Cardstock. I used the Petal Promenade Designer Series Paper. I used sequins to shake. Make your OWN version.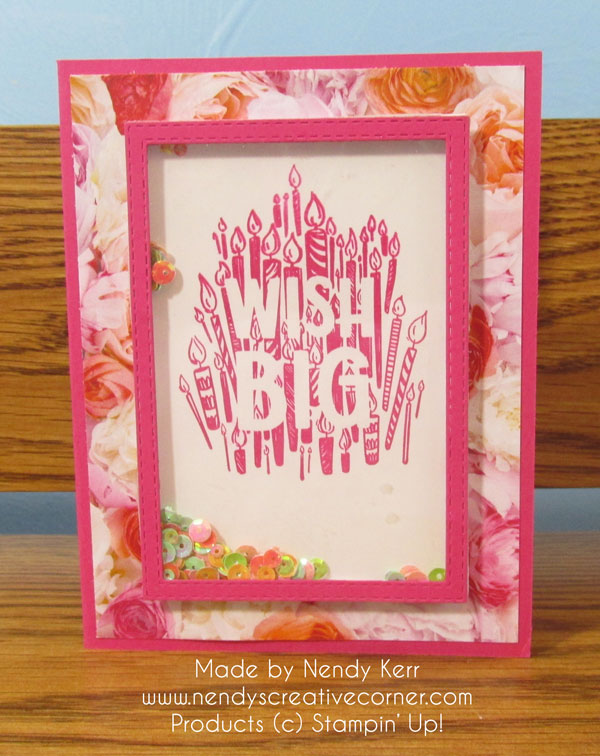 Get all the supplies to make your Shaker Cards from My Online Store.
Subscribe to My World-Wide Newsletter to see the original card made by Kiev plus THREE Exclusive Projects each month.