I made this card for my Daughter's and her DH's first Anniversary.  This card would also probably look nice White on White with just a little color on the Butterflies.  Give either one a try.  I generally use my family members' favorite colors when I make cards for them.
My DH and I are celebrating our Anniversary today.  I will show you the Anniversary Card I made for my DH later this week.  We are watching some movies this afternoon, going out to dinner and going to a Big Band Concert that also has singers and swing dancers.  It will be a fun day!  We will also be joining my Daughter and her husband for a play sometime this month.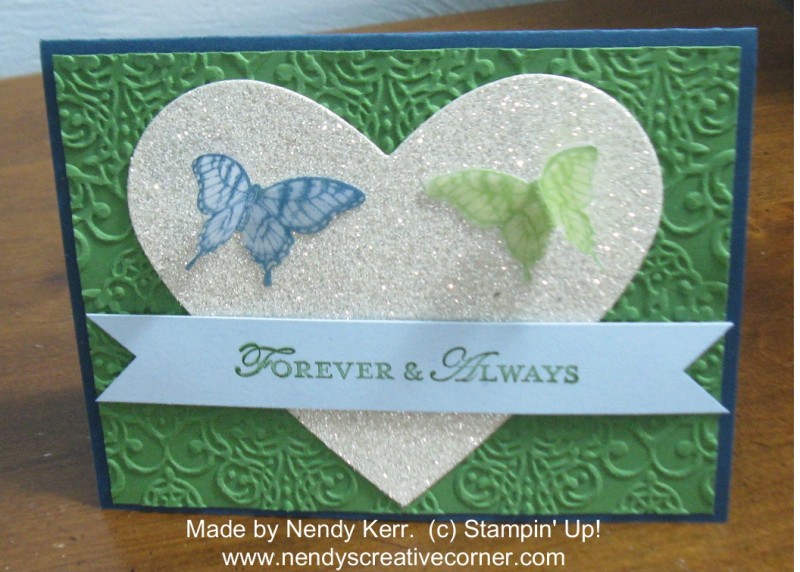 SUPPLIES:
Stamps:  Papillon Potpourri w#123757  c#123759
Loving Thoughts w#125843  c#125845
Ink:  Garden Green
Midnight Muse
Bashful Blue Marker
Certainly Celery Marker
Card Stock:  Midnight Muse
Gumball Green
Bashful Blue
Silver Glimmer Paper
White Vellum Card Stock
Big Shot:  Heart Collection Framelits #125599
Lacy Brocade embossing folder #127819
Punch:  Elegant Butterfly #127526
Other:  SNAIL Adhesive
Glue Dots
White Gel Pen #105021
INSTRUCTIONS:
1.  Cut yourMidnight Muse card base at 5-1/2″ x 8-1/2″.  Score and fold at 4-1/4″.
2.  Cut your Gumball Green card front at 4″ x 5-1/4″.  Run through your Big Shot with the Lacy Brocade embossing folder.  Adhere to card base.
3.  Cut the Silver Glimmer Paper with the desired Heart Framelit.  Adhere to card front with Dimensionals or SNAIL.
4.  Stamp 1 large Butterfly in Midnight Muse ink.  Stamp 1 more Butterfly in Garden Green ink.  Let air dry for a few minutes or use your Heat Tool if you aren't feeling very patient.  I wasn't patient and used my Heat Tool on High to dry my ink.
5.  Color the back side of your Midnight Muse Butterfly with your Bashful Blue Marker.  Color the back of your Garden Green Butterfly with your Certainly Celery Marker.  Now you can punch out your Butterflies.
6.  Cut strip of Bashful Blue card stock at 1/2″ OR 3/4″ x 5-1/2″ OR 6″.  The card has been mailed so I don't have the actual card to give you accurate measurements.  Sorry I didn't write them down.  Stamp your sentiment using Garden Green ink.  You can get the notches at the ends of the banner by either cutting the with scissors, using a square punch, or using the Hearts a Flutter Banner Framelit.  Adhere with Dimensionals.
7.  I wrote on the inside with a White Gel Pen.  Make sure and let the ink air dry or dry it with your Heat Tool.  I forgot on one of my Valentine's cards and my grandson keeps asking his mother to read that side of the card too.
8.  Admire your Anniversary Card and mail it off to the Happy Couple!
Happy Stamping!
Nendy