Last updated:  May 8, 2018
NEW Color Club starts June 1st.
$1 Trial for Creative Techniques

Welcome to The Creative Corner Virtual Classroom!
Here are the services I offer.  Earn Reward Points, Buy Tutorials and Video Classes, and Learn NEW Techniques.  I hope you will find many interesting and fun things to do!  I want you to be a Happy Customer!
(Note:  If you have problems with my PayPal Buttons just email me to order a class and any options you want and I will send you a PayPal Invoice.)
CREATIVE CORNER REWARD POINTS
Would you like to earn FREE Stampin' Up! merchandise?  Purchase your Stampin' Up! products from me (local or from My Online Store) and you will earn 1 Reward Point for every $25 of merchandise (before tax and shipping).  Redeem your points for one item in the Current Catalogs-stamps, inks, tools, embellishments, Big Shot accessories, MDS Content Discs, etc.  Hostess sets and digital downloads not included.
1.  Earn 20 Points and redeem your Points for any item valued at $20 or below.
2.  Earn 40 Points and redeem your Points for any item valued at $40 or below.
Tracking Sheet
~docx to save & edit on your computer
~pdf to print and write on
THE CREATIVE CORNER CLASSROOM

NEW COLOR CLUB
Starts June 1st!  Would you like all the NEW Color Markers, Ink Pads, Ink Refills, and Cardstock BUT cannot afford to get them all at once?  Just get 3-4 colors a month instead and have all the NEW Colors by December.  This Club will start June 1st and finish up in December.  Get more Details Here.
Would you like to learn TWO new Techniques each month?  This subscription service will include at least one videos for each technique.  Click HERE for more details and to subscribe.  NOW OFFERING A 7-day Trial for just $1!
Join THE CLUB!
Would you like a FREE Tutorial for ordering Stampin' Up! Products each month?  Then join THE CLUB!  There are two options available for those who purchase from me:
1.  Tutorial only.
2.  Tutorial only plus Card Kit.
There is also one other option available world-wide and for those who are Stampin' Up! Demonstrators or who have their own Stampin' Up! Demonstrator.
~Tutorial Only Subscription with no product purchase necessary.
Get all THE CLUB Details HERE.
Creative Corner Classes.
Buy the Classes through PayPal.
You will be sent to a registration page for the membership site.
Choose a username and password.
Use the same username and password if you subscribe to Creative Techniques or have purchased a class from me.

EMBOSSING PASTE CLASS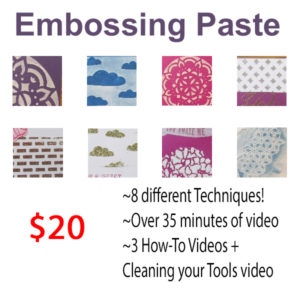 Buy the Embossing Paste Class Now!
Tutorials for Sale
Tutorials come in a PDF format for you to download and print out.
Please email me if you have any problems with the PayPal button or you don't get sent to the correct page right after payment.  These things should work automatically, but sometimes they don't.  I will send you a PayPal Invoice and/or the Page Link for the project you ordered.  Thank You!
Purse & Cards Tutorial  $15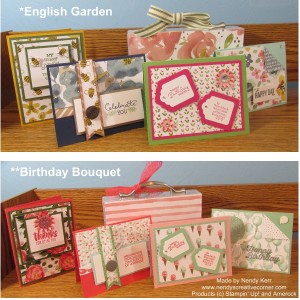 This 14 page Tutorial has detailed instructions to make the Purse and 4 different cards.  You can use ANY Patterned Papers and coordinating card stock to make your cards and decorate your Purse.  HERE are more Details.
Do You Want To Build a Snowman? Tutorial $15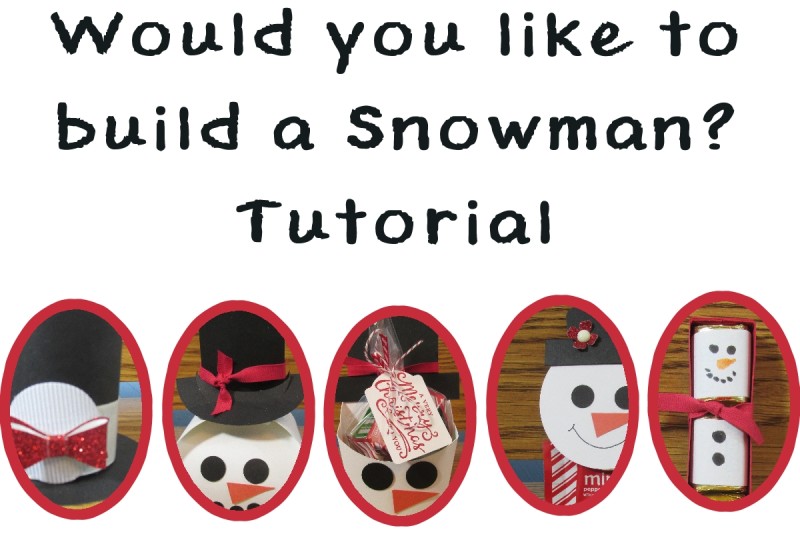 This Tutorial has instructions for 5 Snowman Projects that can hold candy or small gifts.  HERE are more Details.  OR purchase it here for $15.

Triple Flip Scrapbook Album  $10

The 5-3/4" square album holds fourteen 4" square pictures with two optional larger pictures on the front cover and inner cover.  There is a tag in the center of the album for another photo, journaling, or memorabilia.
This is a fairly easy album to make and takes about 1-1/2 to 2 hours to cut the papers and assemble the album.  Embellishing and adding the photos are not counted in this time.
Details:  This is a 26 page document with 28 full color pictures illustrating how to put together this fun album.  Also included are full color layout illustrations for both the Flirtatious and the Green Monochromatic Albums.  The instructions allow for any paper you choose.
Triple Flip Mini Scrapbook Album Tutorial $10
Kit Tutorials for Sale
Oh What Fun Tag Project Kit Instructions  $15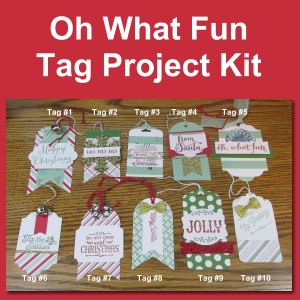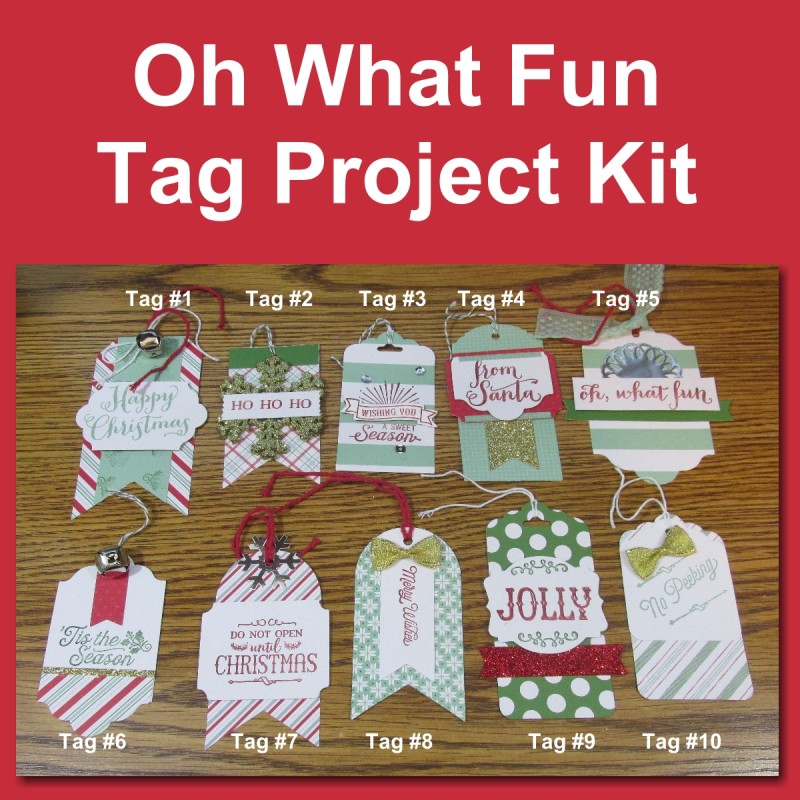 These PDF instructions include Full-Color photos and detailed written instructions to make all 10 Tag Designs included in the Kit.  There is one page of instructions for each tag.  (One tag has a second page with more photos to help you attach the Jingle Bell.)  HERE are more details on what is included in these instructions.
 Happy Stamping!
Nendy