I use my Stamp-a-ma-jig quite a bit to perfectly position my sentiments and Two-Step stamps.  It can seem tricky to use, but after trying it out a couple of times you will get results like a Pro!  Have fun using your Stamp-a-ma-jig to help you make this card.
On a personal note:  I seem to have too many irons in too many fires lately.  I may not be able to continue to do a video every week.   I will still try to do a couple of videos a week.  I know I am a visual learner and it is easier for me when I see something done.  I have been working at the Family History Center more (almost every week)-which is fun too and I have a more demanding calling in my Church.  As a result it has been harder to keep up with my home and family.  I will still continue to post projects at least 3 days a week and the My Digital Studio downloads on Tuesday.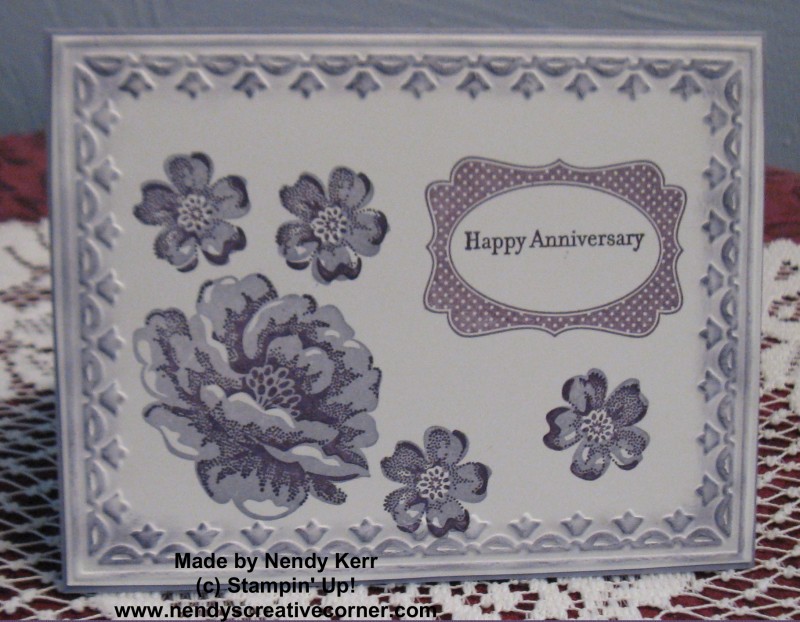 INSTRUCTIONS:
1.  Stamp images using your Stamp-a-ma-jig as shown in the video making sure to leave enough room around the edges for the Framed Tulips Embossing Folder.
2.  Use your Big Shot and the Framed Tulips Embossing Folder to make a frame around your stamped images
3.  Get your card base ready:  Wisteria Wonder card stock cut at 5-12″ x 8-1/2″.  Score and fold at 4-1/4″.  Put SNAIL around the edges of your card front.  Adhere your stamped and embossed card layer.
4.  Admire your perfectly stamped card!
Happy Stamp-a-ma-jigging!
Nendy