You can use Basic Heat Embossing to add some shine and texture to any card or paper crafting project.  Basic Heat Embossing is easy enough for beginning stampers.
This Video is 7 minutes 39 seconds long.

You do need to use some caution as you can burn yourself if you are not careful.  The tip of the Heat Tool gets hot.  The air coming from the Heat Tool is also hot.  So just be aware of the Heat and be careful.  You can hold your project with Craft Tweezers if your project is small.  Just a note:  I have NEVER burned myself with a Heat Tool.  But, let's not discuss Glue Guns around my fingers as I tend to get burned no matter how careful I am.
BASIC HEAT EMBOSSING SUPPLIES:
Embossing Buddy #103083
Embossing Powder
Heat Tool #129053
Printer Paper
Stamps of your choice:  I used Amazing Life Photopolymer #148750,  and Tropical Chic Wood-Mount #146750, Clear-Mount #146753
Ink:  VersaMark #102283
Classic Stampin' Ink
Whisper White Craft Ink #147277 also stays wet for a longer time
STEPS:
1.  Stamp: Rub your cardstock with your Embossing Buddy.  Stamp your image on your cardstock with either VersaMark ink, Classic Stampin' Ink, or Whisper White Craft ink.  Make sure your Classic Stampin' ink is moist enough so it will hold the Embossing Powder.  You might want to reink it before stamping so it will collect plenty of Embossing Powder.
2.  Apply Embossing Powder:  Put your Printer Paper under your cardstock.  Pour Embossing Powder over your stamped image.  Pour the excess back into the container.
3.  Melt Embossing Powder.  Turn your Heat Tool to the high setting and pick up your cardstock.  Swirl your Heat Tool over your Embossing Powder until the Embossing Powder turns shiny and all of it is melted.  Remember to keep the Heat Tool moving.  If you keep it in one place too long you can burn the cardstock.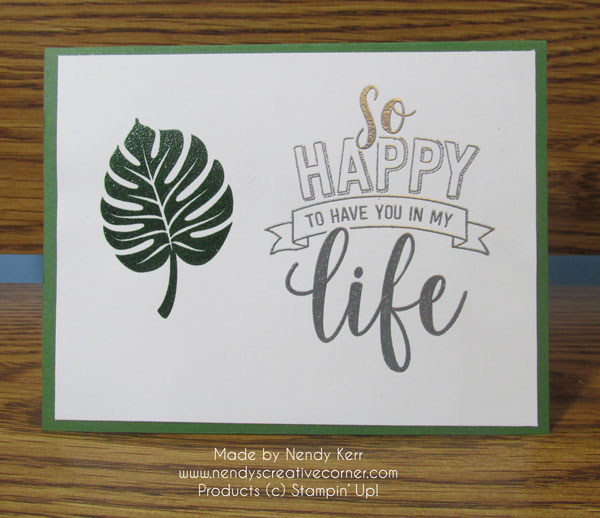 So give Heat Embossing a try.  Be Brave.  It is easy and fun and will impress your family and friends.
Interact with me on Facebook.  There are questions, quotes, projects, and other interesting things there almost every day.  The Challenge Thread is posted every Saturday.  You can add your project in the comments section to help inspire others.  All levels of stampers and paper crafters are welcome to participate.  Photos only please, not links.  See you there!