Here is my first sample using the NEW Blendabilites Markers!  They are easy to use and give great results.  Look for a video in June as I am not allowed to show you the actual Blendabilities Markers online until June 2nd.  The stamp set is also available starting June 2nd.  Blendabilities Markers come in 12 colors with a Light, Medium, and Dark Marker for each of the 12 colors.  The color is more intense than watercoloring and super-easy to do!  Choose your favorite color, order it June 2nd, then play with them!
Oops!  Sorry about not posting the picture earlier!  We have had roofers hammering for 3 days and it is hard to think with the constant hammering, talking, and loud music.  Here it is!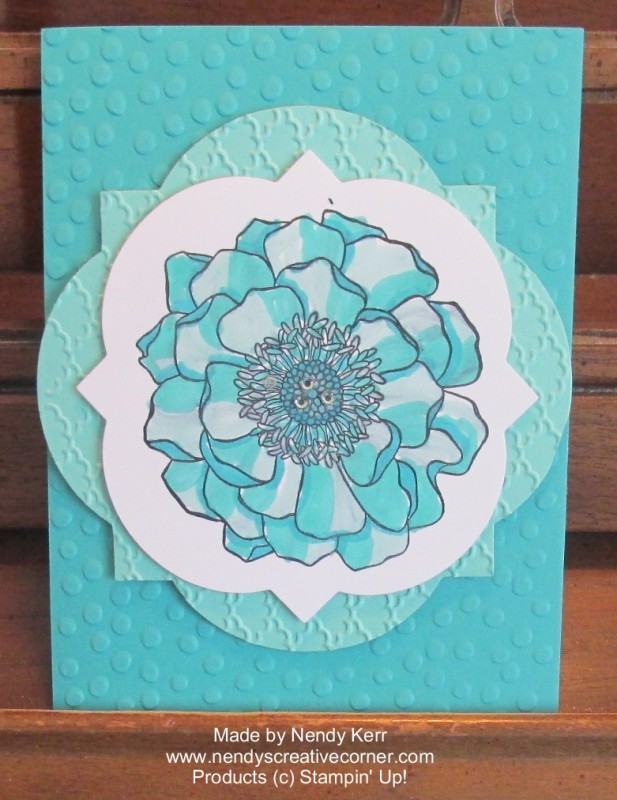 SUPPLIES:
* = Available starting June 2, 2014
Stamps:  *Blended Bloom  w#135906  clear not available
Ink:  StayzOn Jet Black #101406  (What I used)
Tuxedo Black Memento ink pad #132708 (Recommended for use with Blendabilities Markers)
*Coastal Cabana Blendabilities Markers #131000
Card Stock:  Whisper White
Coastal Cabana
Bermuda Bay
Big Shot:  Fancy Fan Embossing Folder #127751
*Decorative Dots Embossing Folder #133520  (carried over from Sale-a-bration)
Window Frames Framelits  #139021
Other:  Basic Rhinestones #119246
Dimensionals
SNAIL Adhesive
INSTRUCTIONS:
1.  Let's play with our Blendabilities Markers first.  There are three Markers in the set:  Light, Medium, and Dark.  Like the regular Stampin' Write Markers, there is both a fine tip and a brush tip.  The thicker line on the outside of the Marker is the brush tip which I used for all the coloring.  The thin line is for the fine tip which I used to outline the center circle.  It is recommended that you use Blendabilities Markers on Whisper White card stock because it is super smooth instead of slightly textured like some card stock.
1a.  Stamp your image in StayzOn Black or Memento Black ink.  Let dry for a few minutes so the ink won't smear.  Stampin' Up! recommends using Memento Black ink because it dries quickly and doesn't smear.  However, I forgot to order it, so I used my StayzOn Black ink pad and let it dry for a few minutes.  I didn't notice any smearing problems.
1b.  Look at your image and decide where you want the darker shaded parts to be.  Color those with your Dark Marker.  I used the Dark to color in all the curled petal parts and beside the petals where there would be shade.  I did color on the same side of all the petals.
1c.  Next use your Medium Marker to color the petals next to the Dark Marker coloring.  I colored about half of each petal.  I completely colored some of the smaller outside petals with the Medium Blendabilities Marker.
1d.  Now color in the rest of the petals with the Light Marker.
1e.  Now for the center.  I  colored the center "circle" of the flower dabbing little dots with each of the Markers.  I used the fine tip of the Dark Marker to outline this center circle.  I also used all three Markers to randomly color the thin, fine center petals.  And yes, there are little white parts left showing.  I like how it adds dimension when looking from a short distance.
1f.  Add some Basic Rhinestones to the center if desired.
2.  Cut your Bermuda Bay card base at 5-1/2″ x 8-1/2″.  Score and fold at 4-1/4″.  Watch this Video for more details on making Basic Card Bases.
3.  Cut a card front at 4-1/4″ x 5-1/2″.  Run through your Big Shot using the Decorative Dots Embossing Folder.  Attach to card base with SNAIL or Tombow Glue.
4.  Decide which size Window Frames Framelit you want to cut your colored flower out with.  Cut the next larger size from Coastal Cabana card stock.  Run the Coastal Cabana Window Frame through the Big Shot again using the Fancy Fan Embossing Folder.
5.  Layer the two Window Frames together with Dimensionals.  Attach to card front with Dimensionals.
6.  Admire your lovely card and appreciate the talent and skill you have to make such a beautiful card!
Happy Coloring!
Nendy Kerr