This card was made for my granddaughter's birthday.  Since she is just turning one year old, I made it Postcard style and enclosed it in a Clear Envelope so she can hold and play with it and not damage it too much.  You can make it into a regular card and use for any age.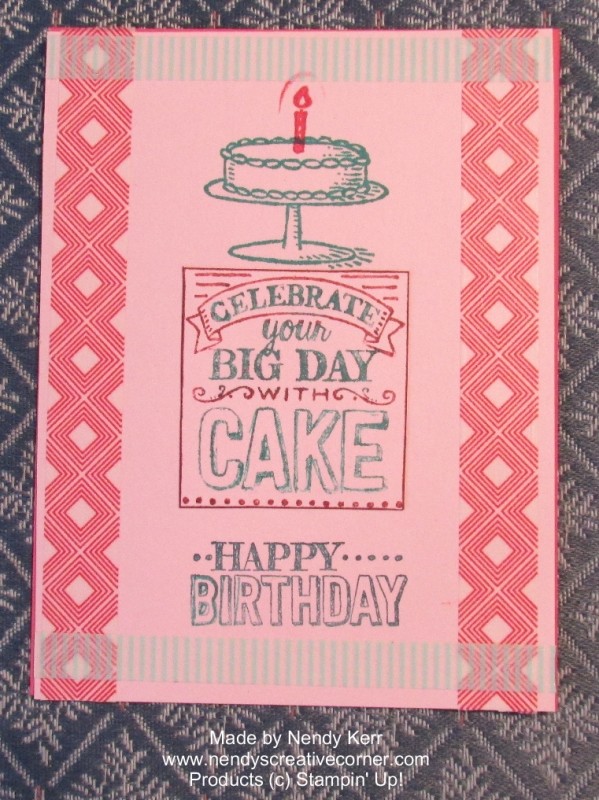 SUPPLIES:
Stamps:  Big Day (Sale-a-bration 2015) Wood# 139109  Clear# 139112  (FREE with $50 purchase before tax & Shipping)
Markers & ink Pads:  Bermuda Bay
Strawberry Slush
Card Stock:  Pink Pirouette
Strawberry Slush
Washi Tape:  Beach House #133689

INSTRUCTIONS:
1.  Cut Pink Pirouette Postcard Base at 4-1/4″ x 5-1/2″.  OR cut a regular card base at 5-1/2″ x 8-1/2″ then score and fold at 4-1/4″.
2.  Color the "Celebrate your BIG DAY with Cake" stamp using the Bermuda Bay and Strawberry Slush Markers.  Stamp just below the center.  I will be making a video on this technique soon.
3.  Stamp the "Happy Birthday" and the Cake with Bermuda Bay.  Stamp the Candle with Strawberry Slush.
4.  Add the Pink Strawberry Slush Washi Tape (although I think they say it is Real Red) to the sides of the card.  Then add the Coastal Cabana Washi Tape to the top and bottom edges.  Leave some of the card stock showing along all the outside edges.  Rub the Washi Tape firmly with a Bone Folder so it will stay stuck to the card.
5.  Add a quick Birthday note to the inside and give it to the Birthday Girl.
Happy Birthday Card Making!
Nendy Kerr