The new Fun Frames embossing folders make a great focal point for any card.  I used the Decorative Label shaped one on this card.  It is much larger than I thought.  I even used a couple of different techniques on this card.  Enjoy making one for yourself or a friend.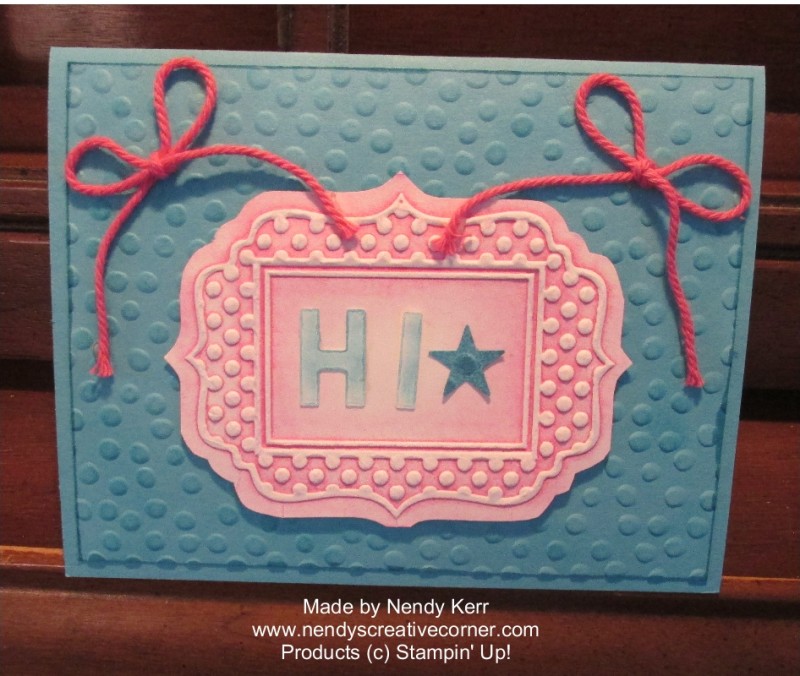 SUPPLIES:
Ink:  Melon Mambo
Tempting Turquoise
Card Stock:  Whisper White
Tempting Turquoise
Big Shot:  Fun Frames Embossing Folder  #133727
Decorative Dots Embossing Folder  #133520
Little Letters Thinlits  #133730
Punch:  Itty Bitty Accents Punch Pack #133787
Other:  Strawberry Slush Thick Baker's Twine  #135637
Stamping Sponge  #101610
Sponge Dauber
Paper Snips or Scissors
Glue Dots
Tombow Glue
Stampin' Dimensionals
INSTRUCTIONS:
1.  Cut your Tempting Turquoise card base at 5-1/2″ x 8-1/2″.  Score and fold at 4-1/4″.  Watch this video for detailed card base instructions.
2.  Cut your Tempting Turquoise card front at 4″ x 5-1/4″.  Run through your Big Shot using the Decorative Dots embossing folder.  Use a Sponge Dauber (or Stamping Sponge) inked with Tempting Turquoise to lightly color the raised dots.  You can darken the edge with either the Sponge Dauber or just run the edge against your ink pad.  Watch this video for more instructions.
3.  Ink your Sponge with Melon Mambo ink and sponge the inside of your Fun Frames embossing folder (the part with the Sizzix and Stampin' Up! logos).  Carefully place your Whisper White card stock inside the Embossing Folder, being careful to not move the card stock.  Now Run through your Big Shot.  Take out your Frame and see how nicely all the details show up.  Cut the frame out leaving about 1/8″ to 1/4″ border around the Frame.  Attach to your card front with Dimensionals.  Clean your embossing folder by running under water or use Stampin' Mist and a tissue or paper towel.
4.  Cut your Little Letters "H" and "I" out of Whisper White card stock.  Lightly sponge with Tempting Turquoise ink before removing them from the dies.  Just use a stylus or toothpick to help remove them by pushing through the little circles.  Attach the letters inside your Frame with Tombow Glue.  I punched out the star from my first version of sponged Tempting Turquoise card stock that was embossed with the Decorative Dots embossing folder.  Attach with a Glue Dot or Tombow Glue.
5.  Tie two bows with the Strawberry Slush Thick Baker's Twine.  Trim ends the desired length either now or after they are attached to the card.  Place a Glue Dot behind the knot and adhere it into the desired position.  Repeat with the other bow.  To adhere the ends of the bow, use your Paper Piercing Tool to scrunch up a Glue Dot so it forms a thin line.  Now attach the end of the Baker's Twine to the Glue Dot and position as desired.  Repeat with the rest of the ends.
6.  Admire your Fun Frame card before giving it away.  If you would like you can emboss the envelope flap.  Watch this video for instructions.
Happy Card Making!
Nendy Kerr