Today I am Celebrating Independence Day with a Patriotic Card.  I live in the United States of America and today we celebrate freedom and liberty.  My town has a wonderful display of fireworks which we go see.  I have a wonderful time with my family.  So here is a card to help celebrate the Red, White, and Blue of our flag.  Celebrate the country where you live and all the good things about living there.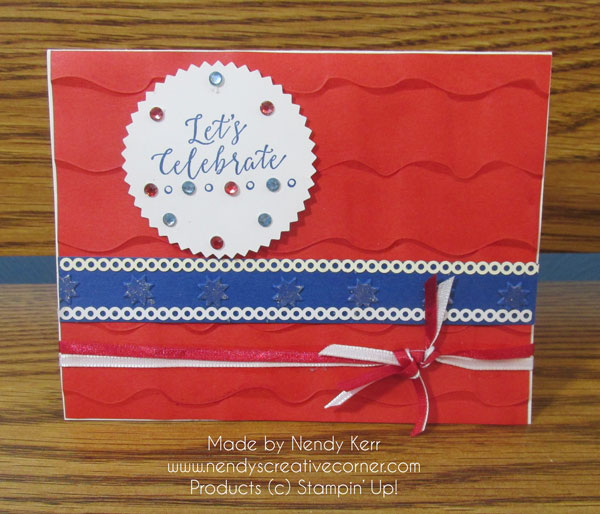 SUPPLIES:
Stamps:  Detailed with Love    Wood-Mount #146603,  Clear-Mount #146606
Ink:  Blueberry Bushel
Clear Wink of Stella Glitter Pen #141897
Cardstock:  Whisper White
Blueberry Bushel
Delightfully Detailed Laser-Cut Specialty Paper #146907
Big Shot:  Ruffled Dynamic Embossing Folder #143699
Oh My Stars Embossing Folder #143710
Punch:  Starburst #143717
Embellishments:  Real Red 1/8″ Solid Ribbon #144631
Whisper White 1/8″ Sheer Ribbon #144172
Rhinestone Basic Jewels #144220
Red Sharpie Marker (Not Stampin' Up!)
Blue Metallic Sharpie Marker (Not Stampin' Up!)
Tools:  Stampin' Spritzer #126185
Adhesives:  Tombow Glue
Stampin' Dimensionals
SNAIL
Silicone Craft Sheet
INSTRUCTIONS:
1.  Cut your Whisper White card base at 5-1/2″ x 8-1/2″.  Score and fold at 4-1/4″.
2.  Cut your Poppy Parade card front at 4-1/4″ x 5-1/2″.  Lightly spritz both sides with Water using your Stampin' Spritzer.  Place in the Ruffled Dynamic Embossing Folder.  Place directly on your Big Shot Platform (Thin Die Adapter Removed) OR Multipurpose Platform with one or two Tabs open,  with a Cutting Pad on top.  (NO Bottom Cutting Pad used for Dynamic Embossing Folders!)  Remove cardstock and let dry.  Notice the detailed Ruffles!
3.  Cut a 3/4″ x 5-1/2″ strip of Blueberry Bushel cardstock.  Run through your Big Shot with the Oh My Stars embossing folder.  Use both Cutting Pads this time.
~Color embossed Stars with Wink of Stella Pen to add some shimmer.
~Attach the Circle Strips from the Laser-Cut Paper to the top and bottom edges of your Blueberry Bushel strip using SNAIL or Tombow Glue.  I was lazy.  Lay your Circle Strip on your Silicone Craft Sheet.  Run SNAIL over the back.  Attach to Blueberry Bushel Strip.  Repeat with the second Circle Strip.  Trim excess from edges.
4.  Stamp Let's Celebrate in Blueberry Bushel ink on Whisper White cardstock.  Punch out with Starburst Punch.
~Color 5 Rhinestones with your Red Sharpie and 5 Rhinestones with your Blue Sharpie.  (I only had a Blue Metallic Sharpie.)  Place on Punch as shown.  Add Stampin' Dimensionals to the back.
5.  Put it all together.
~Glue your Ruffled Poppy Parade cardstock to your card base.
~Attach your Starburst Punch with the Stampin' Dimensionals.
~Glue your Blueberry Bushel strip to card front about 1-1/8″ from the bottom between ruffles.
~Put SNAIL about 1/4″ below your Blueberry Bushel strip.  Attach the Red Ribbon closer to the Blueberry Bushel strip and the White Ribbon just below the Red.  Hold both ribbons together while you tie a knot.  Cut about 6″ of each ribbon.  Hold them together and tie in a knot over the first knot.
Your card is finished.
Have fun celebrating with some NEW Toys (I mean Crafting Supplies) from My Online Store.