This Birthday Card uses the Rose Wonder Bundle:  stamp set and Thinlits, plus the Fun Frames embossing Folder.  Have fun making one of your own.  Choose your colors and have some fun!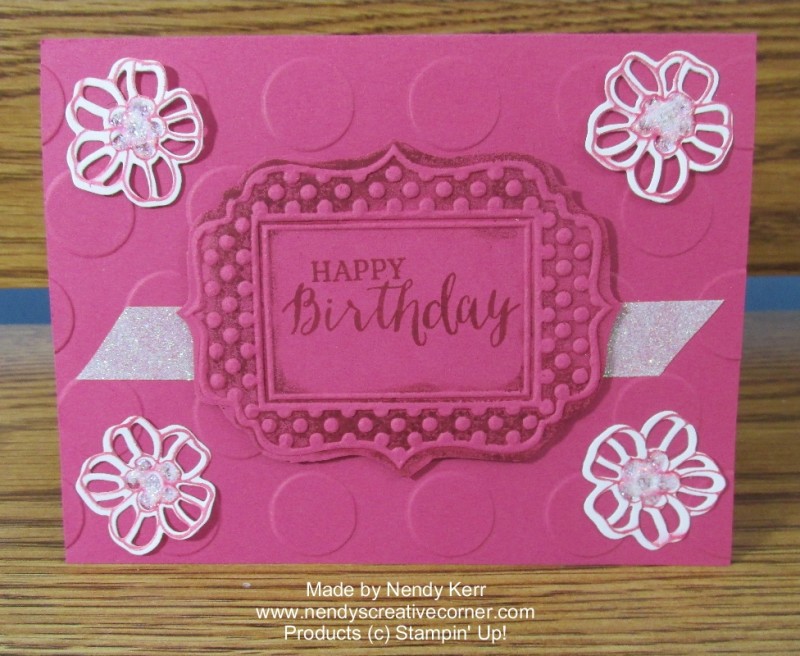 SUPPLIES:
Rose Wonder Photopolymer Bundle #140804
Ink:  Rose Wonder
Cherry Cobbler
Card Stock:  Rose Red
Whisper White
Big Shot:  Rose Garden Thinlits (See Bundle above)
Fun Frames embossing folders #133727
Polka Dots embossing folder #133739
Embellishments:  Glitter Tape #141020  (Sale-a-bration product FREE with $50 purchase available until March 31, 2016)
Dazzling Details #124117
Adhesives:  Glue Dots
Stampin' Dimensionals
Other:  Paper Snips or scissors to cut out the Fun Frame
Baby Wipe or wet paper towel to remove some of the ink from embossing folder
INSTRUCTIONS:
1.  Cut your Rose Red card base at 5-1/2″ x 8-1/2″.  Score and fold at 4-1/4″.  Put your card front inside the Polka Dot embossing folder folding the card back under the embossing folder.  Run through your Big Shot.
2.  Stamp your four Flowers with Rose Red ink using the Rose Wonder Flower that coordinates with the Thinlit.  I did use the Precision Base Plate with my Big Shot to cut these flowers out.  Cut all four flowers out using your Big Shot and the coordinating Thinlit.
3.  Choose the words you want on your card, then choose the Fun Frame embossing folder that your words fit in.  Stamp your words in Cherry Cobbler ink on Rose Red card stock making sure you have enough room for your Fun Frame.  You can see my choices.  Feel on the inside of your embossing folder for the side where the images sink down to leave indents (not being raised above the plastic).  Take your Cherry Cobbler ink pad and run it over your embossing folder on the side where the images sink down.  Make sure all the flat parts which include the dots and the inner frame lines and outer frame lines are covered with ink.  If you are like me, you will have ink covering most of the inside of the Frame where you want to stamp your image.  Take a baby wipe or wet paper towel or tissue and wipe away the ink from places you don't want it.  Remoisten the ink on the embossing folder by opening your mouth wide and breathing on it.  Now insert your Rose Red card stock into the embossing folder so the stamped words are positioned in the Fun Frame where you want them and run through your Big Shot.  Run your embossing folder under running water to clean.  Cut out your Fun Frame using Paper Snips or scissors.
4.  Lay out your Flowers and Frame.  Decide where your Glitter Tape will go remembering that Stampin' Dimensionals do not stick to the Glitter Tape.  Attach your Glitter Tape to your card front.  Attach your Flowers with 2 Glue Dots under the center small circles.  Attach your Fun Frame with Stampin' Dimensionals.  Put dots of Dazzling Details on each of the flower center circles.  Set aside to dry.
5.  You can use the Flower stamp to decorate your envelope OR you can emboss the envelope flap.  Watch this Video to learn how to emboss the envelope flap.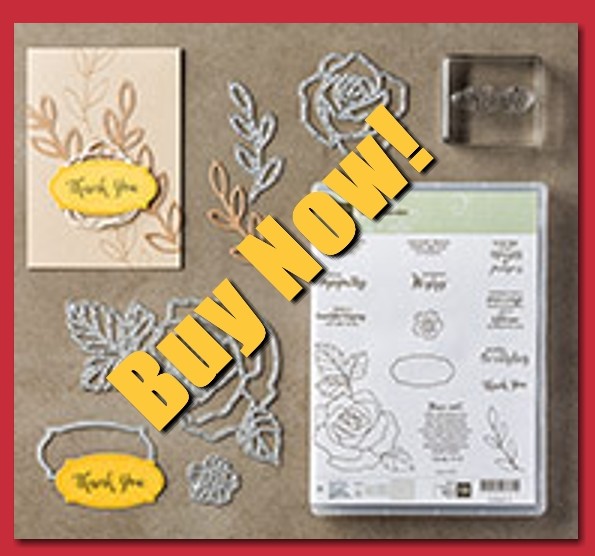 Happy Card Making!
Nendy Kerr