I made this before I figured out what it could hold.  I am told it can hold a gift card.  But I tried chocolate – it holds 2 Ghiradelli chocolates!  Apparently I have been in a Garden Green mood this week!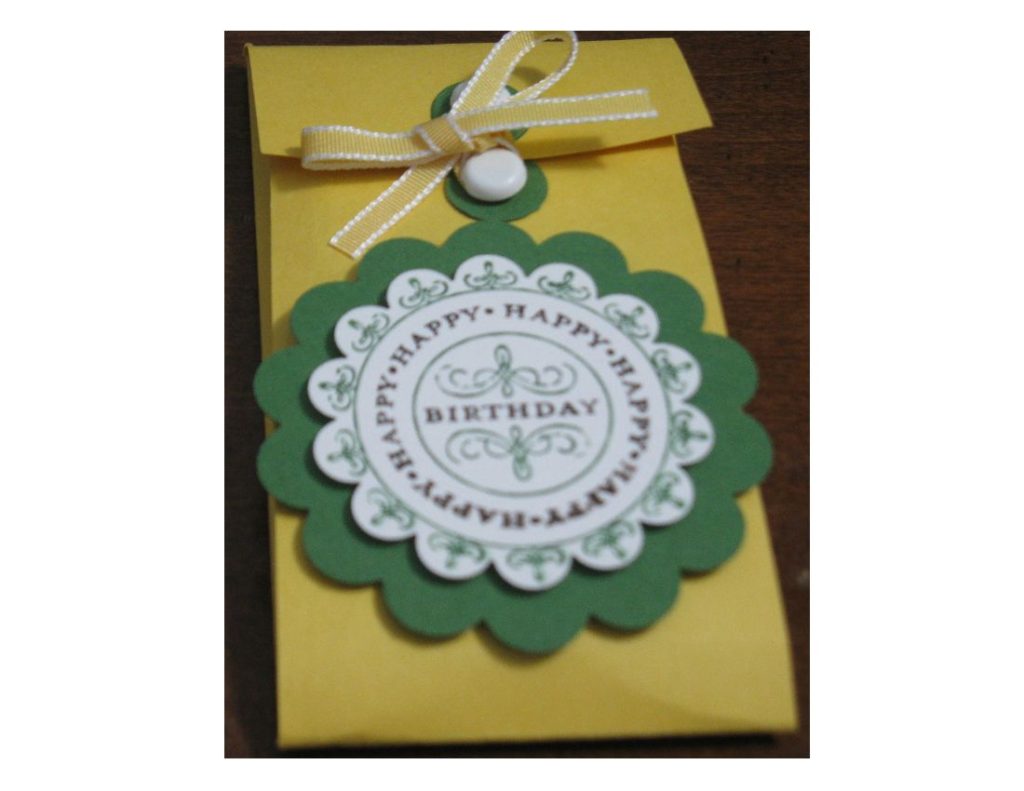 SUPPLIES:
Stamps:  Happiest Birthday Wishes  (Hostess) page 10  w#122615  c#122617
Card Stock:  Daffodil Delight
Garden Green
Whisper White
Markers:  Garden Green
Chocolate Chip
Big Shot:  Petite Pocket Bigz XL die  page 221  #123131
Punches:  2-3/8″ Scallop Circle punch  page 210  #118874
1-3/4″ Scallop Circle punch  page 210  #119854
Ribbon:  1/8″ Daffodil Delight Taffeta Ribbon  page 195  #119254
Brads:  5/16″ Jumbo Brads-Neutrals  page 199 #112534
Tools:  Mat pack  page 207  #105826
Paper Piercing Tool  page 207  #116631
Adhesive:  I used Sticky Strip, but would recommend Tombow Multipurpose Liquid Glue  page 206  #110755
Dimensionals
Directions:
1.  Cut Daffodil Delight card stock 3-1/2″ x 11″ and place over Pocket portion of die.  Use scrap of Garden Green card stock 1″ x 2″ and place over circles on die. Run through Big Shot.
2.  Punch 2-3/8″ Scallop Circle in Garden Green card stock.
3.  Use Garden Green and Chocolate Chip markers to color stamp.  Remoisten by breathing on it with your mouth open.  Stamp on Whisper White card stock.  Hold your 1-3/4″ Scallop Circle punch upside down.  Center stamped image and punch.  Attach to Garden Green Scallop Circle using Dimensionals.
4.  Assemble Petite Pocket.  Run Tombow Glue along edges of tabs.  Put 2 Ghiradelli chocolates on the back part of the Pocket.  Fold the front over and insert the tabs under the front.  Hold for several seconds until the glue sets.  Remove the top chocolate.  Figure out where you want the Garden Green circles you die cut.  Using the mat pack and Piercing Tool, poke holes for the brads.  Insert brads.  Flatten out brad stems making sure that you leave room for the ribbon to go between the brad and the Garden Green circles.
5.  Insert chocolate back into Pocket.  Cut ribbon 8-10″ long.  Center it and tie a knot around brad on the Pocket flap.  To close Pocket, wrap both sides of ribbon around brad on Pocket Front and then tie in a bow.
6.  Admire your cute little gift Pocket before you give it to the Birthday girl or boy!