This fun Bat is made using the Petal Cone die for the Bat body and the Perfect Pennants die for the Bat wings and Bat fangs.  It is a fairly quick project to make.  Make some Bats for your friends and the children in your life!  My grandson made one (with some help since he is just 4).  He enjoyed doing all the Big Shot work and punching.  I did the gluing and taping.  He did add a nose, ears and feet to his.  I should have taken a picture to show you.  I saw this on Heather Summer's blog last year but there are no instructions.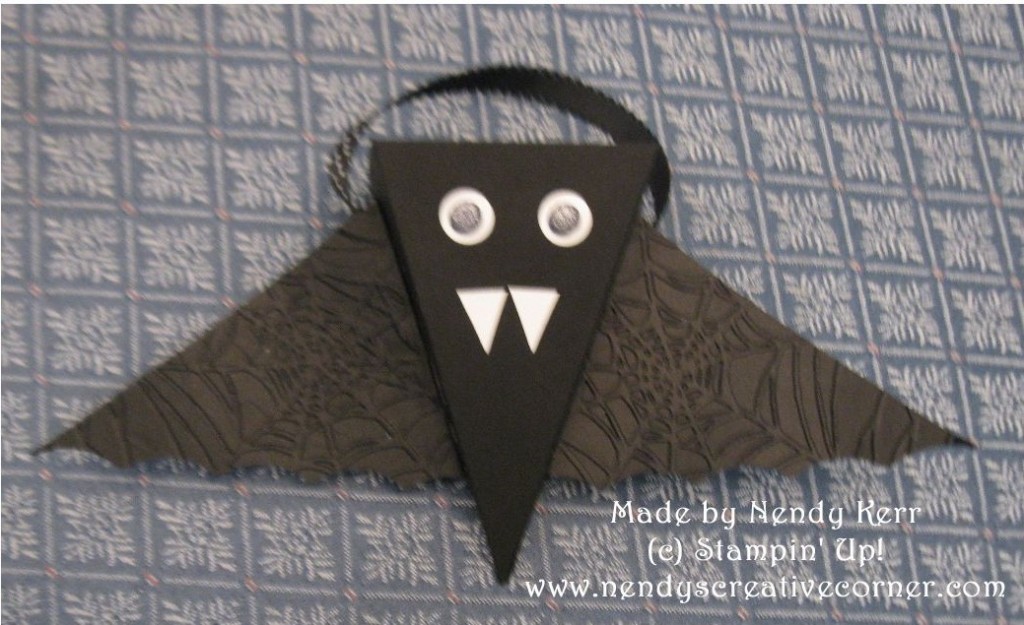 SUPPLIES:
Stamps:  only if you want a tag or something
Ink:  same as above 🙂
Card Stock:  1 sheet Basic Black
Whisper White scraps
Big Shot:  Petal Cone Bigz L Die #121810
Perfect Pennants Bigz L Die #123126
Large Scallop Edgelit #127019
Spider Web Folder #120889
Punches:  1/2″ Circle #119869
Petite Pennants Builder #122361
Other:  3/8″ Glimmer Brads of your choice  (I used Basics #121003, my class members chose Brights #121006)
SNAIL
Sticky Strip
Tombow Multipurpose Liquid Glue
Paper Piercer
Crop-o-dile or hole punch
18″ Ribbon-I used Basic Black 1/2″ Scallop Dots Ribbon #124145
DIRECTIONS:
1.  Cut your Basic Black card stock into two 5-1/2″ x 8-1/2″ pieces.  Now trim each piece into a 5-1/2″ x 5″ piece.  Save the extras for the wings.
2.  Cut the 5″ x 5-1/2″ pieces with the Petal Cone die.  You will be trimming off the half circles at the top.  Cut one sheet at a time with your Big Shot (because there are Score Lines).  Trim off the half circle parts with scissors.
3.  Cut the narrower pieces (you can do these at the same time-no score lines)-use the largest triangle shape.  These will become your wings.  Now use the Large Scallop Edgelit to shape the lower parts of your wings.  (Run it forward and then back again if you want to cut both wings at the same time.)
4.  Lay your wings out so the "shoulder" part of the wings is touching in the middle <| |> and the scallop part is lined up at the bottom.  Keeping the top side up, place the wing inside the Spider Web embossing folder.  Run through your Big Shot.  Now keep your embossing folder in the same position and take the other wing with the top side up and place inside the embossing folder.  Run through your Big Shot.  Your wings should be just right.  (If not, do as I did and run one through the embossing folder again.)  Score the "shoulders" at 1/4″.
5.  You are now ready to start assembling your Bat.
6.  Put Sticky Strip on both Petal Cone tabs.  Remove red lining from ONE Sticky Strip and adhere.  You will assemble your Bat while it is flat.  (Believe me-it is SO much easier!)  Choose which side you will have your Bat's face on.  This will be the "Front".
7.  Punch two 1/2″ Whisper White circles for eyes.   Adhere to front.  You can punch two fangs out with the Pennant Builder punch OR Cut a 2″ square of Whisper White, fold it in half, and cut it out with the small triangle on the Perfect Pennant Die.  Glue onto front under eyes.  Poke a hole with the Paper Piercing Tool in the center of each eye.  Put in brads for eye balls. (Check your brad tabs to make sure they separate.  If they don't, I usually put my old piercing tool at the base-next to the circle part-and run it up through the center to divide the tabs.)
8.  Take your "wings" and put Sticky Strip on the 1/4″ score line you made.  (Note:  Flatten out embossing first with your Bone Folder so the Sticky Strip will adhere better.)  Attach one wing to each side panel (panels next to face) with the tab facing away from the face panel and embossed side facing front.  I just centered them.  Take your Crop-o-dile or hole punch and punch a hole on the top portion of each wing tab.  Tie a knot in one end of your Ribbon.  Thread the unknotted end through the hole from the inside of one hole and through the outside of the other hole.  Tie a knot in the end you used to thread through the holes.  (I find it easier to trim a point on the end I will be threading through the holes.)
9.  Take the Sticky Strip liner off the last tab on your Petal Cone and adhere Bat together.  You are finished!  You can put treats in your Bat if you would like.  My grandson put a Hot Wheels car in.  Be creative if you want!
You can purchase all the supplies to make this Bat at My Online Store.
Happy Stamping….. er, Halloween Crafting!
Nendy