I received a swap of a cute Witch's Boot card like this at Convention.  As usual, I changed the color scheme and added some Rhinestones for Bling.  I did keep the same layout.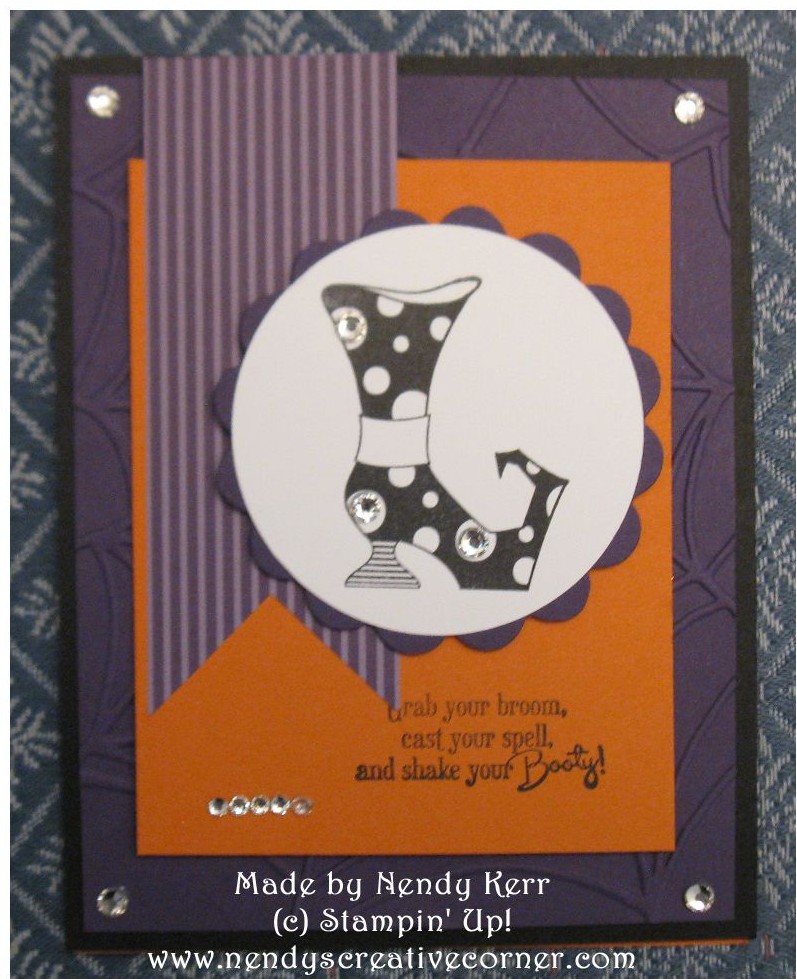 SUPPLIES:
Stamps:  Bootiful Occasions w#126595 c#126597
Card Stock:  Basic Black  4-1/4″ x 5-1/2″
Elegant Eggplant 4″ x 5-1/4″, 3″ Square for die cutting
Pumpkin Pie 5-1/2″ x 8-1/2″ for card base, 3-1/4″ x 4-1/4″ card layer
Whisper White 3″+ square for stamping & punching
Regals Designer Series Paper Stack #117154  1-1/2″ x 4″
Ink:  StayzOn Black #101406
Big Shot:  Spider Web embossing folder #120889
Perfect Pennants Bigz L Die #123126
Punch:  2-1/2″ Circle #120906
Square (Optional)
Other:  Basic Rhinestones #119246
SNAIL
Dimensionals
Piercing Tool #126189
Piercing Mat #126199 (Optional)
Essentials Paper Piercing Pack #126187 (Optional)
Paper Snips or Scissors (Optional)
Small Post-It-Notes
INSTRUCTIONS:
1.  Cut papers as listed above in Supplies.  Score and fold Pumpkin Pie card base at 4-1/4″.  Adhere Basic Black layer to card front with SNAIL.
2.  Emboss your Elegant Eggplant layer with the Spider Web embossing folder and your Big Shot.  Put SNAIL on you Basic Black layer (so you don't flatten out your embossing) and adhere embossed Elegant Eggplant layer to Basic Black layer.
3.  Put a small Post-It-Note on your Boot stamp so it covers the lower half or your Boot and all the words are visible.  Ink your sentiment with StayzOn ink.  Remove Post-It-Note and stamp sentiment in the lower corner of your Pumpkin Pie layer.  Clean stamp.
4.  Now place your Post-It-Note over your sentiment and leave all the Boot uncovered.  Ink with  StayzOn ink.  Remove Post-It-Note and stamp on Whisper White card stock.  Punch with 2-1/2″ Circle Punch.
5.  Die cut your scallop circle to go under your Boot using the largest circle on the Perfect Pennants die and your Elegant Eggplant 3″ card stock Square.  Attach Boot image with SNAIL.  Put Dimensionals on the back of your Scallop Circle.  Do NOT remove the backings yet.
6.  Now for your Paper Stack DSP Banner.  There are TWO ways you can get the "V" in the bottom of your Banner.  First:  Use a Square Punch.  (Mine are always lopsided when I use a punch.)  Second:  Use your Piercing equipment.  Lay your banner on your Piercing Mat.  Take the Paper Piercing Template that has rows of piercing holes.  Line it up so one of the holes is in the center (7 in, if I remember correctly), and it is as high as you want your "V" to go.  Pierce a hole in that center hole.  Now use your paper snips or scissors to cut from each corner up to the center.  I like this version much better!  It does have more steps but I like the results better!  Adhere in desired position to the Pumpkin Pie layer using either SNAIL, Dimensionals, or both.
7.  Now remove the backings from the Dimensionals on your Boot layer and attach in desired position.
8.  Now for the Bling!  Attach 3 large Rhinestones to 3 of the large circles on the Boot.  Attach 1 large Rhinestone to each corner of the Elegant Eggplant layer.  Attach a strip of 5-7 Small Rhinestones to the lower corner of your Pumpkin Pie layer as desired.
9.  You now have a Fancy Witch's Boot card to give someone for Halloween!
You can buy all the supplies to make this Witch's Boot Halloween Card from My Online Store.
Happy Stamping!
Nendy