I just LOVE these Painted Petals flowers and decided to use softer colors in this card since I wanted to use the Painted Cotton Trim.  Enjoy using these Two-Step stamps to make a card filled with flowers.  Change the colors to fit your mood!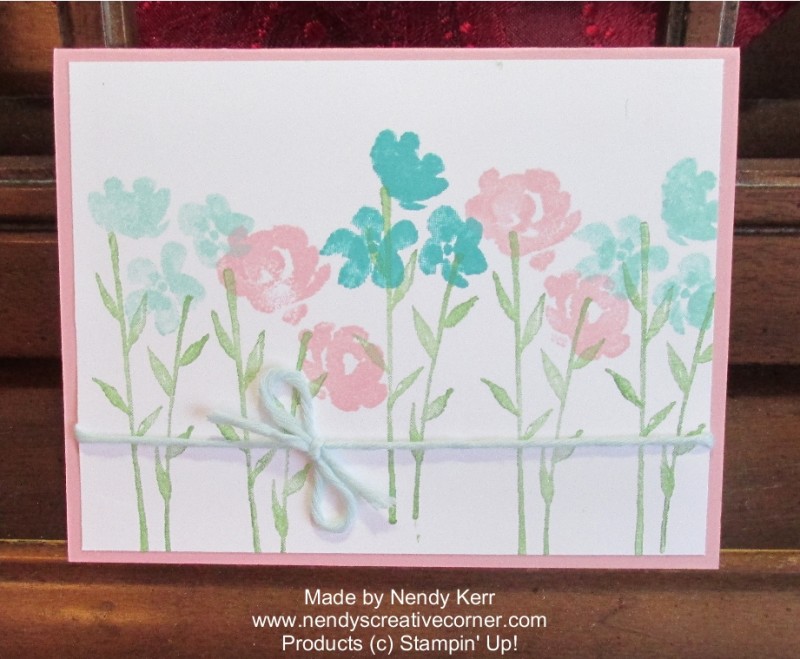 SUPPLIES:
Stamps:  Painted Petals  wood #138819  clear #138822  Photopolymer #137146
Ink:  Wild Wasabi
Coastal Cabana
Bermuda Bay
Card Stock:  Whisper White
Blushing Bride
Other:  Painted Blooms Cotton Twine #137873
Fast Fuse Adhesive
INSTRUCTIONS:
1.  Cut your Blushing Bride card base at 5-1/2″ x 8-1/2″.  Score and fold at 4-1/4″.  Watch this video if you need help with making a basic card base.
2.  Cut your Whisper White at 4″ x 5-1/4″.
3.  Stamp your Painted Petals Stems in Wild Wasabi ink trying to make them slightly different in height.  Stamp the first stems in the center, then on each side.  I stamped 5 stems.  Use a Wild Wasabi Marker, if necessary, to add length to the bottom of your stems.
4.  Choose which Painted Petals flower stamps you will use.  I stamped the far left, center, and far right stems with the same flowers and similar colors with the darkest in the center.  I stamped the other two stems with the same flowers in the contrasting Blushing Bride ink.  If you are using either wood or clear mount stamps, use a Stamp-a-ma-jig  (video HERE) to help you place your flowers where you want them.
5.  Choose one of the colors of Painted Blooms Cotton Twine to tie a bow about 1″ from the lower edge.
6.  Attach your Whisper White card front to card base with Fast Fuse Adhesive.
7.  You now have a card you can use for any occasion or reason to brighten someone's day!
Happy Card Making!
Nendy Kerr