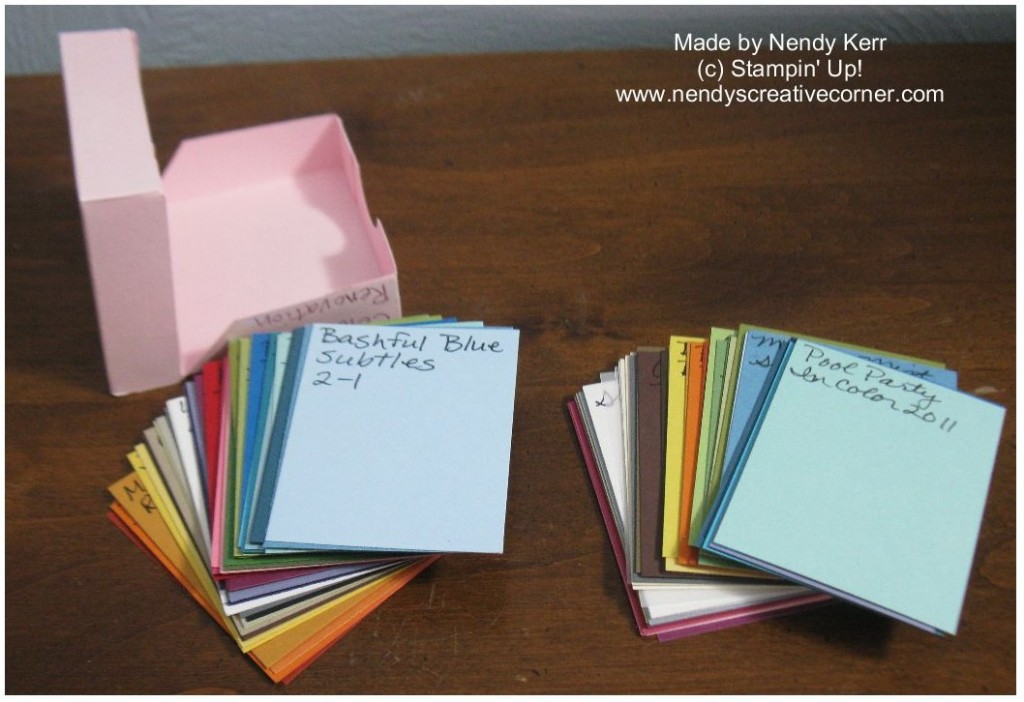 Have you ever wondered if you would really like the colors together on the Color Coach (#120148)?  Are you looking for just the right card stock colors for your project?  I made this Card Stock Sampler a couple of years ago when Stampin' Up! had their Color Renovation.  I also made a little box to put my Card Stock Samples in.  I am making a new Card Stock Sampler this year so I thought I would share it with you.  It does take a little bit of time to make, but it is well worth your time to make it.  You can make decisions more quickly because you have the actual card stock right in front of you.  It is easy to add the new In Colors and remove the retiring In Colors.  It is also easy to reorganizie all the colors.  I finally settled on organizing them by color group-all the greens together, blues together, etc.  This time I am also adding the Basic papers not included in the Color Families- such as Confetti Cream, Naturals Ivory, and Vellum.  This way I will really know ALL my Card Stock options!  If you don't have all the card stock colors yet, you can add them as you get them.
Each Sample is 1/16th sheet of card stock and measures 2-1/8″ x 2-3/4″.  I am waiting to make a new box after I get the New 2012 In Colors.  You know how important choosing a color is!
Here is the box with my "old" samples.  Next to it are my "new" samples still without the new In Colors.
HOW TO MAKE YOUR SAMPLES
1.  Choose a color of card stock.  If I am using a full sheet of card stock, I first cut it in half (5-1/2″ x 8-1/2″), then I cut one of the halves in half (4-1/4″ x 5-1/2″). I cut generally cut my card stock into these three pieces when starting out most projects.
2.  Take one of the quarter sheets card stock and cut in half both directions so you get a 2-1/8″ x 2-3/4″ piece.
3.  I like to write the color name and family/collection name on one side using a Stampin' Write Basic Black Marker or Journaler (#105394) or for the dark colors I use a Uni-Ball Signo Gel Pen (#105021).
(Note:  The number 2-1 on the Bashful Blue was the position I stored my Bashful Blue ink pad on the Color Caddy (#104335)-Side 2 Slot #1.  I am not doing that this time because I change the order of my ink pads every year when the New In Colors come out.  I like to store each color together together.  For Example:  All the Blues are on one side with the lightest Blue, Bashful Blue, first and the darkest Blue, Night of Navy, at the bottom.  This way, I have a couple of choices when I am in the mood to use a Blue.  I can use my Card Stock Sampler or I can look at the Blue side of the ink pad Color Caddy and choose the one that best fits my current mood/project.)
Enjoy making your own Card Stock Sampler!
Nendy