I made this Dinosaur Birthday Card for my Grandson who is turning 6 today.  He loved stamping his own Dinosaur card, so I used the rest of the Dinosaurs on his card and envelope.  Sorry, I forgot to take a picture of the envelope.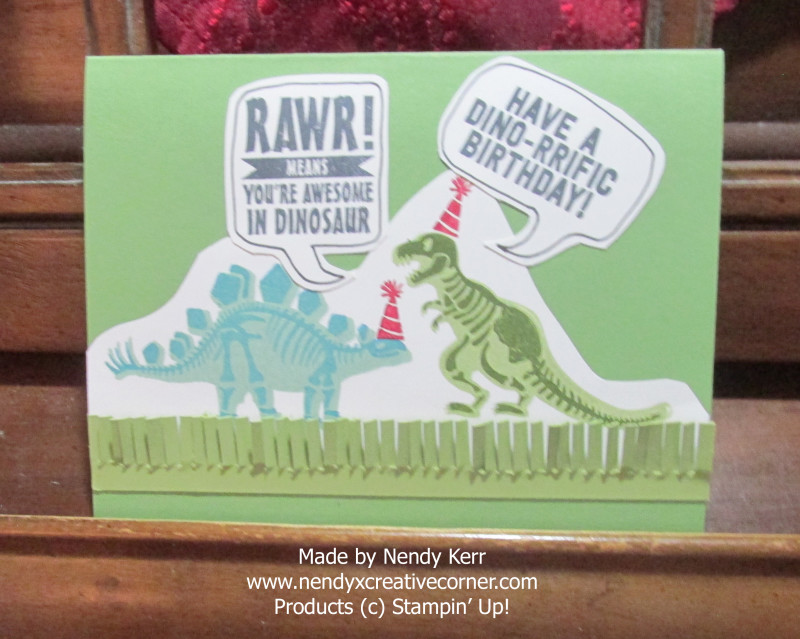 SUPPLIES:
Stamps:  No Bones About It  Photopolymer #138756
Ink combinations for Dinosaur & Bones:
Mint Macaron & Marina Mist ink
Pear Pizzazz & Mossy Meadow ink
Real Red ink for party hats
Memento Black ink
Basic Black Marker to make window bubbles
Card Stock:  Whisper White
Wild Wasabi card base
Pear Pizzazz grass
Other:  Tear & Tape adhesive #138995
Tombow Glue
Fringe Scissors #133325
Scissors
INSTRUCTIONS:
1.  Cut your Wild Wasabi card base at 5-1/2″ x 8-1/2″.  Score and Fold at 4-1/4″.
2.  Cut your Whisper White at 4-1/4″ x 5-1/2″.
3.  Stamp your first Dinosaur, the Stegosaurus, in Mint Macaron for the body and Marina Mist for the bones.
4.  Stamp your second Dinosaur, the T-Rex, in Pear Pizzazz for the body and Mossy Meadow for the bones.  Next time I will probably choose Old Olive for the bones.
5.  Stamp a Real Red party hat on both Dinosaur heads.
6.  Cut around the top of the Dinosaurs.
7.  Stamp your sentiments in Memento Black ink.  Use your Basic Black Marker to draw Word Bubbles around the sentiments.  Pay attention to which way you want the small part to point.  Cut these out with your scissors.
8.  Cut a strip of Pear Pizzazz card stock for your grass.  I think mine was 3/4″ x 5-1/2″.  Put a strip of Tear & Tape adhesive along on of the long edges.  Use your Fringe Scissors to cut down to the Tear & Tape.
9.  Decide where you want everything.  Attach the Dinosaurs and sentiments with Tombow Glue.  Attach the Grass with the Tear & Tape.
10.  You now have a card most children will love!  (My girls liked Dinosaurs as much as my boys.  Same with my oldest granddaughter.)
11.  Stamp some dinosaurs on the envelope.  I stamped the brontosaurus in Pear Pizzazz on the front, and the Rhino looking one on the back.  I also stamped one of the sentiments on the flap.  I know he will be excited to see this envelope!
Happy Dinosaur Card Making!
Nendy Kerr