Every Wednesday until Father's Day there will be something you can give to your Guy for either Father's Day or other occasions.  Today will feature the Hamburger Box XL Bigz Die.  You can make either a single-wide one OR you can tweak it and make a double-wide box.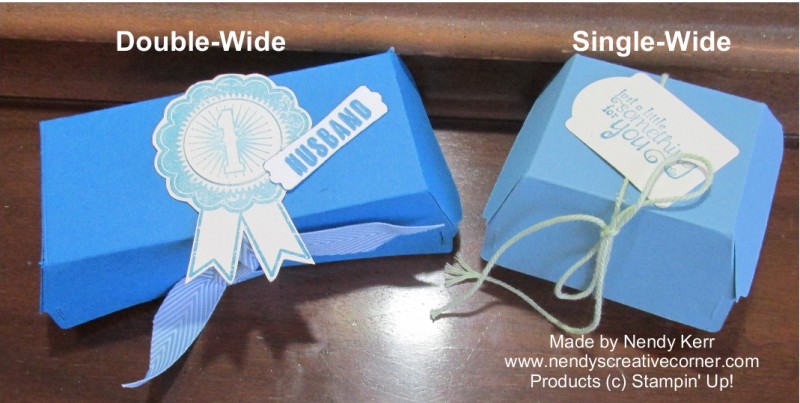 SUPPLIES:
Stamps:  Num-Num Wood #134141, Clear #134144
Blue Ribbon Wood #131964, Clear #125981
Guy Greetings Wood #138825, Clear #138828, Photopolymer #137178
Ink:  Choose ink to coordinate with your card stock.
Pacific Point
Marina Mist
Card Stock:  single wide:  Marina Mist
double wide:  Pacific Point
Big Shot:  Hamburger Box Bigz XL Die #133724
Extended Cutting Pads #113478
Punches:  Note Tag #135860
Modern Label #119849
Other:  Ribbon or Thick Baker's Twine of your choice
Adhesive:  Fast Fuse, Sticky Strip, OR Glue Dots
Paper Snips
INSTRUCTIONS:
1.  Choose the color of card stock you want and decide if you are making a single or double-wide box.
2.  Get your card stock ready.
~Single-Wide:  Cut your card stock 6″ x 11″.
~Double-Wide:  Fold your 8-1/2″ x 11″ in half so you have a 4-1/4″ x 11″ piece.
3.  Lay your card stock on the Hamburger Box Die.
~Single-Wide:  Lay your card stock on the Die covering the box cut lines.
~Double-Wide:  Lay the fold of your card stock along the crease line furthest from the edge of your card stock edge and the open edges close to the edge of the die.  Make sure the fold does NOT cross over the crease line.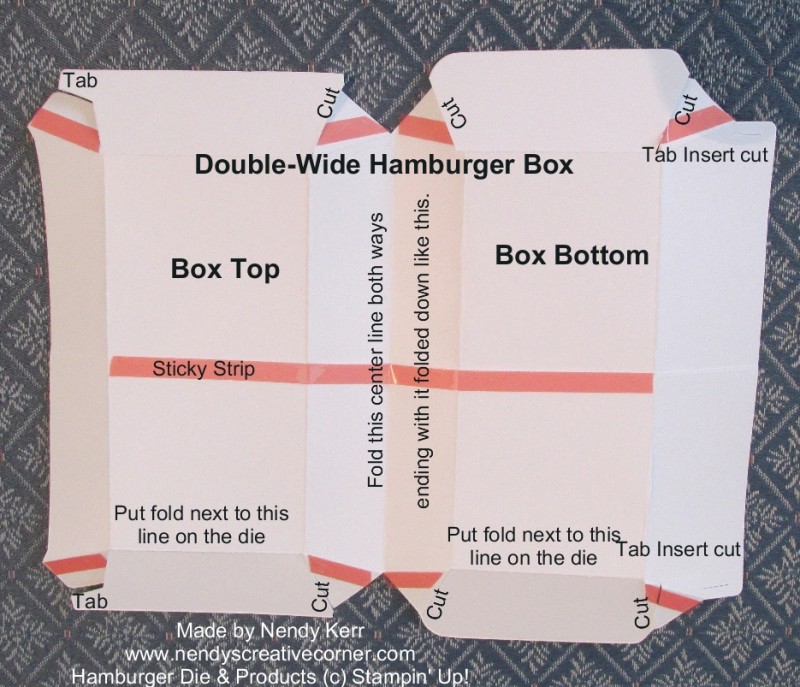 4.  Cut your card stock.  Put an Extended Cutting Plate under your die and on top of your card stock.  Run through your Big Shot.
4a.  If you want to stamp directly on the card stock do so now.
5.  Fold on all Score lines.  (Double Wide:  Unfold your card stock first, then fold all the score lines.  Run your Bone Folder along the center crease line to flatten it out.)
6.  Instead of folding all the pleat lines, I cut one side and then put the adhesive along the score line.  I have shown where I cut and put on the adhesive.
7.  Attach the triangles matching the score line with the box edge.  Repeat until all the triangles are attached.  Now attach the "Front" tab to the edge.  There are tabs that stick out on the bottom.  There are small slits on the top front to slide them through and hold the top and bottom together.
8.  Now you can decorate your box.
~I put some ribbon on the double-wide by putting sticky strip to cover the center crease line, as shown.  I used about 20 inches of ribbon and trimmed some off after tying it in a knot.
~Single Wide:  I used Thick Baker's Twine.  Put a Glue Dot at the center back and at the ends (where the Sticky Strip ends in the example.)  You will need to either roll or scrunch the Glue Dot so it is all the way under the Baker's Twine so it won't stick to things.
9.  Stamp the sentiment or image you want to put on top.  Attach to the box with either Dimensionals or Glue Dots.
10.  Put in a treat or gift and give to your guy.
Happy Box Making!
Nendy Kerr