The Blended Seasons stamp set was used for Sketch #24 and Color Challenge #24.  This stamp set is available August 1-31, 2018 while supplies last.  Also available in August is another set of  10 Watercolor Pencils some of which were used to watercolor the stamped Flowers and Leaves.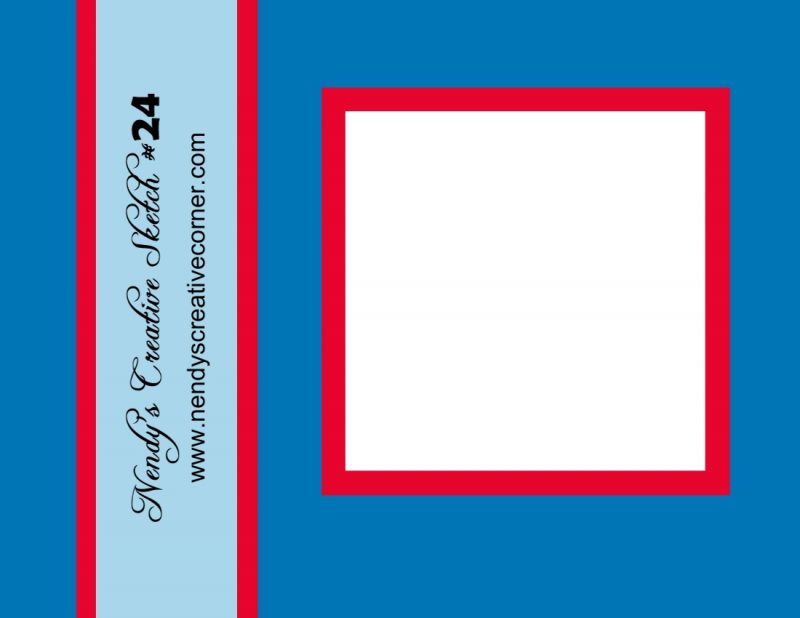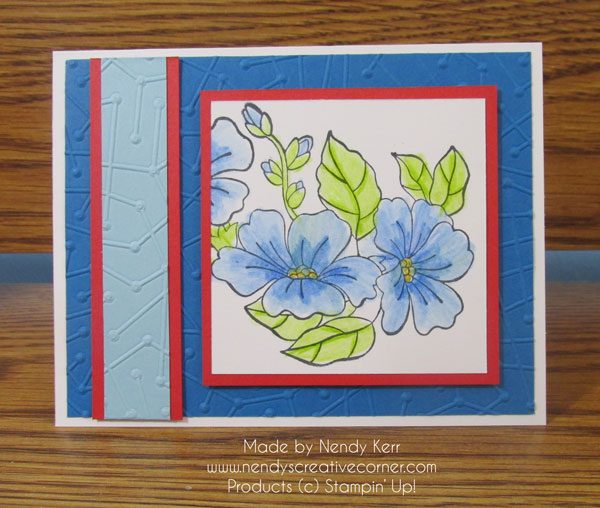 You can simplify this card by leaving out the embossing steps and Stamping an image that does not need coloring.
HERE IS COLOR COMBO #24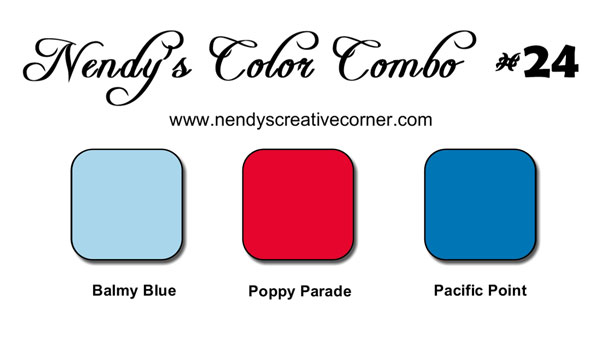 SUPPLIES:
*=Available starting August 1-31 While Supplies Last
Stamps:  *Blended Seasons  Wood-Mount #149019, Clear-Mount #149016  (Save 10%-Bundles with Stitched Seasons Framelits  Wood Bundle #149893, Clear-Mount Bundle #149894)
Ink:  Memento Tuxedo Black
*Watercolor Pencils #149014
~Balmy Blue
~Granny Apple Green
~Crushed Curry
Cardstock:  Whisper White
Thick Whisper White
Balmy Blue
Pacific Point
Poppy Parade
Big Shot:  Maps, etc Dynamic Embossing Folder #146822
Tools:  Blender Pen #102845
Adhesives:  Tombow Multipurpose Liquid Glue
Stampin' Dimensionals
INSTRUCTIONS:
1.  Cut your Thick Whisper White card base at 5-1/2″ x 8-1/2″.  SCORE and fold at 4-1/4″.
2.  Cut:
~Whisper White Square at 3″ x 3″
~Poppy Parade Square at 3-1/4″ x 3-1/4″
~Pacific Point card front at 4″ x 5-1/4″
~Poppy Parade strip at 1″ x 4-1/4″
~Balmy Blue strip at 3/4″ x 4-1/4″
3. Big Shot:
Use Maps, etc. embossing folder:  Big Shot Platform (without Thin Die Adapter), Embossing Folder with cardstock inside, top cutting pad.  Yes, only one cutting pad.
~Emboss Balmy Blue strip
~Emboss Pacific Point card front
4. Coloring:
~Stamp part of the flower image on your Whisper White Square in Memento Black ink.
~Crushed Curry Watercolor Pencil:  Color the Flower Centers.
~Balmy Blue Watercolor Pencil:  Color the Flower Petals.
~Granny Apple Green Watercolor Pencil:  Color the Leaves and Stems.
~Use a Blender Pen to color the petals and give a watercolor look.
~Clean tip by rubbing it on scratch paper until no color shows.
~Repeat with the Granny Apple Green coloring the Leaves and stems.
~Color toward the center of each Flower Petal with the Balmy Blue Watercolor Pencil.  Blend. Clean.
~Draw lines on the Leaves with the Granny Apple Green.  I did not use the Blender Pen on these.
4.  Put your Card Together.
~Attach the Pacific Point card front to the Thick Whisper White card base.
~Attach your Watercolored Square to the Poppy Parade Square.  Put Stampin' Dimensionals on the back.
~Attach the Balmy Blue strip to the Poppy Parade strip.
~Lay your Square and Strip on your card front in the place you want them.
~Attach your Strip with Tombow Glue.
~Attach your Square with Stampin' Dimensionals.
Your Card is finished.