We made this Flower Box using the Crepe Filter Paper from the Spring 2013 Catalog and a Kraft Box.  We used the Floral Frames Framelits to cut out our flowers.  I used the largest Floral Frames Framelits.  Everyone else chose the next two smaller sizes.  We decorated the front of the box with a smaller flower die cut from the Floral Frames Framelits.   that we stamped with the flower  from the Oh Hello Stamp set.  This is a quick project!  The Flower Box  can be filled with a variety of treats or gifts.  It it is the perfect size for cookies that have been stamped with Sweetly Pressed Cookie Stamps.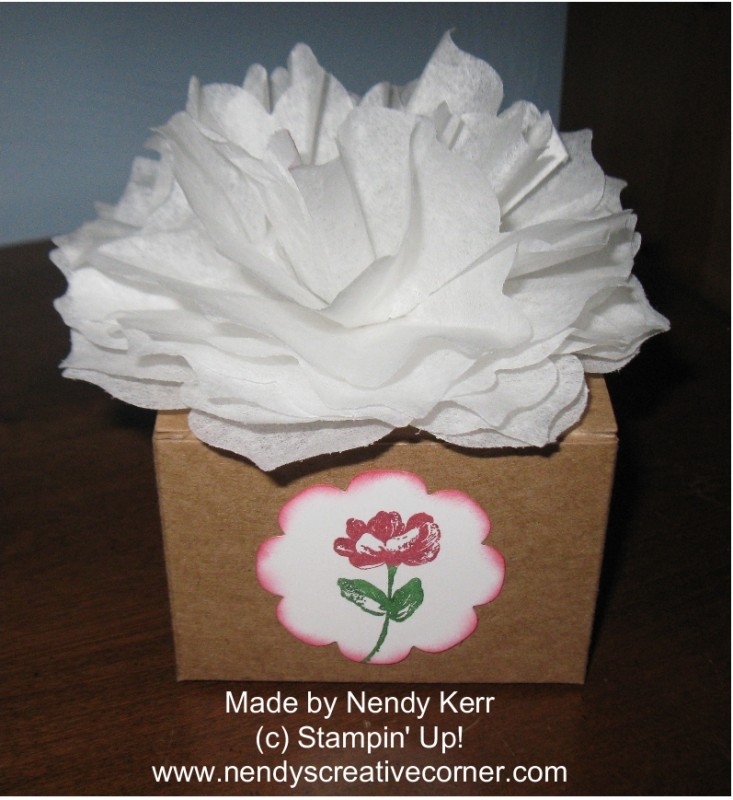 SUPPLIES:
Stamps:  Oh Hello w#130730  c#130733
Markers:  Primrose Petals
Garden Green
Primrose Petals Ink Pad
Papers:  Creped Filter Paper #129393
Whisper White card stock
Big ShotL  Floral Frames Framelits #127012
Other:  Kraft Box #124106
Brad
Piercing Tool and Mat
Stamping Sponge
Glue Dots
INSTRUCTIONS:
1.  Take the whole stack of Crepe Filter Paper Circles.  Choose the Floral Frames Framelit in the size that you want your flower.  Make your sandwich using the Multipurpose Platform with all tabs closed, your cutting pad, the whole stack of the Crepe Filter Paper Circles, your desired Floral Frames Framelit, and finally your top cutting pad.  Yes, you can cut the whole stack at once!  Now, Pierce a hole in the center with your Piercing Tool.  Insert the desired brad.  It will show so choose one that coordinates.  I used a retired brad with a jewel.
2.  Now to shape your flower.  Take the top layer and scrunch it straight up.  Do the same with each layer, scrunching slightly less with each lower level.  Fluff up your Crepe Filter Paper Flower.
3.  Color your Oh Hello Flower with your Primrose Petals Markers.  Remoisten and stamp on Whisper White card stock.  Choose the desired Floral Frames Framelit and cut out the Flower that will decorate the front of your box.  Sponge around the edge with a Stamping Sponge and Primrose Petals ink.  Adhere to the front of your Kraft Box with either SNAIL or Glue Dots
4.  Adhere your Crepe Filter Paper Flower to the top of your box with 4-6 Glue Dots placed close to the center of the bottom layer.
5.  Admire your cute box.
Happy Flower Making and Gift Giving!
Nendy