These Tin of Cards cards use only supplies from the Kit and are really simple, but have a WOW factor with all the gold.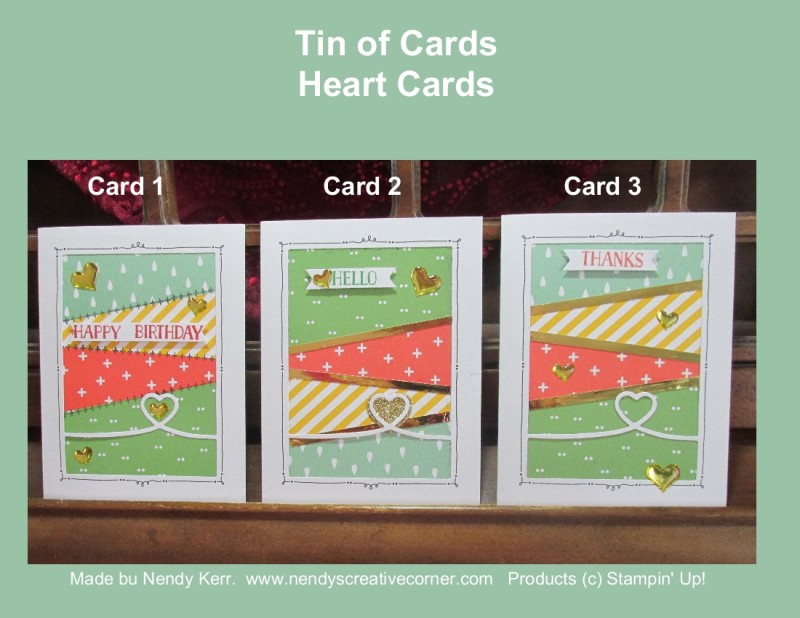 SUPPLIES:
Tin of Cards Project Kit #138378
Tin of Cards stamp set #138946
Tombow Glue
TIPS:
~Follow the basic steps to assemble this card HERE if you need to.
~Attach the patterned paper with Tombow Glue and put a drop or two on the back of the Heart after you have finished embellishing it.
~Randomly attach the Gold Epoxy Hearts as the last step.
Card 1:
~Stamp with the ++++ stamp along where the different patterns meet to imitate quilt stitching.
~Stamp sentiment in Watermelon Wonder ink on the white banner that fits your sentiment.  Attach it with Dimensionals.
Card 2:
~Cut the Gold Strips that you removed from the Gold Foil Sheets into 1/8″ strips.  Glue over where the patterns meet.
~Add a Gold Glimmer Paper Heart under the cut out Heart with Glue under the cut out Heart also.
~Stamp your sentiment in Cucumber Crush ink.  Add an epoxy Heart to your sentiment if there is room.  Attach sentiment with Dimensionals.
Card 3:
~Cut 1/8″ Gold Foil strips as in Card 2.  Glue on.
~Stamp sentiment in Watermelon Wonder ink onto white banner.  Attach with Dimensionals.
Happy Creativity!
Nendy Kerr