Would you like to Stamp Perfect Images Every Time?  This simple technique works with all types of stamps and all kinds of ink pads.
This Video is almost 7 minutes long.

SUPPLIES:
Choose your stamp(s):  Rubber: Wood Mount, Clear-Mount, or Cling; or  Photopolymer
Choose your ink pad(s)  Foam or felt
Cardstock or paper
Stampin' Pierce Mat #126199 for use with Photopolymer Stamps
TIPS:
1.  Wood Mount stamps are ready to use as they are already on a block.  Clear and Cling Mount Rubber stamps need to be put on a block so you can use them.  If you want them perfectly lined up on your stamp block lay them on grid paper, then put the block on them.
2.  Ink up your stamps correctly to stamp perfect images every time.
~Foam ink pads:  Lightly pat the stamp on the ink pad.  You do not want any ink except on the part you want to stamp on your cardstock.
~Felt ink pads:  Gently rub your stamp in circles over the ink pad OR rub the ink pad in circles over your stamp.  Keep the ink pad flat so the ink only goes on the part of the stamp you want.
3.  Stamp straight down, count to 5, then pull the stamp straight up.  This is the MOST important way to stamp perfect images every time!  Do NOT tilt or roll your stamp block as your image will appear darker in spots or if there is ink on the stamp around the edges you will get a ring-around-the-rubber stamped image.
Check out videos on how to use the New Style Ink Pads and the older Style Ink Pads.
Here is the finished card.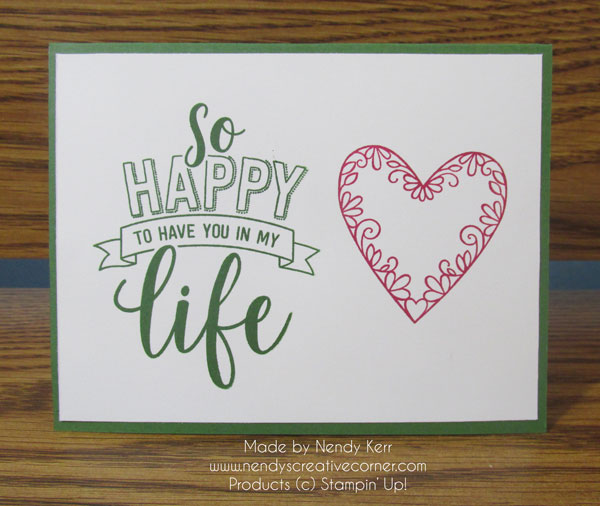 Stamps:  Meant to Be  Cling Rubber #148626
Amazing Life  Photopolymer #148750
Inks:  Lovely Lipstick
Garden Green
Cardstock:  Whisper White  4″ x 5-1/4″
Garden Green  5-1/2″ x 8-1/2″.  Score & fold at 4-1/4″
Adhesive:  SNAIL
Get all your Stamping Supplies from My Online Store.