I have been wanting to do some paper piercing lately so here it is using the Just Sayin' stamp set and the coordinating Eclectic Paper Piercing Pack.  I also tried out the Flower Patch stamp set, the NEW Hearts Border Punch, and the Bordering Blooms stamp set.  Have fun making your own version of this card!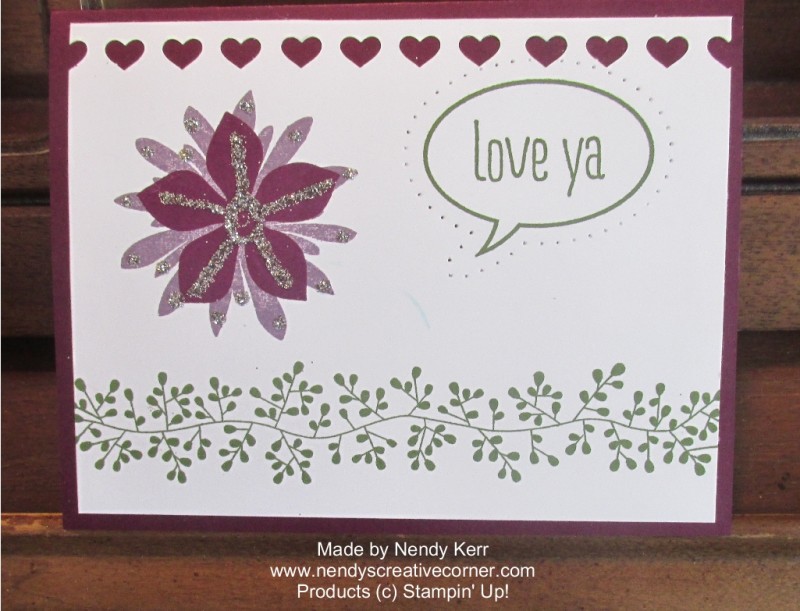 SUPPLIES:
Stamps:  Just Sayin' wood#133200  clear#133203
Flower Patch Photopolymer #134207  (Bundle with Framelits #136788)
Bordering Blooms Photopolymer #133660
Clear Mount Blocks:  Block D
Block I
Ink:  Mossy Meadow
Perfect Plum
Elegant Eggplant (I think)
Card Stock:  Whisper White
Blackberry Bliss
Punch:  Heart Border #133784
Paper Piercing Tools:
Paper Piercing Tool #126189
Paper Piercing Mat #126199
Eclectic Paper Piercing Pack #133778
Other:  Tombow Glue
Silver Glitter #133756
INSTRUCTIONS:
1.  Cut your Blackberry Bliss card base at 5-1/2″ x 8-1/2″.  Score and fold at 4-1/4″.  Watch this video for step-by-step instructions on making card bases.
2.  Cut your Whisper White card stock at 4″ x 5-1/2″.  Use the Hearts Border Punch to punch along one of the 5-1/2″ edges.  This becomes the top of your card front.
3.  Now stamp your images.
~Stamp the Flower images:  The larger one is stamped in Perfect Plum ink, the the second one uses Elegant Eggplant ink (I think).
~Stamp 'Love Ya' in Mossy Meadow ink.
~Stamp the leafy border in Mossy Meadow ink.
4.  Place the Piercing Mat on your work surface, then your stamped card stock, then line up the piercing mat over the 'Love Ya' image.  Hold the piercing mat in place while you pierce each hole around the image.  This only takes a minute or two, depending on how quick you are.
5.  Now to add your Glitter.  Make thin lines with your Tombow Glue in the positions you want your Glitter.  Sprinkle your Glitter over the flowers.  Dump the excess back in the container.  Set aside to dry for a while.  It should dry in less than 30 minutes, although you may not want to put it in an envelope until the next day as the glue will remain tacky for a while.
6.  If desired you can stamp you Leafy Border in Mossy Meadow ink on your envelope flap and, perhaps, along the bottom front of your card.
Happy Card Making and Paper Piercing!
Nendy Kerr