Here is a fun Fall Baker's Box decorated with Pine Branches and Pine Cones to give to your  favorite guy or Nature lover!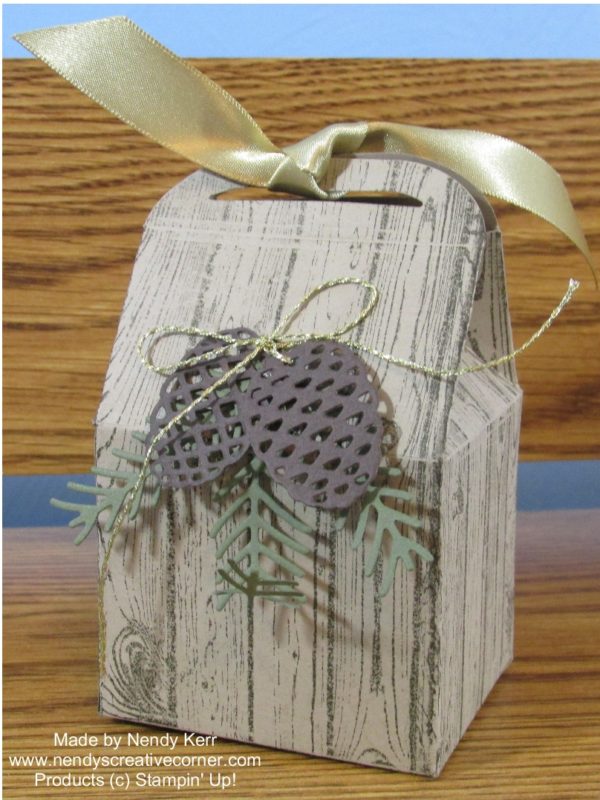 SUPPLIES:
Stamps:  Hardwood   Wood #133032, Clear #133035
Ink:  Chocolate Chip
Card Stock:  Crumb Cake
Chocolate Chip
Garden Green
Big Shot:  Baker's Box Thinlits #138279
Pretty Pines Thinlits #141851
Ribbons:  Gold 5/8″ Satin Ribbon #134547
Baker's Twine Trio Pack #141999
Adhesives:  Tear & Tape
Glue Dots
INSTRUCTIONS:
Watch This Video for Basic Baker's Box instructions.
1.  Cut your Baker's Box Thinlit twice from Crumb Cake card stock cut at 5-1/2″ x 8-1/2″.  Fold all score lines so each piece looks the same.
~You can stamp the Hardwood image in Chocolate Chip ink either before you cut out your Baker's Box pieces or after you have cut it out.  I did it after, but it would probably be easier if you stamped before you cut them out.
~Before. Ink up your Hardwood stamp and lay Rubber side up.  Lay your card stock on top of the inked stamp.  Use a Clear Stamp Block and rub it over all the card stock to transfer the ink.  Remove card stock.  Repeat with the second piece.
~After:  Fold the side score lines and do one side at a time.  Lay one folded side of your cut Baker's Box piece on top of the inked stamp, as above and rub with a Clear Stamp Block.  Repeat for the other side and the other cut piece.
2. Add your Tear & Tape to the side tabs and the bottom flaps.
~~Side Flaps (smaller):  With the outside facing up, put Tear & Tape on the outside edge and the bottom on both pieces.
~~Front and Back Flaps (larger with V in the center. I leave this part flat):
~~~Front: Put Tear & Tape on the INSIDE of both sides of the V.
~~~Back:  Put Tear & Tape on the OUTSIDE of both sides of the V.
3. Cut:
~Cut two Pine Cones from Chocolate Chip card stock.  Angle the two Pine Cones together the way you want and attach them together with Glue Dots.  Tie a bow with the Gold Baker's Twine.
~Cut 2 small Pine Branches and 1 Medium Pine Branch from Garden Green card stock.
4.  Assemble your Box:  Attach the side Tabs.  Now for the bottom flaps:  sides first, then the Back Flap, and the Front Flap is last.
5.  Decorate:
~Choose the front of your Box.  Attach the Medium Pine Branch about 1″ above the center score line on the box front with a Glue Dot.  Attach the other two Pine Branches on top of the first one with Glue Dots.  Attach the Pine Cones with 2-3 Glue Dots on top of where the Pine Branches meet.
~Tie closed with Gold Ribbon.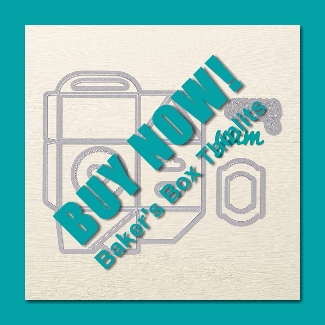 Have fun making your own Fall Pine Branches Box.  Come back Friday for a Christmas Version.