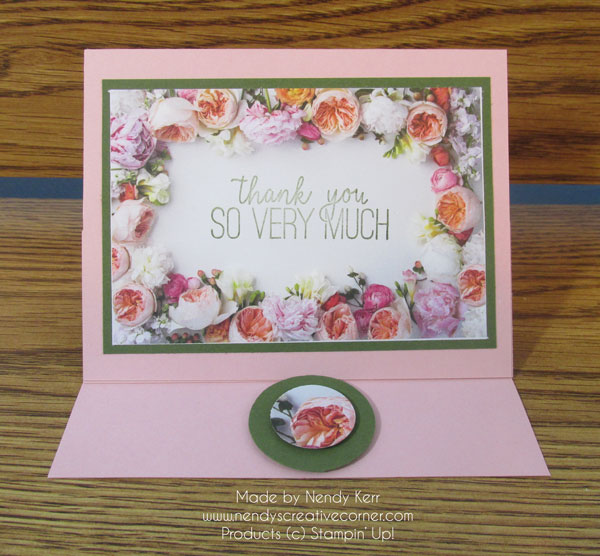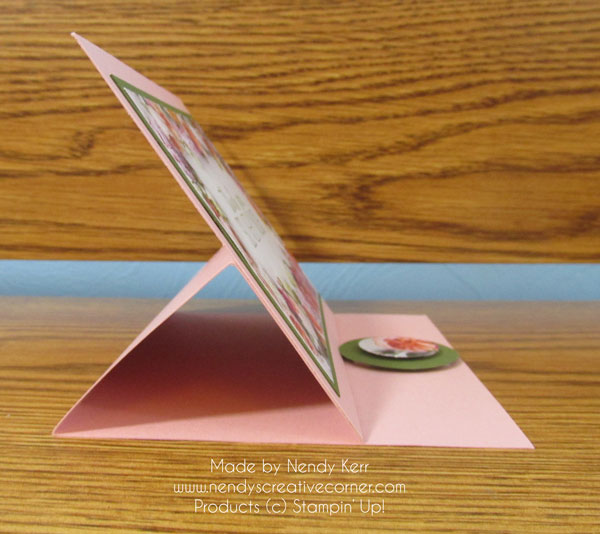 Learn to make this quick and easy Easel Card when you watch this Video. You just make one additional score line, make a card front, and s small die cut or punch to help the card stand up.
This Video is just over 4 minutes long.
VIDEO SUPPLIES:
Stamps: Butterfly Gala Photopolymer #148580
Ink: Mossy Meadow
Cardstock: Blushing Bride
Mossy Meadow
Petal Promenade 12×12 Designer Series Paper (DSP) #146913
Punches: 1″ Circle #119868
1-1/2″ Circle #138299
Adhesive: SNAIL or Tombow Multipurpose Liquid Glue
Stampin' Dimensionals
TIPS:
1. Landscape: Cut your Blushing Bride card base at 5-1/2″ x 8-1/2″. Score and fold at 4-1/4″ and 2″. Make sure you have folded both score lines so the folds make 3 sides of a square shape.
~Protrait: Cut your card base at 4-1/4″ x 11″. Score and fold at 5-1/2″ and 2-1/2″. Make sure you have folded both score lines so the folds make 3 sides of a square shape.
~Watch This Video for more details on making Basic Card Bases.

2. Cut your card front at 4-1/4″ x 5-1/2″. Decorate as desired.
~For this card I cut an image out of the Petal Promenade Designer Series Paper. It is 3-1/4″ x 4-3/4″
~I then cut a mat from Mossy Meadow cardstock at 3-1/2″ x 5″.
~Layer the DSP image and the Mossy Meadow layer together with SNAIL.
~Attach them to your Card Front.
3. Put SNAIL or Tombow Glue on the bottom half of your card base front covering the section between the 2″ fold line and the bottom edge.
4. Line up your completed card front with the card base. Attacch to the adhesive.
5. Make something to hold up the card front at an angle on the card. You can use either a punch or die cuts. You must use Stampin' Dimensionals underneath so it is raised up some and will hold your card front in place to form your Easel Card.
~I punched a 1″ Circle from the DSP for the top layer.
~The 1-1/2″ Mossy Meadow Circle is the bottom layer.
~Put Stampin' Dimensionals on the bottom of both circles. Attach the top layer to the bottom layer.
~Attach your layered circles to the bottom edge of the inside or your card as close to the bottom center edge as you can.
Your Easel Card is finished!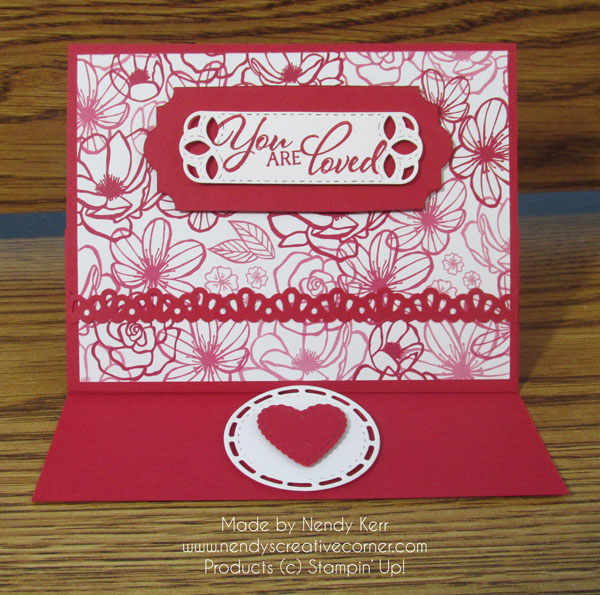 Check out thi other Easel Card blog post for instructions for instructions for this card front.