Today is my Botanical Blooms class.  We are making 4 cards including the two posted earlier this week.  I also made another card from some of the pieces.  Since I could not decide which ones to post I will show you all three.  I will only give brief details for each.  They all use the Botanical Blooms Bundle (stamps, Framelits, Designer Series Paper) and one uses the Sale-a-bration Botanical Vellum paper.  Have fun!
Card 1 – Three Squares Card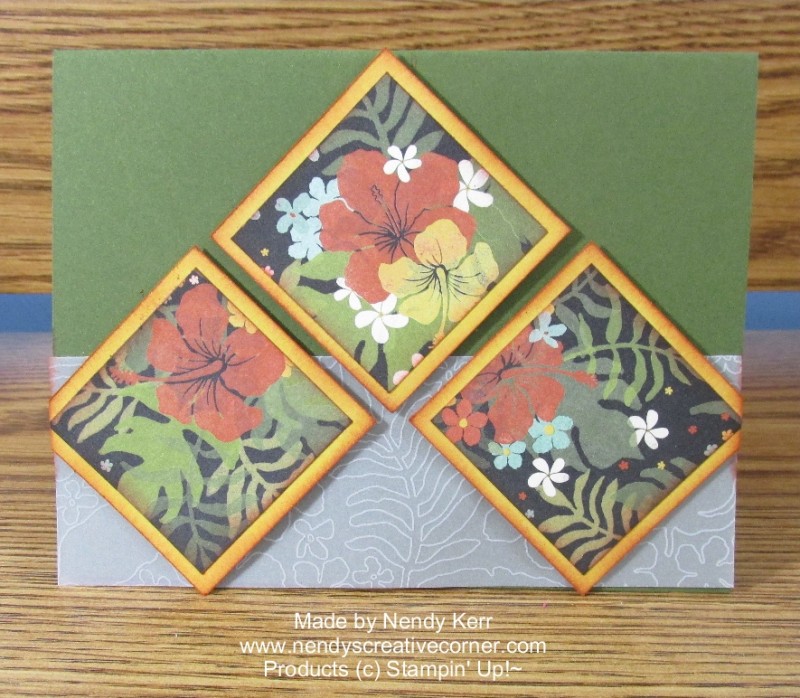 Tips:
~Hello Honey squares are 2″ and sponged with Cajun Craze.
~The Designer Series Paper squares are 1-3/4″ square and sponged with Cajun Craze.
~The Vellum is 1-3/4″ x 5-1/2″.  I laid out all the pieces and attached the squares to the Vellum.  I then added adhesive under the squares to attach the Vellum to the Mossy Meadow card base.
Yellow Flower Card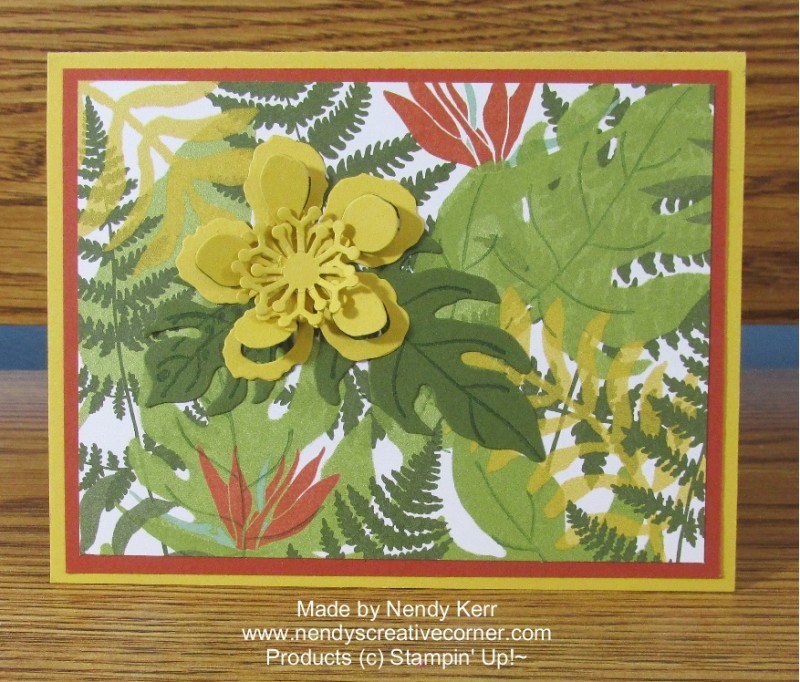 Tips:
~Hello Honey card base, Cajun Craze layer is 4″ x 5-1/4″.  Patterned paper is 3-3/4″ x 5″.  Use your stamp and Mossy Meadow ink to stamp lines on the blank leaves on the paper.  I thought this was pretty fun.
~Stamp a large leaf lines and a medium leaf lines in Mossy Meadow ink on Mossy Meadow ink.  Cut out with the coordinating size Leaf Framelits.  Next time I will use Dimensionals under the leaves so they stand out better.
~Cut your Flower and two flower centers from Hello Honey card stock.  Attach the centers with Glue Dots.  I did not use Dimensionals under the center petals and will add them the next time.
Old Olive and Daffodil Delight Fern Card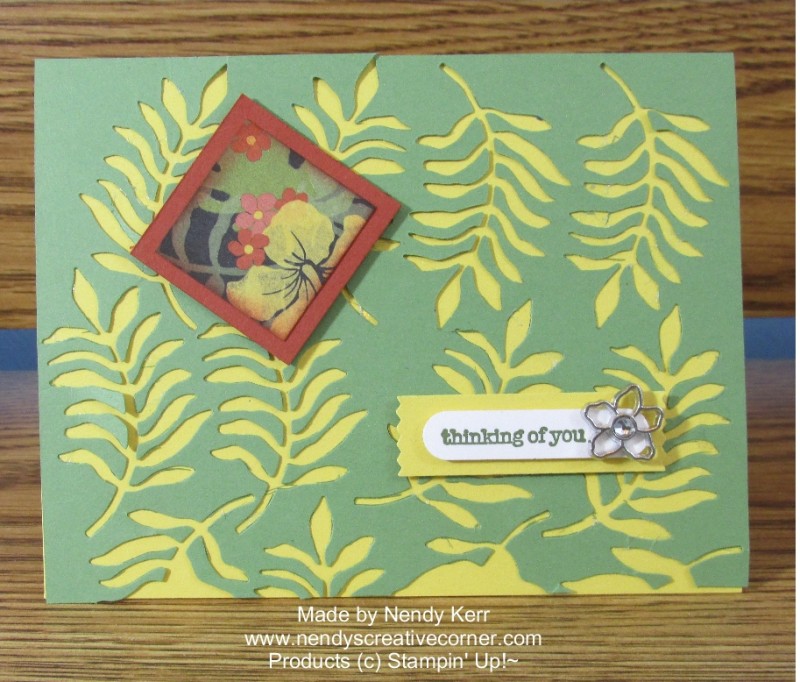 Tips:
~Cut your Daffodil Delight card base.
~Cut your Old Olive card front at 4-1/4″ x 5-1/2″.  Cut out Ferns from the front.  (I just used the piece I had cut the ferns out of for my class.)  Attach it to your card base.  I just used SNAIL.  Tombow Glue would have been a better choice though.
~The Cajun Craze square is 1-1/2″.  The patterned paper square is 1-1/4″.  Both are sponged with Cajun Craze ink.  These are attached to the card front with Dimensionals.
~The "thinking of you" is from Teeny Tiny Wishes stamp set and punched out with the Word Window Punch.  The Daffodil Delight is punched out with the Washi Label Punch.  The Botanical Garden Flower Jewel is attached with a Glue Dot.
Have fun using your Botanical Blooms Bundle!  I sure have!!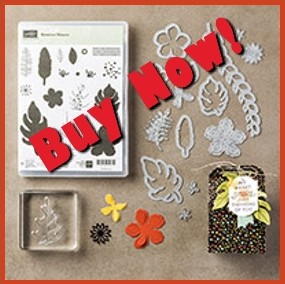 Happy Card Making!
Nendy Kerr