I am finally posting the Ornament I made using the Keepsakes Ornament Bundle.  It was pretty easy to make.  I watched a video by Angie Kennedy Juda and changed only a couple of things.  Pretty amazing!
I just wished I had TWO of the Silicone Craft Sheets when I made it! I do wish they would make some Silicone Craft Gloves or Fingers too.  I did feel like a gluey mess and I did burn my fingers a couple of times with the hot glue.  And next time I will remember to put the Baker's Twine in right after I put the Ornament pieces together!  But I am happy the way the Ornament turned out!  We are making it at my class this Friday.  Wish you were here!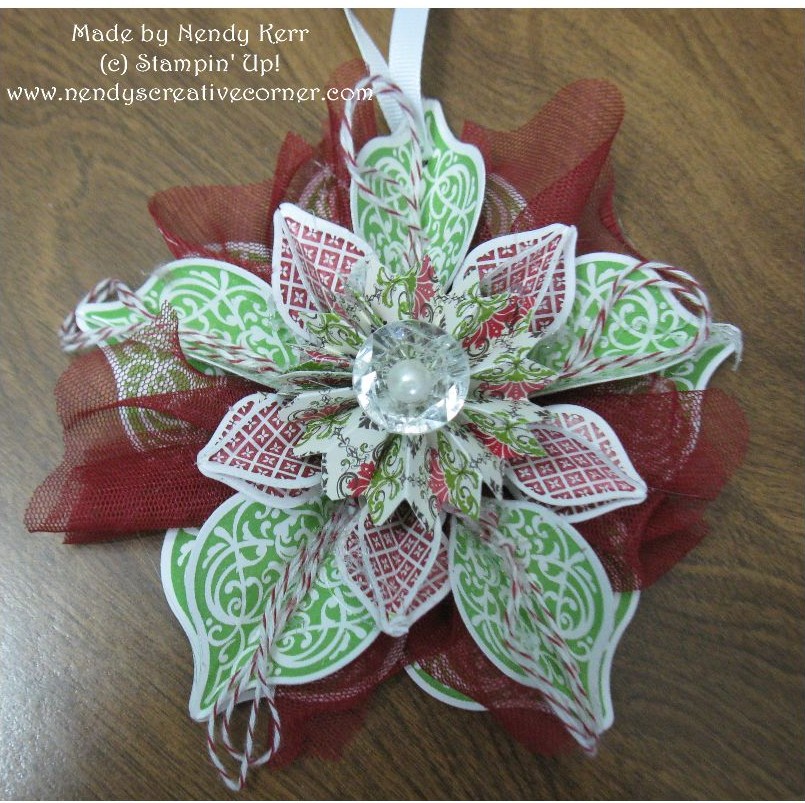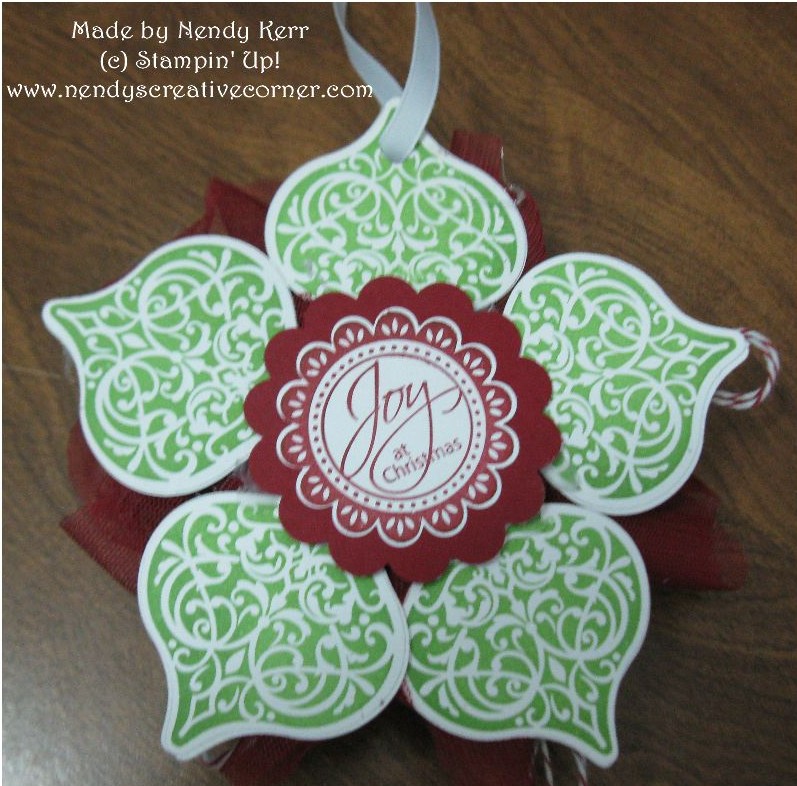 SUPPLIES:
Bundle:  Holiday Keepsakes Ornament Bundle (stamps & Framelits) w#129949 c#129950
Stamps:  Perfect Punches  w#117022 c#120516
Ink:  Cherry Cobbler
Gumball Green
Punches:  1-3/4" Scallop Circle
1-3/8" Circle
2-3/8" Scallop Circle – to cover back
1" Circle – Behind Rosette
Card Stock & Papers:  Whisper White OR Very Vanilla (I used Whisper White)
Cherry Cobbler
Candlelight Christmas DSP 1" x 12" strip  #126901
Big Shot:  Holiday Ornament Framelits (included in above Bundle)
Rosette Die  #125594
Embellishments:  Cherry Cobbler 3-1/2″ Scalloped Tulle Ribbon #  about 24"  #127841
1/8" Taffeta Ribbon  about 12"  (I used 1/4″ Grosgrain #126877)
Linen Thread or Baker's Twine  about 5 feet  (I used Cherry Cobbler Baker's Twine #123125)
Vintage Faceted Designer Button #127555
Large Pearl #125577
Other:  Tombow Glue
Silicone Craft Sheet #127853
Popsicle Sticks (not SU 
)
Bone folder
Simply Scored (optional)
Glue Dot
Hot Glue Gun with extra glue sticks  (not SU 
)
Paper Punch or Crop-o-dile
Optional:  Mist made with Shimmer Paint or Glitter or Dazzling Details.
TIPS:
(Email me if you would like better written instructions.)
1.  Cut five 3″x 11″ pieces of card stock to  stamp the Large Ornaments on.  Stamp four Large Ornaments per strip for a total of 20.  Cut three 2-1/2″ x 11″ pieces of card stock to stamp the Small Ornaments on.  Stamp seven Small Ornaments per strip for a total of 21.  Lay a strip of Large Ornaments next to a strip of Small Ornaments when cutting out the Ornaments with the Framelits.
2.  Fold 15 Large and 15 Small Ornaments in half.  Take 3 folded Ornaments and 1 flat Ornament and glue them together.  You will end up with 5 sets of Large Ornaments and 5 sets of Small Ornaments.
3.  Take 12″ of Baker's Twine.  Knot the ends together and double.  Glue onto the bottom part of the Large Ornaments.
4.  Glue Large Ornaments onto a 1-3/8″ Circle of card stock.
5.  Cut 5 pieces of Scalloped Tulle Ribbon which are 3 Scallops wide.  Gather with your fingers and hot glue between Large Ornaments.
6.  Glue Small Ornaments on top of Tulle Ribbon so they are standing at an angle.
7.  Cut strip of DSP with Rosette die.  Pleat and glue ends together.  Glue onto 1″ punched circle.
8.  Glue Button on top of Rosette.  Add Large Pearl to center of Button.  Hot Glue Rosette to center of Ornament.
9.  Punch hole in the Large Ornament you want as the top.  Thread 12″ of Ribbon through and knot the ends.
10.  Punch 2-3/8″ Scallop Circle.  Glue to back of Ornament.  Stamp Joy and punch out with 1-3/4″ Scallop circle.  Glue to larger scallop circle.
11.  Admire your Beautiful Ornament!
You can purchase all the supplies to make this Ornament in My Online Store.
Happy Ornament Making!
Nendy