The Artisan Label Punch has such interesting edges that I decided to make a flower using it.  I will be making a video soon to show you how to make this fun little flower.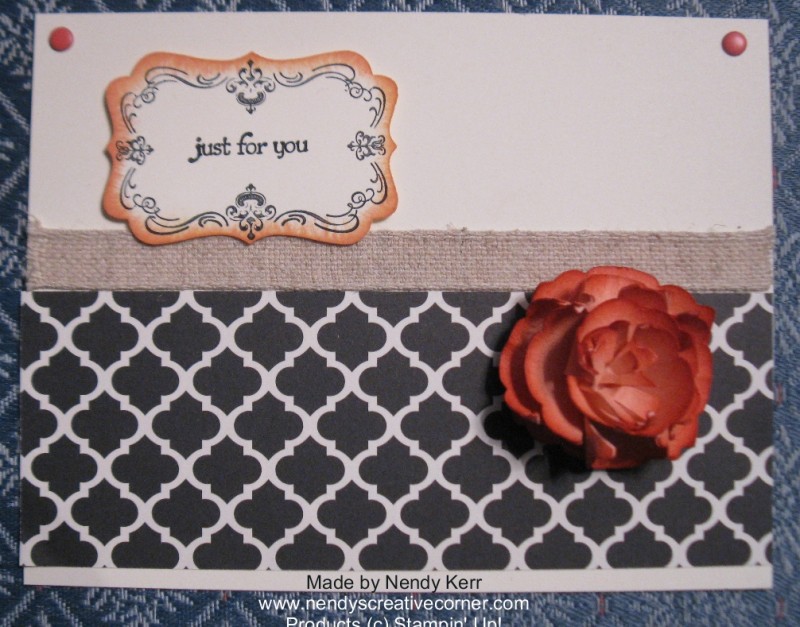 SUPPLIES:
Stamps"  Four Frames w#128589  c#123442
Teeny Tiny Wishes  w#128748  c#127802
Ink:  StayzOn Black
Calypso Coral
Crisp Cantaloupe
Card Stock:  Very Vanilla
Crisp Cantaloupe
Modern Medley Designer Series Paper #126926
Punch:  Artisan Label  #130920
Decorative Label #120907
Other:  7/16″ Trim #129287
Subtles Candy Dots #130933
Glue Dots
SNAIL Adhesive
Dimensionals
Stamping Sponge
INSTRUCTIONS:
1.  Cut your Very Vanilla card base at 5-1/2″ x 8-1/2″  Score and fold at 4-1/4″.
2.  Cut your Modern Medley Designer Series Paper at 2″ x 5-1/2″  Adhere to card front about 1/4″ from the bottom.
3.  Cut your 7/16″ Trim at 5-1/2″.  Adhere above Modern Medley DSP with SNAIL.
4.  Stamp the Four Frames and desired Teeny Tiny Wishes sentiment in StayzOn Black.  Puch out with Decorative Label Punch.  Sponge around the edges using Crisp Cantaloupe ink.  Place Dimensionals on the back.  Set aside.
5.  Punch seven Artisan Labels from Crisp Cantaloupe card stock.  Sponge the edges with Calypso Coral ink if desired.  Cut six Labels in half through the smooth center.  Cut from each decorative edge to the center to form a triangle.  This will form one petal.  Use your bone folder to curl each petal.  Use your bone folder to slightly curl the edges of the whole Artisan Lable piece.  This will form your flower base.  Place a curled petal along one edge of the flower base and another just opposite.  Adhere all Petals with a Glue Dot.  Now place two petals going the other direction on top of the first layer of petals.  The next layer will go the same direction as the first layer.  You can trim the center portions if desired.  Continue placing petals until you have just one left.  Make small cuts along the top edge.  Roll it up slightly and attach to center of top petals with a glue dot.  Fluff flower if desired.
6.  Place sentiment label and flower in desired positions.  Adhere label with Dimensionals.  Adhere flower with either Glue Dots or a Demensional.
7.  Place Candy Dots in the top two corners of card.
8.  Hand deliver this card or put it in a package so it won't get smashed.
I will have a new service available on August 1st.  More details coming soon.
Happy Stamping!
Nendy