Quite a few ladies helped decorate these Gift Boxes on Saturday at a service project at Church.  The decorations were Flowers made from either Silver or Gold Glimmer Paper and Foil Paper.  They had a lot of fun!  The boxes all looked a little different as each lady put a little of herself into making them.  Some other ladies made little flannel blankets to put in them.  These will be given to the local hospital as a gift for parents of stillborn children.  Change the sentiment and use these Gift Boxes for any Occasion.  Change the papers to Red Glimmer and Red Foil for Christmas!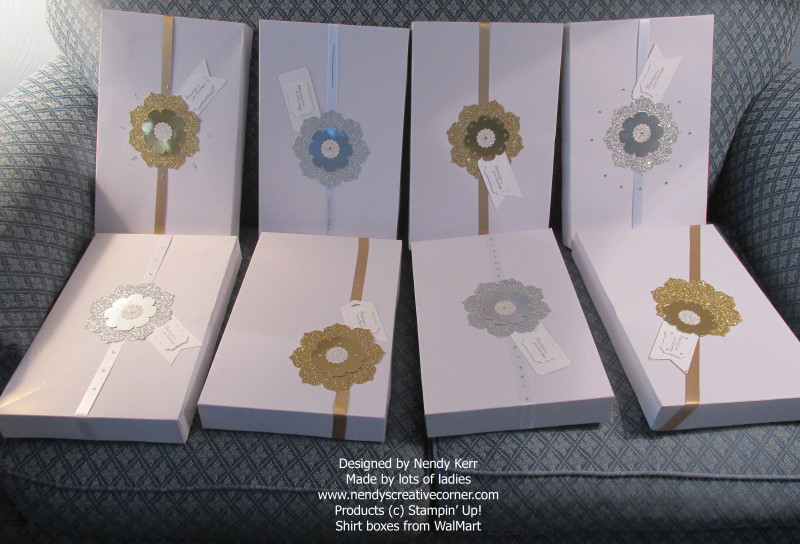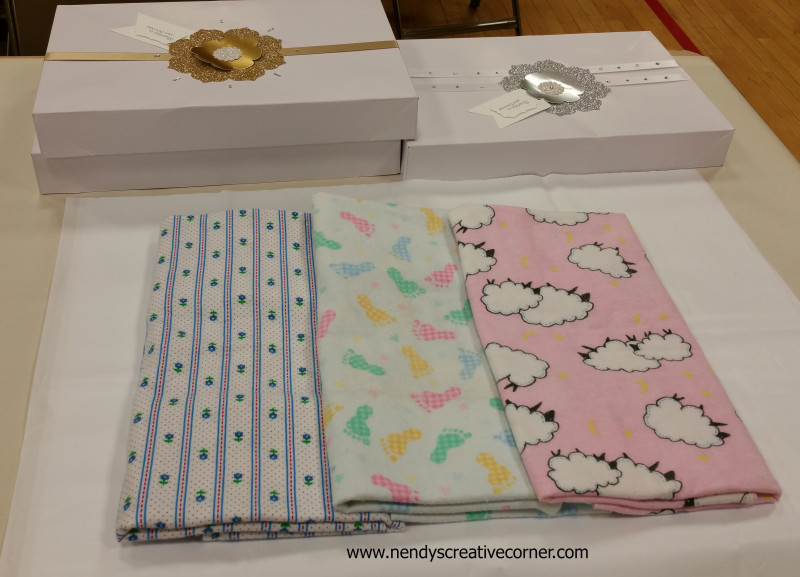 SUPPLIES:
Stamp Set:  Thoughts and Prayers Wood #128751, Clear #127805
Ink:  Memento Black
Card Stock:  Gold Glimmer OR Silver Glimmer Paper OR Red Glimmer Paper
Gold Foil OR Silver Foil Paper (Coming September 1st – Red Foil Paper #139607)
Dazzling Diamonds Glimmer Paper 
Thick Whisper White card stock #140272
Whisper White card stock
Big Shot:  Floral Frames Framelits #127012
Punches:  1-1/4″ Scallop Circle #127811
Decorative Label #120907
Scallop Tag Topper #133324
Banner Triple #138292
Corner Rounder #135346
Ribbon:  Whisper White 5/8″ Satin #134549
Gold 5/8″ Satin #134547
Silver 5/8″ Satin #134548
Other:  Basic Rhinestones
Tombow Glue
Dimensionals
Glue Dots
Tear & Tape Adhesive
Shirt Boxes from WalMart gift wrapping section
INSTRUCTIONS:
1.  Choose either Gold OR Silver OR Red as your color.  The 2015 Holiday Catalog has Red Foil Paper so you can also choose Red if you want to.
2.  Cutting the pieces
~Use the Largest Floral Frames Framelit to cut a Gold OR Silver Glimmer Paper Flower.
~Use the third Floral Frames Framelit to cut a Gold OR Silver Foil Paper Flower.  NOTE:  use this sandwich in your Big Shot:  Magnetic Platform, cutting plate, Foil Paper with white side down/foil side up, Framelit with cutting edge down, card stock to cover entire piece of Foil Paper, top cutting plate.  The Foil Paper will pick up any dents and cracks on your cutting pad.  Putting a piece of card stock between the cutting pad and Foil Paper will prevent this.
~Punch a 1-1/4″ Scallop Circle from Dazzling Diamonds Glimmer Paper.
~Cut your Ribbon large enough to go on the inside of the box.  The length I cut for the Shirt Boxes was about 22″.
3.  The Tag
~Stamp your sentiment on regular Whisper White card stock.  Punch out with the decorative label punch (or other punch or die cut).
~Cut your Tag Base at 2″ (slightly less than 2″) x 4-1/4″ (or however long you need it for your sentiment plus at least 2″ if you are using both the Scallop Tag Topper Punch and the Banner Triple Punch.  If you are just going to round the bottom corners, then just adding 1″ or so should be good.)
~Now punch the ends of your Tag Base:  Use the Scallop Tag Topper Punch on one end.  Use either the Banner Triple Punch OR the Corner Rounder Punch on the other end.  You can use White Bakers Twine to tie a Bow or use as fringe through the Tag hole.
4.  Now to put everything together.  Decide where you want the Ribbon, the Flower, and the Tag to go.
~Attach the Ribbon to the Box lid with some Tear & Tape Adhesive.  I used about 4″ on each end so the ribbon would be secure on the side-both outside and inside the box.  Try to get it straight or put it at an angle.
~Assemble your Flower:  If desired your can put Demensionals on the back of each petal on the Floral Frames Flower layers.  Put Tombow Glue on the back centers of each Flower piece so the pieces will stay attached.  Glimmer Paper is very picky about which adhesives it will stick to.  One of the ladies brought Zots Glue Dots and the pieces did not stay together.  Stampin' Up! Glue Dots don't work well either.
~Attach your Flower to the Box with Tombow Glue at least in the center.  You can use Dimensionals on the petal ends if you want some Dimension.
~Attach your Tag with either Glue Dots or Dimensionals.
~Embellish with Basic Rhinestones.
5.  Fill with your Gift.  We finished decorating 12 Boxes in less than an hour.  Once the cutting is done and you have made one box, it goes pretty quickly.
Happy Box Decorating!
Nendy Kerr