This Card is CASEd (Copy And Share Everything) from page 45 of the upcoming Holiday Catalog.  Sorry, I am not allowed to show you a picture of a catalog page until September 5th when the Catalog goes live.  I again gave my helper Kiev the challenge to pick and CASE a card.  She chose one using the NEW Falling Leaves Bundle from page 45.  I think she did a great job!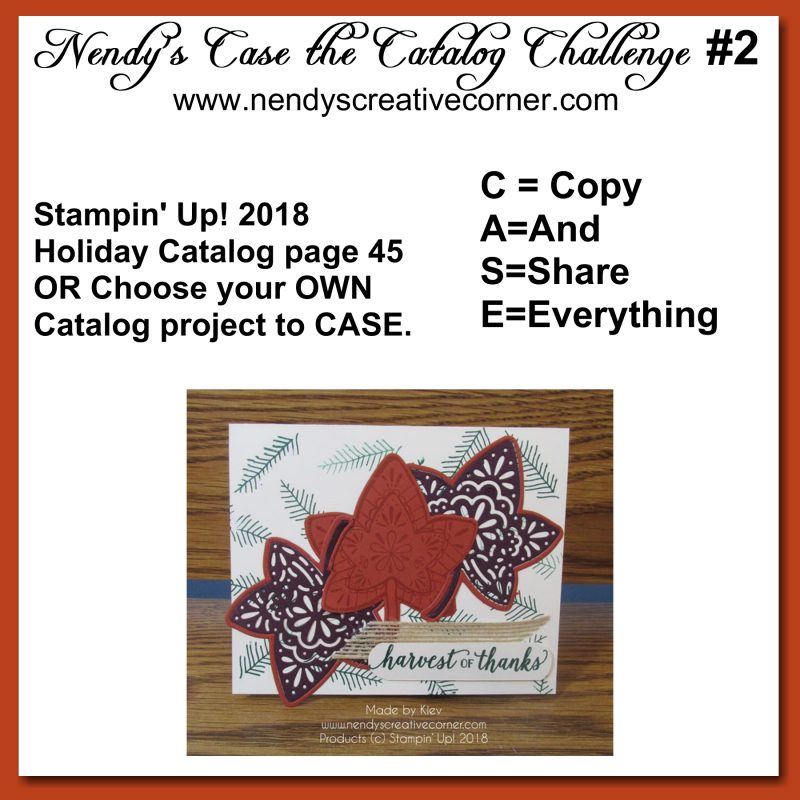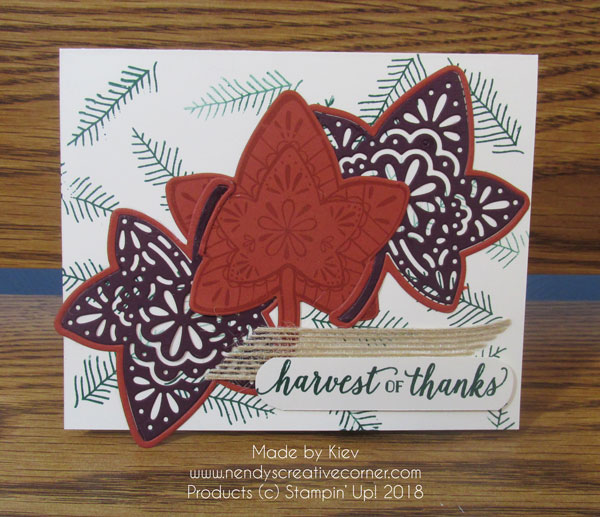 SUPPLIES:
Bundle:  Falling Leaves  Photopolymer stamps + Detailed Leaves Thinlits #149938  (Available September 5, 2018)
Inks:  Cajun Craze
Shaded Spruce
Cardstock:  Very Vanilla
Cajun Craze
Rich Razzleberry
Punch:  3/4″ Circle #119873
Embellishments:  5/8″ Burlap Ribbon #141487
Adhesives:  Multipurpose Adhesive Sheets #144106  OR Tombow Glue
Stampin' Dimensionals
SNAIL
Silicone Craft Sheet
INSTRUCTIONS:
1.  Cut your Very Vanilla card base at 5-1/2″ x 8-1/2″.  Score and fold at 4-1/4″.
2.  Randomly stamp the Leaf Vein stamp in Shaded Spruce on the card front.  (If you are also a computer programmer, please forgive my use of the word "random".  Figure out the algorithm to make it work.)
3.  Leaves.  Put part of a Multipurpose Adhesive Sheet on the back of the cardstock for each Leaf, then cut with the Big Shot.  This will turn your Leaves into Stickers for easier assembly.  Or attach with Tombow Glue.
~Cajun Craze Leaf.  Stamp first with Cajun Craze ink then cut out with only the outer Large Leaf Framelit.
~Rich Razzleberry die cut Large Leaves.  Die cut two Large Leaves each of Cajun Craze and Rich Razzleberry.  You will notice the Large Leaf Thinlit has two pieces.  Use both at the same time when cutting out the Leaves.
4.  Lay out the Leaves in the position you want, then attach them to the card front.  Notice how the Rich Razzleberry stems are on top of the Cajun Craze Leaf.
5.  Cut a 3-1/2″ piece of Burlap Ribbon with the ends cut diagonally.  Attach to your card by putting two rows of SNAIL on the back.  Watch This Video to learn the details.
6.  Stamp your sentiment on a 5/8″ x 3″ piece of Very Vanilla cardstock.  You can round the ends with a 3/4″ Circle Punch if desired.  Attach with Stampin' Dimensionals.
Your Card is finished.
Get all your Fall Card Making Supplies from My Online Store.  Buy from the 2018 Holiday Catalog starting September 5, 2018.