I attended a Christmas Party with some Stampin' Up! Friends on Saturday and received this gift from my sideline-Karen Bouchikas.  She is very creative and thoughtful.  She said I could share this on my blog.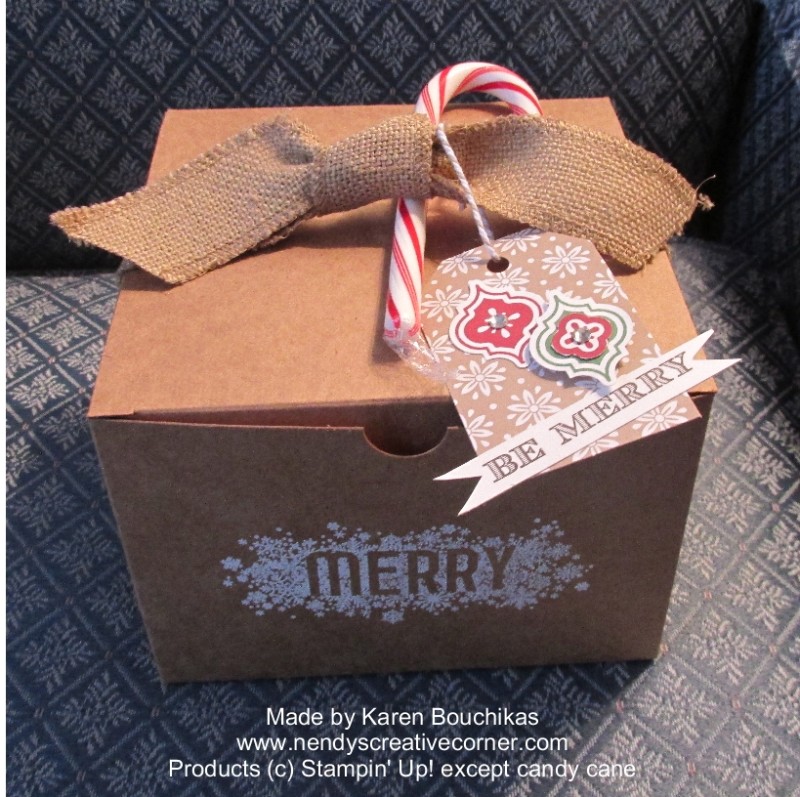 GIFT BOX INSTRUCTIONS:
Supplies:
Extra Large Gift Box #132147
Burlap Ribbon #132140
Under the Tree Specialty Designer Series Paper #135825
Baker's Twine
Seasonally Scattered Stamp set  wood #135020  clear #135023  Spanish #137391
Mosaic Madness Stamp set  wood#130246  clear #130249
Mosaic Punch #131267
Be Merry Stamp – I don't know what stamp set this is from- Sorry.
Angled Tag Topper Punch #133323
Basic Rhinestones #119246
1.  Stamp "Merry" on the box front with either White StazOn OR use VersaMark ink and White embossing powder.
2.  Fill Box.
3.  Tie Burlap Ribbon around box.  Trim edges diagonally.  Slip a candy cane underneath if desired.
4.  Make your Tag.  Cut your Designer Series Paper at 2″ x 3″.  Cut the top with the Angled Tag Topper Punch.  Stamp Two Mosiacs on Whisper White card stock:  one in Cherry Cobbler ink and one in Wild Wasabi ink.  Also stamp one of the small designs in Cherry Cobbler.  Punch out the Mosaics with the Mosaic Punch.  Cut out the small design and attach it to the Green Mosaic.  Add Rhinestones to the center of each Mosaic.  Attach to your Tag using a Dimensional underneath one of them if desired.  Stamp your sentiment on 3/8″ x 3″ Whisper White card stock.  Use Baker's Twine to attach your Tag to your Burlap Bow.  Your Gift Box is now decorated!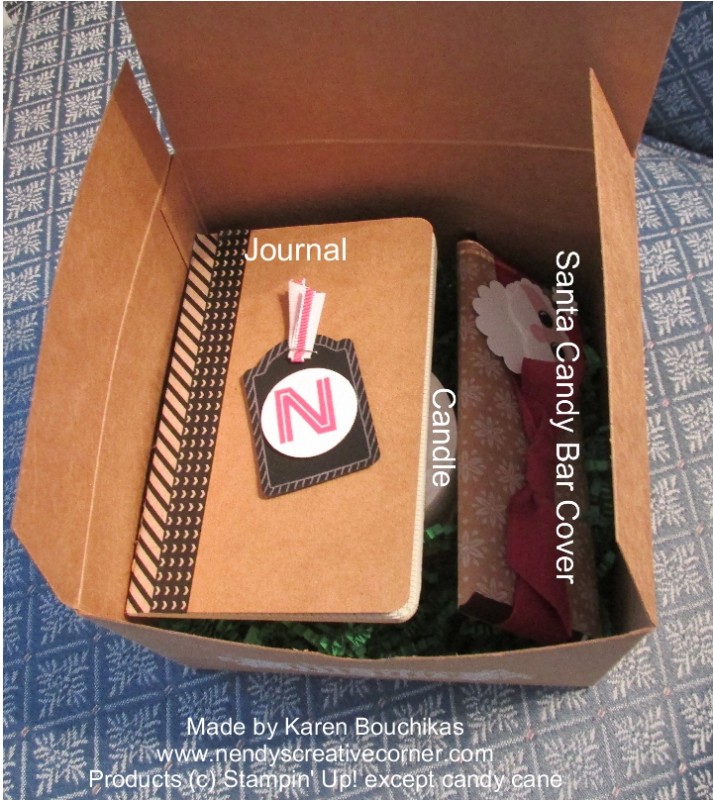 KRAFT JOURNAL INSTRUCTIONS: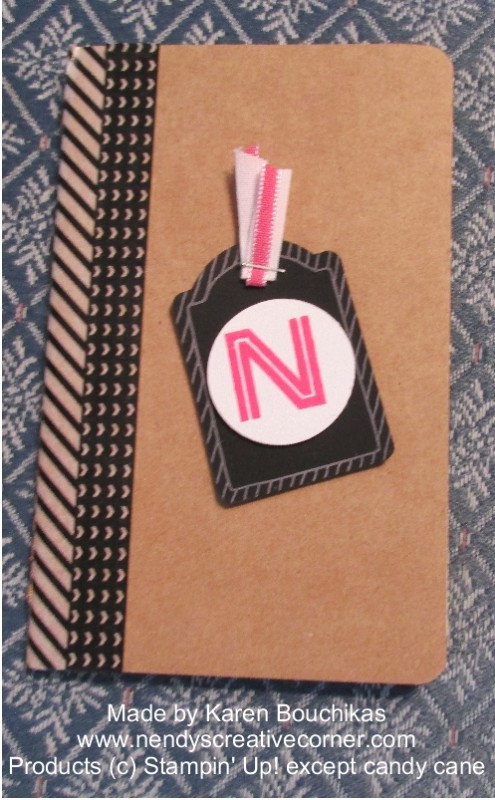 Supplies:
* = Available January 6, 2015
Grid Kraft Journal #134718
Metro Type Alphabet Photopolymer stamp set #133666
Whisper White card stock
Real Red Ink pad
*Chalkboard Paper #137786
*Rose Coral Chalk Ink #138091
*One Tag Fits All #137143
1/8″ Real Red Taffeta Ribbon
1/4″ Whisper White Cotton Ribbon
Note Tag Punch #135860
Washi Tape of your choice (*Stacked with Love #137789 used)
1-3/8″ Circle Punch
Handheld Stapler #135850
Bone Folder
1.  Decide who will be getting this Journal.  Stamp the first letter of their name in Real Red ink on Whisper White card stock.  Punch out with the 1-3/8″ Circle Punch.  Put Dimensionals on the back.
2.  Stamp the Tag shape with the Rose Coral Chalk ink on Chalkboard Paper (Basic Black just won't look as good with this ink.)  Punch it out with the Note Tag Punch.  Put Dimensionals on the back.
3.  Choose two Ribbons.  1/4″ Whisper White Cotton Ribbon and 1/8″ Real Red Taffeta were used.  Cut a 2″ length of each.  Fold them in half and staple onto the top of your Tag.  Now add the Circle Punch with the letter on it.
4.  Run two strips of Washi Tape along the folded edge of your Journal.  Rub the Washi Tape really well so it will stay attached.  Otherwise the ends tend to come up.
5.  Position your Tag as desired and attach with Dimensionals.
Candy bar with Punch Art Santa Claus coming tomorrow.
Merry Christmas Crafting!
Nendy Kerr