This quick and easy Eastern Palace Card uses the Eastern Medallions Thinlits, Eastern Gold Vinyl Stickers, and Thick Very Vanilla card stock.  Make your OWN version today!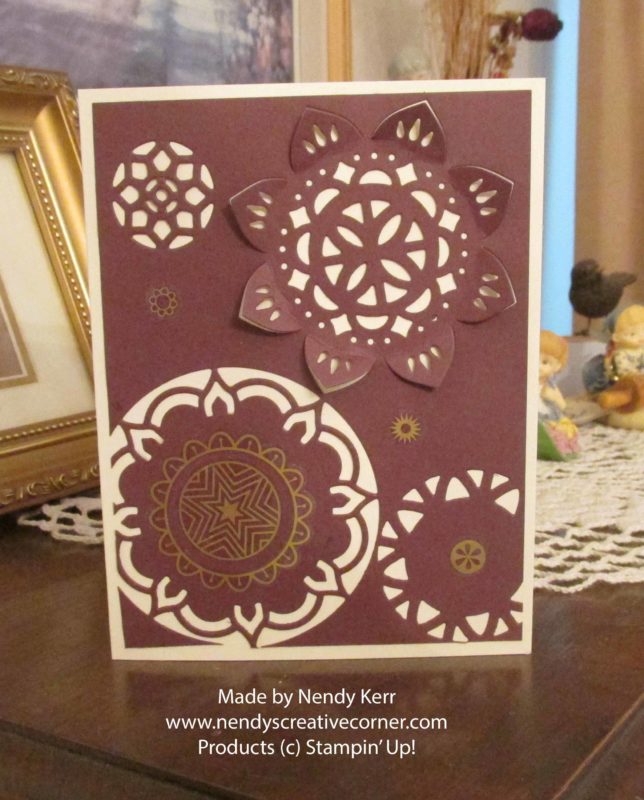 SUPPLIES:
NOTE:  These supplies are all in the Eastern Palace Premiere Bundle #147207 which is available May 1-31, 2-17.  They will be available individually on June 1, 2017.
Card Stock:  Fresh Fig
Thick Very Vanilla
Big Shot:  Eastern Medallion Thinlits #143725
NEW Big Shot Die Brush #144262 (Available June 1, 2017)
Embellishments:  Eastern Gold Vinyl Stickers  #144150
Adhesive"  Tombow Glue
INSTRUCTIONS:
1.  Cut your Thick Very Vanilla card base at 5-1/2″ x 8-1/2″.  SCORE and fold at 4-1/4″.
2.  Cut your Fresh Fig card front at 4″ x 5-1/4″.
3.  Lay your card front on your Big Shot Platform with a cutting plate .
~Place a variety of the Eastern Medallion Thinlits on your card front where you want them.  Yes, some Thinlits can hang off the edge.
~Run through your Big Shot with another cuttine plate on top of your Thinlits.
~Poke out all the tiny pieces with your Big Shot Die Brush or a toothpick.
~Glue to your card base making sure and getting the corners and edges and around the edges of the cut outs.
4.  Add some Gold Vinyl Stickers where you want.  I placed two inside the large Medallion cut out and one small sticker inside the medium Medallion cut out.  I also place two small stickers on the card front.
Make this quick and easy Medallion Cut-Out card in a variety of colors.  You can also stamp instead of using stickers.