I love this Three Hearts Card Kiev made!  I Love the NEW Meant to Be Bundle with the Be Mine (Heart) Framelits & Thinlits!!  Kiev designed this card using three of the Filigree Heart Thinlits and the NEW Rectangle Stitched Framelits and some Designer Series Paper.  This card can be used for any "Love" Occasion.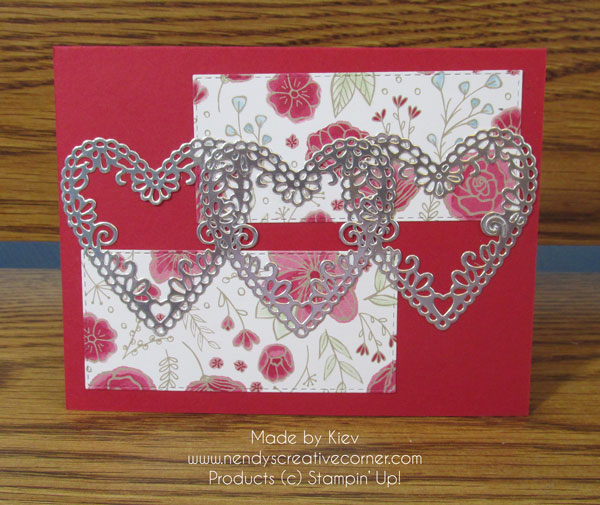 SUPPLIES:
Cardstock:  Real Red
All My Love 12×12 Designer Series Paper #148576
Silver Foil 12×12 Sheet #132178
Big Shot:  Be Mine Stitched Framelits #148527
Rectangle Stitched Framelits #148551
Adhesive:  Multipurpose Adhesive Sheets #144106
SNAIL
INSTRUCTIONS:
1.  Cut your Real Red card base at 5-1/2″ x 8-1/2″.  Score and fold at 4-1/4″.
2.  Cut two 1-3/4″ x 3-3/4″ Stitched Rectangles using the Rectangle Framelits.  Attach to card base as shown in the photo.

3.  Watch This Video if you need help using the Multipurpose Sheets.  Watch This Video for help cutting detailed Thinlits.

4.  Lay your Heart Thinlit the back of your Silver Foil paper to decide how much you will need.  Cut your Multipurpose Adhesive Sheet and Silver Foil the same size.  Put the Multipurpose Adhesive Sheet on the back of the Silver Foil Sheet.  Cut out one Heart
Big Shot Sandwich:
1. Big Shot Platform with Thin Die Adapter on (OR Multipurpose Platform with all tabs closed)
2. Bottom cutting plate (The flatter it is the better results you will get.)
3. Foil Sheet with adhesive sheet down
4. Heart Thinlit with cutting edges touching Foil Sheet
5. Printer Paper folded in half covering the Foil Sheet to keep it smooth and pretty looking
6. Add the Top cutting plate

5.  Lay out the Hearts where you want them.  Peel off the adhesive backing and put the Hearts on the card.
~Attach the Hearts on the sides first.
~Then she put the center Heart down overlapping the side Hearts.
Your card is finished.
Would you like to get THREE Exclusive Card designs each month?  Subscribe to my Weekly Newsletter.