Here is a fun Christmas Ornament to make using the Curvy Keepsakes Box Thinlit and the Mosaic Punch.  Just choose two colors of Glimmer Paper.  I like to make each of my family members an ornament each year.  This one will be quick and easy.  It can also be mailed flat in a larger envelope.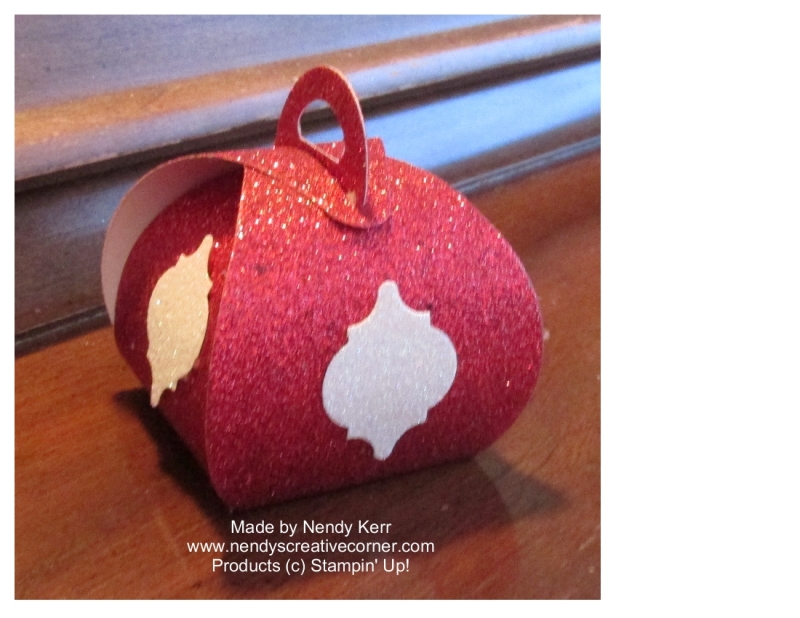 SUPPLIES:
Card Stock:  Whisper White
Red Glimmer Paper
Dazzling Diamonds Glimmer Paper
Big Shot:  Curvy Keepsakes Box Thinlit #135853
Bitty Banners Framelits #129267
Punch:  Mosaic #131267
Other:  Bone Folder
Tombow Glue
Baker's Twine or Ribbon or tree hook
Sandwich baggie
Stack of books 🙂  (Well, you can save one out to read while waiting.)
INSTRUCTIONS:
1.  Cut your Curvy Keepsakes Box out.  I would recommend just cutting a single layer.  Have the Glimmer Paper facing up for both pieces.  You will need two 6-1/4″ x 6″ pieces of Glimmer Paper.  Watch this video for Curvy Box Basics.
Tip:  Box Shaping with Bone Folder Note:  Put your thumb or finger on the fold line when shaping your box with the Bone Folder otherwise the Glimmer separates from the backing and you have to glue it together.
2.  Attaching the pieces together:  Glue the bottom pieces together as shown in the video.  Add the Punched Mosiac Pieces about 1/4″ above the fold line.
Tip:  Tombow had a harder time sticking together, so I placed the glued pieces flat on the counter with a sandwich baggie on top.  I then added a stack of books and left to start writing this post and have some breakfast.  You can stack multiple Ornaments under the same stack of books – Just remember to separate them with a baggie so they don't stick together.
3.  Optional:  Stamp a sentiment and punch it out.  Add to one of the rounded handles with Baker's Twine if you want them to open the Ornament OR tie it on through both handles after the box is assembled so it can remain in box shape.  Put your Ornament together.
4.  Some wait time, but totally worth it for your Sparkly Ornament!  Just add either a Tree Hook, Ribbon, or Baker's Twine to hold it on your Christmas Tree.
Happy Christmas Decorating!
Nendy Kerr