We are making this fun "Man" Card today at my Stamp Class.  My grandson helped design it.  I gave him a few choices and between us we came up with this card.  The Soda Pop Tops/Bottle Caps are easy to work with and make a great "manly" embellishment.  Most guys do like "hardware" of some sort.  Except for the drying time this card is really quick to make.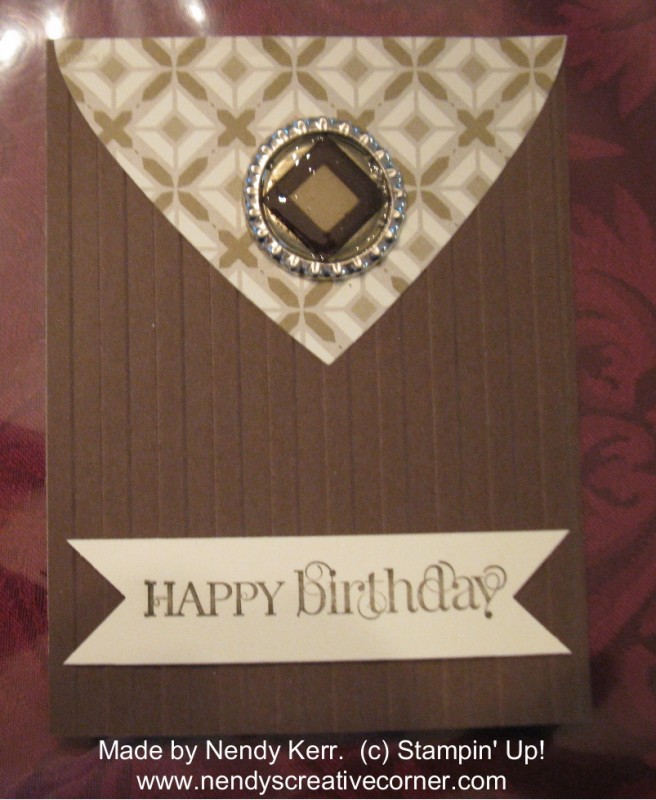 SUPPLIES:
Stamps:  Curly Cute w#117014  c#120510
Ink:  Early Espresso
Card Stock:  Crumb Cake
Chocolate Chip
Very Vanilla
Comfort Cafe Designer Series Paper #126898
Big Shot:  Stripes Embossing Folder #123128
Heart Framelits
Punch:  Square-any larger size to cut ends of Banner
Other:  Soda Pop Tops (Bottle Caps) #129388
Paper Trimmer
Crystal Effects #101055
SNAIL
Glue Dots
Dimensionals
INSTRUCTIONS:
1.  First we need to do our Soda Pop Tops/Bottle Cap so it can dry while we are making our card.  We will flatten it out with our Big Shot.  Don't worry, it works great and you don't need strong muscles to crank the handle!  They look about the same whether you put them with the flat part at the top or touching the cutting pad.  Open all the Tabs on your Big Shot's Multipurpose Platform.  Put a cutting pad down, as usual.  Now put your Soda Pop Tops/Bottle Cap(s) on the Cutting Pad.  Put a Cutting Pad on top.  Run through your Big Shot.  It makes less cracking sounds than using Framelits.
2.  Cut a 3/4″ square of Chocolate Chip card stock.  Adhere it inside your Soda Pop Tops/Bottle Cap with Glue Dots.  I put one on each corner.  Cut a 1/2″ square of Crumb Cake card stock.  Adhere it with Glue Dots on top of the Chocolate Chip square inside the Soda Pop Tops/Bottle Caps.  Now squeeze in some Crystal Effects.  Gently swirl tip to get rid of any bubbles and to cover the whole inside of your Bottle Cap.  Set aside somewhere so it won't get bumped.  (Optional:  you can put Glue Dots on the bottom of the Bottle Cap BEFORE you add the Crystal Effects.  Just put the Glue Dot paper over the Glue Dots so you can easily adhere it before the Crystal Effects completely dries.)
3.  Cut your Crumb Cake card base at 5-1/2″ x 8-1/2″.  Score and fold at 4-1/4″.
4.  Cut your Chocolate Chip card stock at 4-1/4″ x 5-1/2″.  Run through your Big Shot with the Stripes embossing folder.  Adhere to card base.  (Note:  I put SNAIL on the card base so I don't flatten out my embossing.  It also helps to put a Glue Dot on each corner.)
5.  Use the largest smooth Heart Framelit to cut your Comfort Cafe Designer Series Paper.  I had the straight edge of the DSP at the part of the Heart Framelit just before it started to curve to make the top of the Heart.  Adhere with SNAIL.  I would recommend putting Glue Dots on the upper corners.
6.  Cut your Very Vanilla 1″ x at least 4-1/4″ for your Banner.  Stamp your sentiment in Early Espresso using the Stamp-a-ma-jig if desired.  Use your Square Punch or Hearts-a-Flutter Banner Framelit or Scissors to cut the notches from your Banner.  Adhere to card front with Dimensionals.
7.  When your Crystal Effects in your Soda Pop Tops/Bottle Cap is dry (at least an hour or two, but best left overnight to dry) adhere with Glue Dots to your Designer Series Paper.
8.  Enjoy the dimension and shine of the Crystal Effects on your Bottle Cap Card!
Happy Stamping!
Nendy