This Crafting Forever stamp set combined with the Stitched Seasons Framelits popped into my head and turned out pretty close to what I pictured which is an unusual occurrence.  Things usually turn out way different than the way I pictured them.  This is a pretty quick card to make.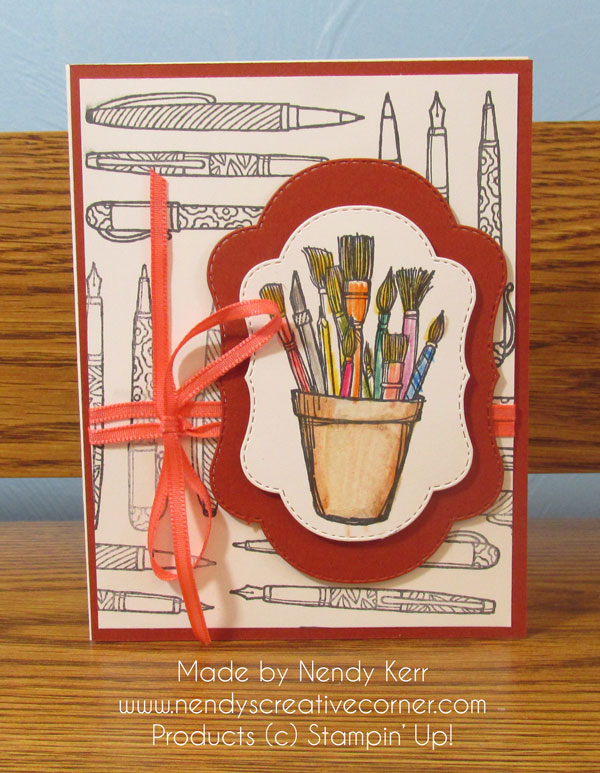 SUPPLIES:
Stamps:  Crafting Forever: Rubber  Wood-Mount #143955, Clear-Mount #143958
Ink:  Memento Black
Coloring:  Watercolor Pencils Assortment 1 #141709
Watercolor Pencils Assortment 2 #149014
Blender Pen #102845
Cardstock:  Whisper White
Cajun Craze
Big Shot:  Stitched Seasons Framelits #149013
Ribbon:  Calypso Coral 1/8″ Sheer Ribbon #144173
Adhesives:  SNAIL
Stampin' Dimensionals
INSTRUCTIONS:
1.  Cut:
~Whisper White card base at 5-1/2″ x 8-1/2″.  Score and fold at 4-1/4″.
~Cajun Craze card layer at 4-1/4″ x 5-1/2″.
~Whisper White stamping layer at 4″ x 5-1/4″
2. Stamp, then Color with Watercolor Pencils:
~Stamp your Paintbrushes Planter Pot image in Memento Black ink on Whisper White cardstock.
~Color the Planter Pot with your Cajun Craze Watercolor Pencil. Color darker where the lines are on the sides and under the pot lip.  Use the Blender Pen to blend out the pencil lines.
~Color all the paintbrush tips with the Crushed Curry and Early Espresso.  I just lightly colored the tips.
~Color the Cutting Blade with Smoky Slate.
~Color the Pencil with either Crushed Curry or Daffodil Delight.
~Color each Paint Brush Handle a different color.
I only used the Blender Pen on the Planter Pot.
3.  Cut out your stamped and colored image with the Stitched Seasons Framelit.  Get your Cajun Craze card layer and cut the next larger Stitched Seasons Framelit from the center.  Layer with Stampin' Dimensionals.
4.  Stamp the Pen image in Memento Black ink on your 4″ x 5-1/4″ Whisper White Stamping Layer.  Rotate the way the stamp faces:  up & down, or sideways.  They don't have to be perfectly straight.  Just basically fill the card front with pen images.
5.  Put it all together.
~Attach your Cajun Craze card layer to your Whisper White card base.  Yes, this is the piece you die cut from the center.
~Put some SNAIL across the Whisper White Pen card front where you want your Ribbon to go.  Wrap the ribbon around the card front piece twice attaching it to the SNAIL to hold it in place.  Tie a bow off to the side.
~Now attach your Whisper White Pen layer to the Cajun Craze layer.  See you covered up the die cut hole.
~Attach your layered Paint Brushes in a Pot layered die cuts to your card front with Stampin' Dimensionals.
Your card is finished.