This is the last card in the Cottage Greetings Card Kit.  It is my favorite in the kit.  As with the other cards in this kit, it is quick and easy.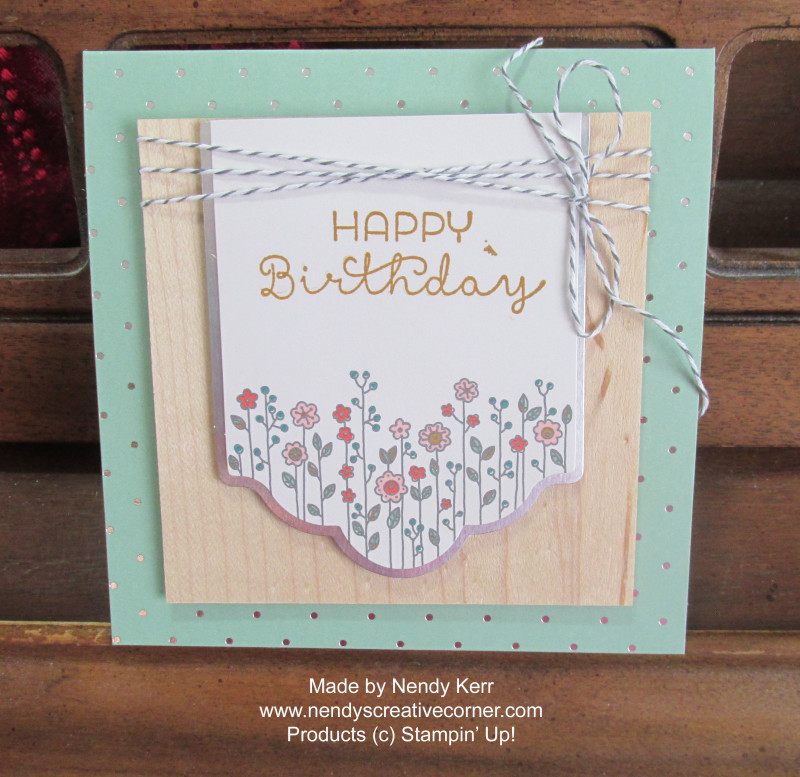 SUPPLIES:
Cottage Greetings Card Kit #138377
Cottage Greetings stamp set  Wood #138940, Clear #139962, French #140074
Delightful Dijon ink pad
Fast Fuse or Snail adhesive
Ruler to measure Baker's Twine
INSTRUCTIONS:
1.  Choose the Pool Party Polka Dot card base, the small wood sheet, the banner shaped die cut as shown and coordinating silver mat, the desired sentiment stamp and ink color, and cut 1 yard (3 feet/36 inches) of Baker's Twine.  Also find the included Dimensionals and your Snail Adhesive.
2.  Stamp your sentiment on the die cut with Delightful Dijon ink.  Attach your stamped die cut to the silver foil layer with Snail adhesive.  Attach your layered banner with Dimensionals to the small wood sheet.
3.  Wrap your 1 yard of Baker's Twine around your layered wood sheet three times and tie a bow. Arrange the Baker's Twine as desired.  Attache your layered wood sheet to your card base with Dimensionals.
4.  Ta da!  You can now make all the cards in this Kit!  You can change the cards by switching card bases and stamps.
Happy Card Making!
Nendy Kerr