This Christmas Pines card Kiev designed uses cardstock, ink, and embossing powder.  It uses a Two-Step stamping Technique which means that you use two stamps for each branch and three stamps for each Pine Cone.  Add White Embossed Snowflakes if desired to add some shine to your card.  This is a #SimpleStamping card.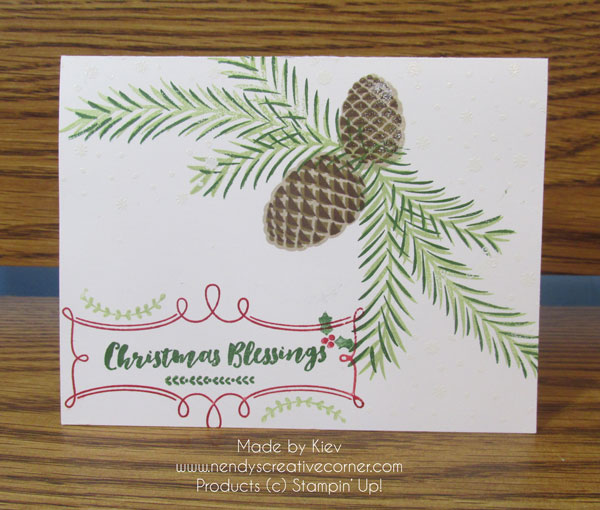 SUPPLIES:
Stamps:  Christmas Pines  Photopolymer #142049
Inks:  Garden Green
Pear Pizzazz
Crumb Cake
Soft Suede
Early Espresso
Real Red
VersaMark OR Whisper White for Snowflakes
Markers:  Real Red
Garden Green
Heat Embossing:  White Embossing Powder #109132
Heat Tool #129053
INSTRUCTIONS:
1.  Cut your Whisper White card base at 5-1/2″ x 8-1/2″.  Score and fold at 4-1/4″.
2.  Stamp your Sentiment.
~Stamp the Tag image in Real Red ink in the lower left corner.
~Stamp your Christmas Blessings in Garden Green ink inside the Real Red Tag image.
~Stamp the straight small leaf garland in Garden Green ink
~Stamp the rounded leaf garland in Pear Pizzazz ink.
~Use your Real Red and Garden Green Markers to color the small Holly Leaves and berries.   Stamp over the last "S" as shown.
3.  Stamp your Branches. 
~Solid Branch in Pear Pizzazz ink.
~Stamp over the Solid Branch with the other Branch Stamp using Garden Green ink.
4.  Stamp your Pinecones:
There are three Pine Cone stamps each in two sizes shown from left to right on your Stamp Cover Image: a minimal image, a medium image, and a solid image.  You will be using all three of each size per pine cone.  Stamp a large Pine Cone and a Small Pine Cone as shown.
~Stamp the Solid stamp in Crumb Cake
~Stamp the medium stamp in Soft Suede
~Stamp the minimal stamp in Early Espresso.
5. Optional Snowflakes.
~Stamp the Snowflake images several times on your card front, just NOT on the sentiment.  Use either Whisper White Craft ink OR VersaMark ink.
~Place card on a piece of scratch printer paper.  Dump White Embossing Powder over the stamped Snowflakes.  Dump the excess back into the jar.
~Melt with your Heat Tool until all the Snowflakes are shiny.
Your Card is finished.