My 4-year-old granddaughter's birthday was a couple of weeks ago.  I sent her some Stampin' Up! Note cards with envelopes, the Itty Bitty Accents Punch Pack, Strawberry Slush Thick Baker's Twine, and a partially used Love Notes Paper Stack for her birthday.  She has been having so much fun!  She made this card for me.  Her Mom probably tied the Baker's Twine for her.  This made me think of what I did with my children during the Summer Months.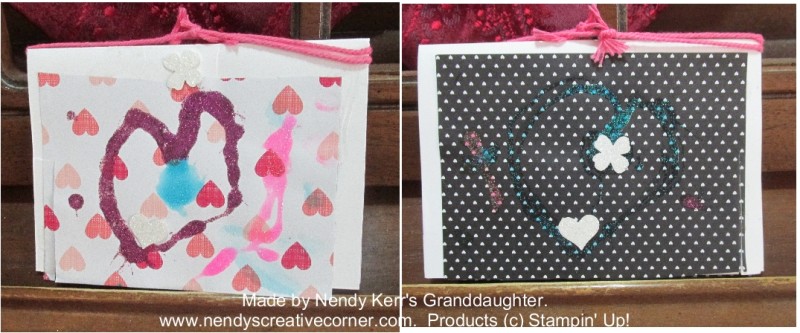 With Summer in full swing (or coming shortly if you get out of school in June), you need something to help the children be happy and busy.  When my children were young we had a schedule that included an art related activity every day.  Some did enjoy it less than others, I am sad to admit.
Here are some Art and Craft related suggestions.  The ages are general.  Your child may learn slower or faster.  I am just guessing when I introduced these skills to my children.  Also teach them how to clean up when they are done.  Make it be a part of the creative process.  (I still need help with the cleaning up part.)  Feel free to advance them to more difficult skills as they are ready.
Ages 1-3.  Learning Basic Skills
~Coloring.  Children as young as 1 year old can start coloring with crayons and colored pencils with supervision and help.  Let them color on scrap papers (printing on one side).  Get them a simple coloring book when they are a little older.  I let my kids color and cut when strapped in their high chairs for the longest time……..  My youngest daughter still remembers……
~Cutting.  Get safety scissors with rounded tips.  (Get left-handed scissors if your child is a lefty.  It will keep them from getting frustrated and giving up.)  Let the child cut scrap paper over a trash can or other container.  (This will let you enjoy having them cut AND you will have less cleanup!)  Both coloring and cutting help develop their fine motor skills and hand-eye coordination.  They really need to learn these basic skills as a foundation for other motor and learning skills.
Ages 3-5.
~The child will hopefully be able to color more intricate pictures, if they have the desire.  Some are not really interested until they are in school.  You can now include Markers with supervised use.  Coloring on a white board is also fun.  Same with chalk boards.
~Teach them to cut around pictures they have colored or you have drawn.  Their cutting ability will get better with practice.  Again, remind them to cut over something and clean up after themselves.
~Teach them to use the Big Shot with embossing folders.  They think it is magic!  You might want to have some paper precut to fit into embossing folders.  They can also emboss the larger punched shapes.
~Teach them to use Punches-both the hand-held and the larger punches.  Also teach them to keep the punched shapes in a baggie.  (Again, so no clean up is required.)
~They can also use the Big Shot (supervised) with Bigz Dies, Thinlits, and Framelits.  Let them enjoy thinking up and making their own creations!  This is an important part of brain and motor skills development.
~Kids this age also like to help cook.  They really enjoy stirring and pouring in ingredients.  I also had them count the cups of flour and other ingredients.  Oh, Yes,  They do enjoy licking and tasting the ingredients and the finished product!  My kids who didn't really enjoy the "craft" projects, really enjoyed the cooking and baking projects.  They are all pretty good cooks as adults.
Come back on Friday to get Summer Ideas for the Elementary age kids and Teenagers.
Happy Summer Crafting!
Nendy Kerr