We made this Thanksgiving Banner and Table Setting pieces at my Thanksgiving Class Saturday.  We used the Celebration Basics Kit, a couple of ribbons, and some stamps.  Today's post covers making the banner.  Come back on Wednesday for instructions on making everything else.  It will help put you in a festive Thanksgiving mood and dress up each place at the table.  The Kit contains supplies for the Banner (15 Banner pieces) and 10 people.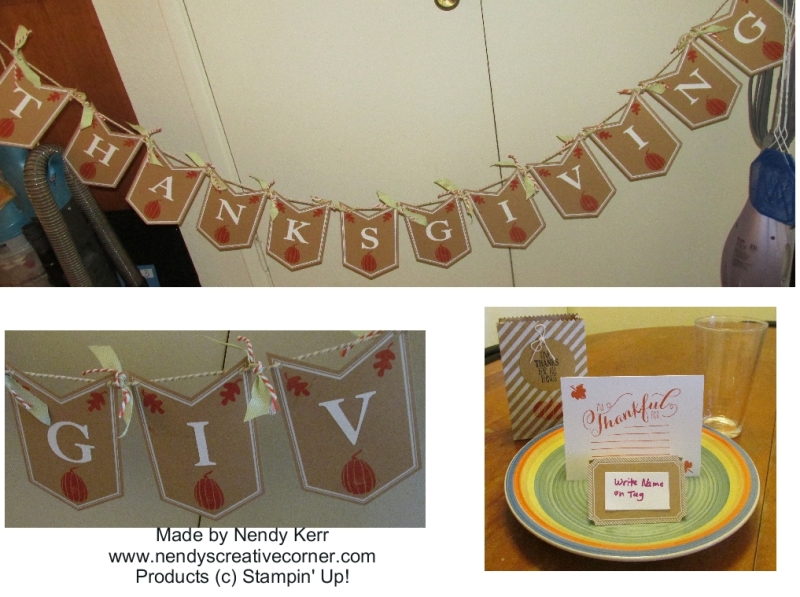 SUPPLIES:
Kit:  Celebration Basics Kit  #133007
Stamps:  Fall Fest Photopolymer #135194  (Bundle with Framelits #137628)
For All Things w#135152  c#135155  French #136985  MDS #138114
Ink:  Tangerine Tango
Chocolate Chip OR Black StazOn OR Early Espresso
Card Stock:  Whisper White
Ribbon Choices-Choose 1 Orange, 1 Green.  Make sure each ribbon is a different width and type.  You want variety:
Two Toned Trim:  Tangerine Tango #135838 OR Old Olive #135837
Ribbon:  Mossy Meadow 3/8″ Satin Stitched #133670 OR Pear Pizzazz 3/4″ Chevron #130011 OR Pumpkin Pie 3/4″ Chevron #130015 OR Tangelo Twist 3/8″ Satin Ribbon #133669
Other:  Tombow Glue
Letter Options:  I used a retired Bigz Die set since I was out of town and my DH could find it.  🙂
~The letters "Celebrate" come already cut out in your Kit.  You can add a Banner piece at each end with Pumpkins (stamped on card stock, then cut out with the Framelits) on each end.  This is the quickest option.
~The current Alphabet Bigz Die is Perfect Print #133725 which are up to 1″ wide and 1-1/4″ tall.
~You can also use the alphabet stencils that come in the Build a Banner Kit #133507 which are 1-1/2″ wide by 2″ tall for the shorter letters (I measured the "s") the letters are all lower case.  Use a sponge dauber and ink pad to add the letters to your banner pieces.
~You can also use an e-cutter to cut out the letters if you have one to cut out your letters.  You can use any of the MDS Alphabet stamps or punches and save them as SVG to cut them out.  OR use an alphabet set that comes with your e-cutter.
~You can use MDS Alphabet stamps or punches, print them, and hand cut them.
~You can choose a larger alphabet stamp set and stamp the letter directly onto the Banner piece or onto a background shape cut with a Framelit or large punch.
BANNER INSTRUCTIONS:
Choose a movie to watch while making these projects to help the project seem to go faster since this project involves a lot of repetition.
Note:  The Kit has 15 Banner pieces and enough of everything else for 10 people.  If you have more people coming, order a kit for every 10 people.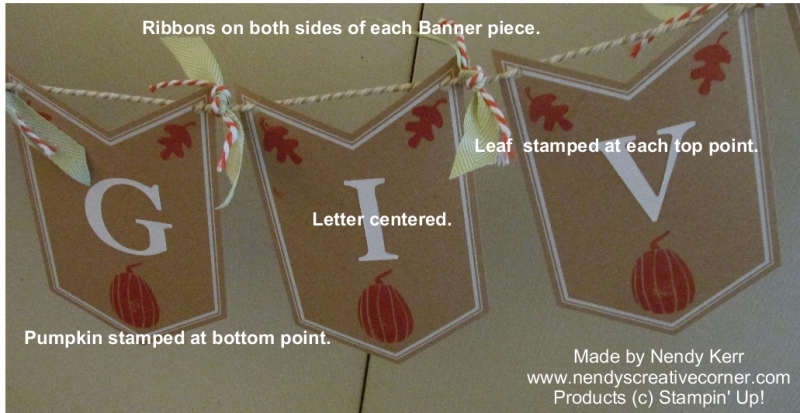 Use the Banner Pieces and the cord from the Kit.
1.  Choose "Thanksgiving" OR "Give Thanks".  Choose your letters and get them ready.  Determine letter placement and if you want to add a background shape behind the letters such as one cut from a Framelit.  I cut my letters out of Whisper White card stock.
2. Choose your Pumpkin Stamp to stamps at the bottom of each Banner piece.  Choose the small leaf to stamp at the top corners of each Banner piece.  I used Tangerine Tango ink for both the leaves and the pumpkin.
3.  Now add your letters and do your stamping.  If you chose "Give Thanks" you can stamp all three Pumpkins on Whisper White card stock and cut them out with the Framelits to add to the Banner Piece in-between the words.  Use Dimensionals behind the pumpkins if desired.
4.  Line up your Banner pieces in the correct order.  Take the cord that comes in the and thread it through the holes.  Just make sure you thread each Banner the same.
5.  Now for the Ribbons.  You will cut 6″ lengths of both of your Ribbons.  (My six inch lengths had the diagonal cut on the outside of the 6 inches so my thicker ribbon is between 7-8″ total length.)
~Celebrate = cut twelve of each ribbon
~Give Thanks = cut twelve of each ribbon
~Thanksgiving = cut 13 of each ribbon
You can tie the ribbons by holding them together and tying it like it is just one ribbon, OR you can tie each ribbon on separately.  Whichever you think looks best.  I did the first option.
Tie the ribbons in a loose knot starting on the outside of the first Banner piece.  Tie ribbons between each Banner Piece and also on the outside of the last Banner piece.
6.  Figure out where you are going to hang it and how long you want it to be.  You will need at least 2″ between the outside Banner Pieces and the loop you will tie to hang it.  Tie the loop.  Even out the Banner pieces and Ribbons so they are evenly spaced.  See how you like the positioning and the way it looks hanging.  Adjust if necessary until it is how you want it.  Cut the cord.  Admire your Banner.
Happy Thanksgiving Crafting!
Nendy Kerr