I am excited to finally be able to use the Bow Punch!  I pictured this card in my head in Gold.  You could also make it in Silver or any other color if you want.  This is a great card to hand-deliver to someone special, perhaps with a gift.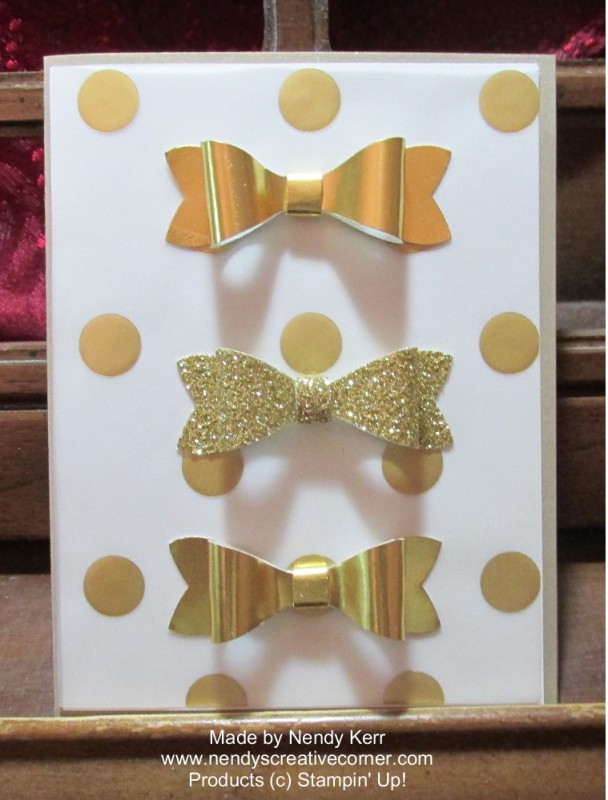 SUPPLIES:
Card Stock:  Brushed Gold #102935
Gold Fancy Foil Designer Vellum #133363
Gold Foil  #132622
Gold Glimmer Paper  #133719
Whisper White
Punch:  Bow Builder #137414
Other:  Glue Dots
Bone Folder
INSTRUCTIONS:
1.  Cut your Brushed Gold card base at 5-1/2″ x 8-1/2″.  Score and fold at 4-1/4″.
2.  Cut your Polka Dot Vellum and Whisper White card stock at 4″ x 5-1/4″.  Put Glue Dots on the back side of the outer Polka Dots and attach to the Whisper White card stock.  Trim if necessary.  Attach to your card base.
3.  You will need to punch twice for each bow for a total of 4 Gold Foil and 2 Gold Glimmer Paper.  Use your Bone Folder to curl the long Bow piece between the two end tabs.  Also curl one of the center pieces for each bow.  (You will have extra of this piece.)
4.  Assemble your Bow.  Put a Glue Dot on one tab of the long Bow piece and attach the two tabs together.  Repeat for the second long Bow piece.  Attach the two Bow pieces together with a Glue Dot on the center tab.  Now attach the ribbon ends with Glue Dots on the center tabs.  You might also want to add a second Glue Dot close to the center tab to keep the Ribbon end in place better.  Now put a Glue Dot on the center back of your Bow pieces.  Place the end of the small Center piece in the center of the Glue Dot, then wrap it around your Bow layers and attach it tightly to the Glue Dot.  It should meet perfectly!  (or really close to perfectly!!)
5.  Assemble your other two Bows.
6.  Lay your Bows in the desired positions on your card front.  Attach each Bow to the card using three Glue Dots: one in the center back, one on each part of the Ribbon back.
7.  Write on the inside of your Gilded card.
Note:  This card will NOT fit inside a regular envelope unless you flatten the Bows.  I would not recommend flattening the Gold Foil Bows as you will leave Bone Folder marks.
Happy Card Making!
Nendy Kerr