This fun little 2-4-6-8 Box seems to have been around for quite some time but this is the first one I have made.  It is quick and easy even for beginners!  Make one today.  It will take you less than 10 minutes to put together.  Figuring out what colors and card stock to use is another story.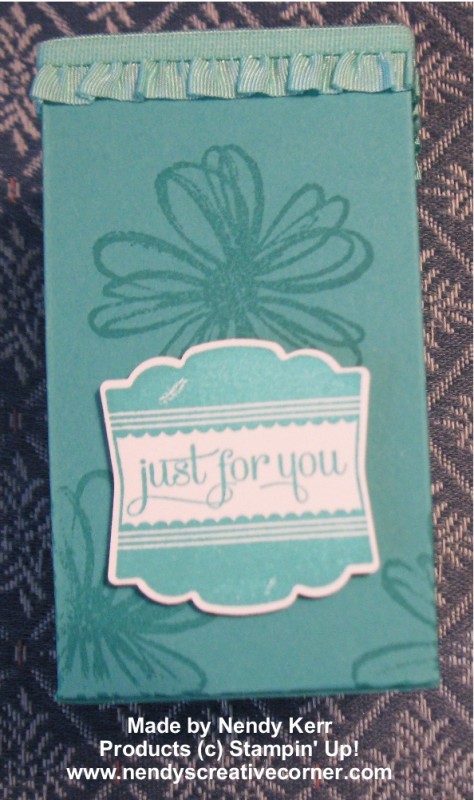 SUPPLIES:
Stamps:  Flower Shop  w#130939  c#130942  (Bundle with Punch  w#130727  c#132726)
Label Love w#130619  c#130622  (Bundle w#132723  c#132722)
Card Stock:  Bermuda Bay
Whisper White
Ink:  Bermuda Bay
Punch:  Artisan Label #130920  (Included in Label Love Bundle above)
Other:  Coastal Cabana Trim #130024
Simply Scored Tool #122334  OR Paper Trimmer with Scoring Blade/Bone Folder
Sticky Strip
Tombow Multipurpose Liquid  Glue
Bone Folder
INSTRUCTIONS:
1.  Cut your box at 5-1/2″ x 8-1/2″.  Yes, you can get TWO boxes from ONE Sheet of card stock!
2. Score as shown on Template.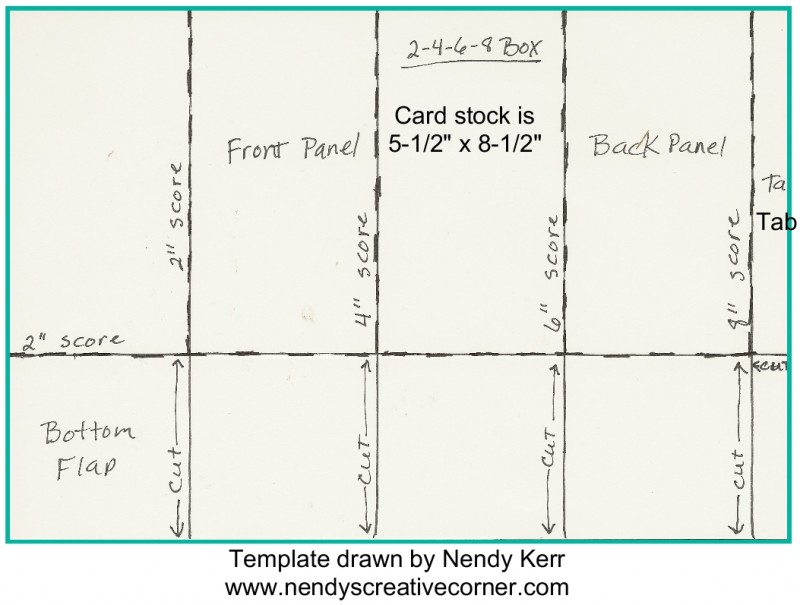 3.  Stamp either randomly or in a pattern, depending on the look you want.  I stamped the image on the Front Panel and Back Panels in the positions I wanted and stamped the rest randomly.  I did stamp the bottom flaps also.
4.  Now fold on all the score lines.  Cut the bottom flaps up to the 2″ Score Line as shown.  Completely cut off the little rectangle in the Bottom Flap area under the Tab.
5.  Place Sticky Strip on the Tab next to the fold line, and along the top of the box so it touches the Tab Sticky Strip, but doesn't overlap it.  Remove the Red Backing along the top.  Cut 8-1/4 inches of Coastal Cabana Stretch Trim.  Adhere it to the Sticky Strip without stretching it.  Leave the extra on for now.
6.  Remove the Sticky Strip backing from the Tab.  Fold the Back Panel on top of the rest of the box (stamped side showing).  Now fold the opposite end over.  It should lay over the Sticky Strip and the box will align properly.  You can cut off the excess Trim or Ribbon now.
7.  Now for the bottom flaps.  Fold in one of the side flaps to start your box bottom.  Put Tombow Glue around the edges.  Fold over the other side flap.  Now fold down the back flap and put glue around the edges.  Fold the Front Flap down now.  Turn the box right side up.  Use your Bone Folder along the box bottom to secure your Glue.
8.  Stamp a sentiment from the Label Love stamp set in Bermuda Bay ink on to Whisper White card stock.  Punch it out with the Artisan Label Punch.  Adhere to the front of your box with either Dimensionals or Glue.
9.  What a fun little box to keep on your desk filled with treats or pens.  Or put a gift in and give it to someone special!
Happy Stamping & Box Making!
Nendy