I have had a couple of family anniversaries this week.
I have wanted to try the Faux Mother-of-Pearl technique.  The uneven sparly look is the Faux Mother-of-Pearl technique which is done with Shimmer Paint.
I also wanted to use a new stamp set from the Holiday mini catalog (starts September 1st!).  I had to make a slightly different version for each one.  I hope you like them as much as I do!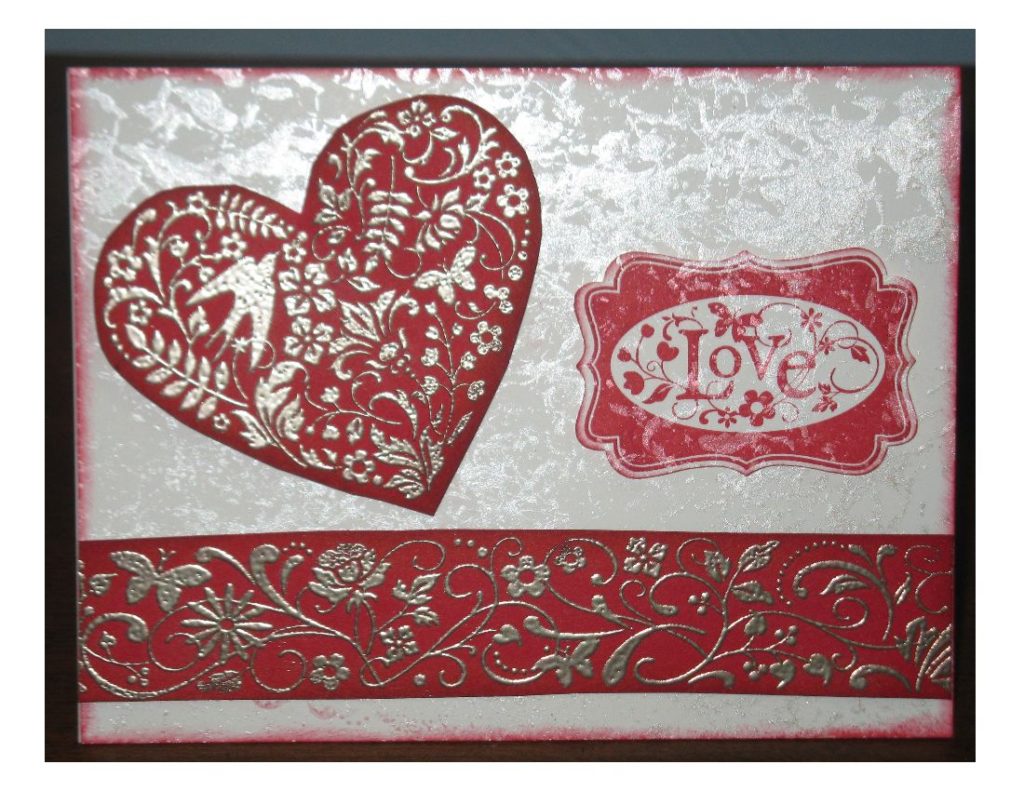 SUPPLIES:
Stamps:  You Are Loved (Holiday Mini) page 40  w#123777  c#123779
Love Blossoms Wheel  (Holiday Mini) page 40  #123839
Card Stock:  Whisper White card front, scrap, & card base
Real Red
Inks:  VersaMark
Real Red
Cherry Cobbler
Punch:  Decorative Label  page  209  #120907
Other:  Frost White Shimmer Paint  page 203  #116854
Pewter Embossing Powder (Holiday Mini) page 31  #124114
Heat Tool  page 201  #100005
Stampin' Sponge page 203  #101610
small paper plate
wax paper
Directions:
1.  Take Whisper White 5-1/2″ x 4-1/4″ card front.  Place on paper to protect your work surface.  Pour about a 1/2″ circle of Frost White Shimmer Paint onto the paper plate.  Tear off a piece of wax paper about 8-12″ long.  Scrunch it up.  Partially unscrunch it.  Turn it over and scrunch it up again.  This time make it so you can hold it in your fingers without getting paint all over yourself.  Scrunch up the lower part again.  Now pounch the scrunched wax paper into the Shimmer Paint.  Pounch it on the paper plate so the paint won't make globs on your card front.  Now pounch it randomly around your card front leaving some parts without Shimmer Paint.  Repounch your wax paper in the Shimmer Paint as needed.  Continue until you are happy with it.  I like moving my hand in different positions and also rotating the paper around.  The Paint will become more shimmery as it dries.  Also do a scrap of whisper White so you can stamp "Love" and punch it out with the Decorative Label punch.  You have just done the Faux Mother-of-Pearl technique.
2.  Run your Embossing Buddy over your Real Red Card stock.  Ink up the "Heart" stamp with VersaMark and stamp on the Real Red card stock.  Apply Pewter Embossing Powder.  Melt with Heat Tool.  Cut the heart out with scissors.
3.  Put the Love Blossoms Wheel into the Handle.  Run 8-10 times, going the same direction, over your VersaMark Ink pad.  Now roll across the Real Red Cardstock making sure to keep the wheel level so it makes a good impression.  Apply Pewter Embossing powder.  Melt with Heat Tool.  Trim.
4.  Stamp "Love" image on your scrap of Faux Mother-of-Pearl.  Use Real Red for a lighter red, or Cherry Cobbler for a darker image.  Punch out.  It will have an uneven look due to the Shimmer Paint.  Hold it up to the light and see it shimmer!
5.  Sponge edges of Heart and Wheeled images with either Real Red or Cherry Cobbler ink and a Stampin' Sponge.  Sponge around edges of your Faux Mother-of-Pearl card front and your "Love" image.  .
6.  Attach the wheeled strip with Snail.  Attach the Heart and Love images with Dimensionals.
7.  Admire your Faux Mother-of-Pearl card.  Hold it up to the light and move it around.  It is SO beautiful!!