Here is a Blossom Box.  I knew I wanted to make this when I first saw it in the catalog.  It does need to be made with regular Designer Series Paper-not cardstock or Specialty Designer Series Paper.  The regular DSP folds so much more precisely which means the box looks much better.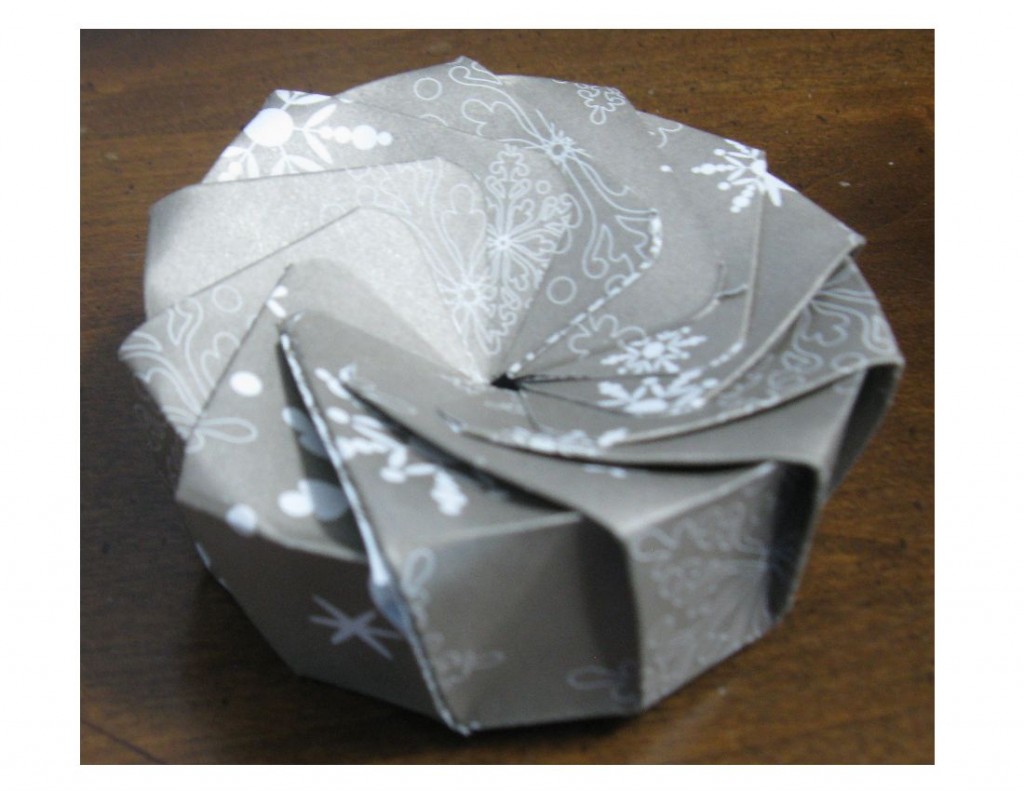 SUPPLIES:
Designer Series Paper (DSP):  Christmas Cocoa (retired)
Big Shot:  Blossom Box Bigz L die  page 221  #123127
Standard Premium Crease Pad page 215  #113476
1/2 sheet cardstock to use under the die in the Big Shot
Tools:  Scissors
Bone Folder  page 207  #102300
Sticky Strip  page 206  #104294
Directions
1.  Cut your piece of DSP in half (two: 6″x12″ pieces).
2.  Big Shot Sandwich:  Acrylic cutting pad, 1/2 sheet cardstock, Blossom Box die, your choice of DSP with the side you want on the outside face down, Standard Premium Crease Pad.  Run through Big Shot.  Repeat with the second piece of DSP.
3.  Trim the tabs off one of the Blossom Box pieces.
4.  This is the step that makes your box easier to fold.  Use your Bone Folder to firmly crease all the score lines in the following order:  center circle which will form the box bottom, middle circle which will form the box top, the straight lines that run from the center circle to the indents on the outside edge, the two part lines that form "v" shapes in the DSP-these will form the Blossom Fold at the top of the box-be accurate!  Recrease the Center and Middle circles.
5.  Attach Sticky Strip to the tabs.  Peel off the red part, then cut out the "V" shapes in the tab.  Line up the center circles and adhere.  Crease the score lines along the tab again.
6.  Now to turn this into a working Blossom Box!  Hold the Blossom Box in the palm of your hand.  Try to hold up four sides using your fingers.  Now start folding the straight and the "V" lines like a fan going all around the edges of the box until you have folded all of them.  If a score line doesn't fold properly, use your bone folder to make a better crease and try again.
7.  Heave a sigh of relief!  Admire your beautiful Blossom Box!!