Here is a fun little card box that holds a snack pack of M&Ms or a flat candy bar.  It is quick and easy to make.  I have made a variety of these and love them all.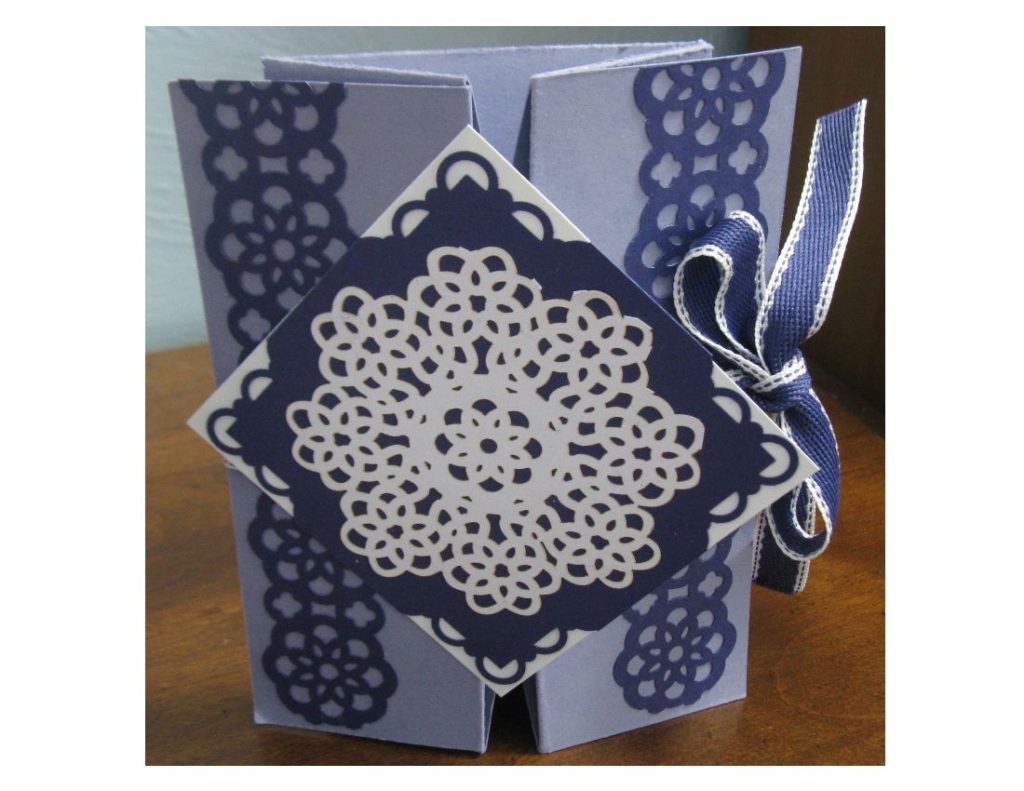 SUPPLIES:
Card Stock:  Wisteria Wonder  page 176  #122922
Concord Crush  page 176  #119792
Whisper White  page 180  #100730
Flirtatious DSP Doily  page 183  #122360
Punches:  Scallop Trim Corner  page 211  #118870
Lace Ribbon  page 211  #122362
Ribbon:  1/2″ Stitched Poly Ribbon in Concord Crush page 194  #119266  (21″)
Other:  Simply Scored Tool #122334
Sticky Strip #104294
Ruler or straight edge
8-1/2″ x 10″ Template
Updated July 16, 2012
DIRECTIONS:
1.  Cut card stock to 8-1/2″ x 10″.  Score the 8-1/2″ side at 1-1/2″ and 7″.  Score the 10″ side at 2″, 3-1/2″, make a small mark at 5″, score at 6-1/2″, and 8″.  Flip card stock and make another small mark at 5″.
2.  Fold all score lines.  Fold Line B in.   Fold Line C out.  Fold Line D in.  Cut out corner squares.  Cut Tab A  as shown.  Take your ruler and score from the 5″ marks to the corners of that box.  Fold the score lines out.
3.  Decorate the outer panels and card inside as desired.
4.  Place Sticky Strip on all Tab A's.  Adhere each Tab A to the back/outside of the adjoining side.  Make sure it is aligned properly before securing it.  Repeat with all Tab A's.
5.  Now make and decorate your Front Focal Point.  I don't remember the measurements as I gave it away.  Maybe a 3″square.  The first one I made used a 2-1/2″ x 3-1/4″ panel.
6.  Decide where you want your ribbon position on the Outer Panels when the card is closed.  Tie the bow on the Right edge.  Move ribbon up slightly.  Put Sticky Strip on the left Outer Panel and move tied ribbon down and adhere to Sticky Strip.
7.  Now adhere your Front Focal Point to the Left Outer Panel with Sticky Strip.  (Put the Sticky Strip on the back of the Left Side of the Focal Point.)  SNAIL just isn't strong enough as the Focal Point will keep falling off.
8.  Add treat, gift card, or surprise as desired.  I used a small pack of M&M's.