HERE is a flyer if you already have MDS.
If you have ever wanted to try some My Digital Studio products, now is your chance! If you are currently using another scrapbooking program, such as PhotoShop Elements, THIS FLYER will tell you how to download it (Look at the bottom).
NOW FOR MY POST!
We made these cards at my last class.  Mine is the first one.  My daughter-in-law stepped hers up a bit, so I am showing hers also.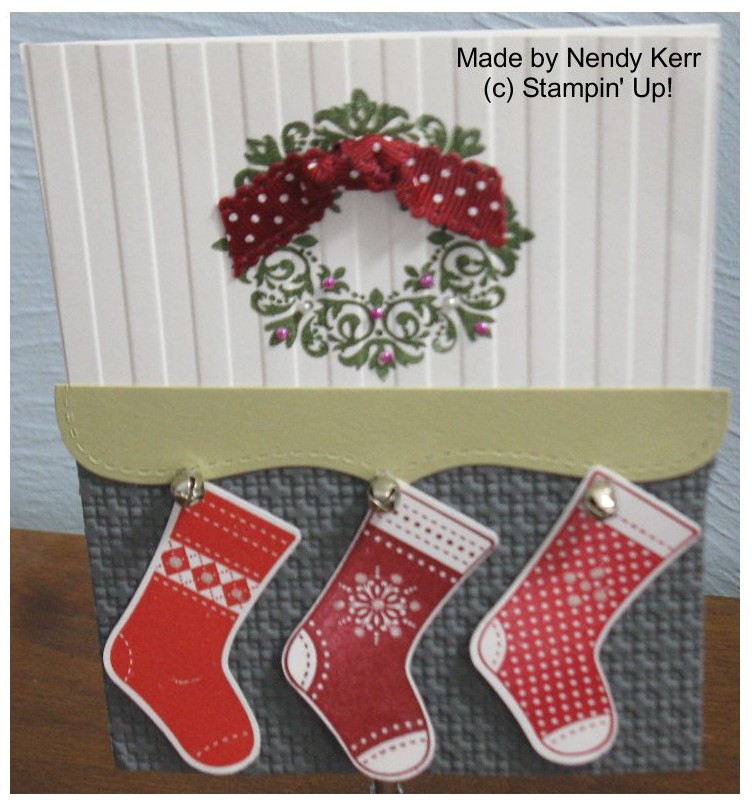 Here is Kristi's stepped up version.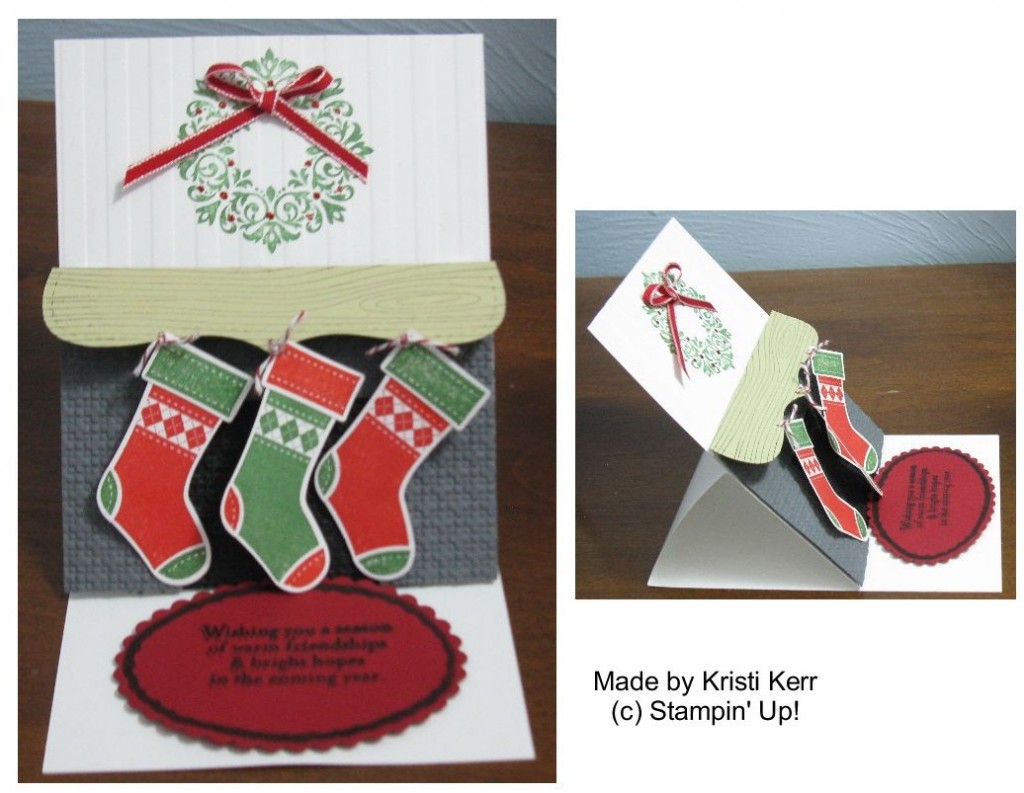 SUPPLIES:
Stamps:  Stitched Stockings  (Holiday Mini) page 34  w#123782  c#123784
Bright Hopes  (Holiday Mini) page 32  w#122690  c#122692
Woodgrain page 151 #117100
Inks:  Garden Green
Real Red
Cherry Cobbler
Poppy Parade
Early Espresso (Kristi's-woodgrain on mantle)
Card Stock:  Whisper White
River Rock
Basic Gray
Basic Black (Kristi's-fireplace center)
Cherry Cobbler (Kristi's-rug)
Punch:  Stocking Builder  (Holiday Mini) page 34  #124095
Big Shot:  Top Note die (fireplace mantle) page 222  #113463
Stripes embossing folder  page 218  #123128
Square Lattice embossing folder  page 218  #119976
non SU scalloped oval Nestability for rug
Embellishments:  Mini Jingle Bells  (Holiday Mini)  page 30  #124116
Cherry Cobbler 1/2″ Scallop Dots Ribbon  page 195  #124138
Basic Pearls  page 198  #119247
Real Red 1/8″ Taffeta Ribbon page 195  #119251  (Kristi's)
Cherry Cobbler/White Baker's Twine  page 194  #123125  (Kristi's)
VersaMark Ink pad, Black Embossing powder page 201  #109133 (Kristi's-rug sentiment)
Black marker (Kristi's-around rug)
non SU:  Red Sharpie marker
BASIC DIRECTIONS:
1.  Stamp wreath in Garden Green on Whisper White card front (4-1/4″ x 5-1/2″).  Position in Stripes embossing folder making sure top portion with wreath is positioned as desired.   Color pearls with Red Sharpie marker as place as desired on wreath.  I also used some white pearls.  I used the smallest size.  Tie desired ribbon in a knot or bow.  Adhere to wreath with glue dots.
2.  Run Basic Gray card stock (2-1/2″ x 4-1/4″), and Basic Black card stock (about 2″square) if desired, through Big Shot using Square Lattice embossing folder.  Adhere to bottom of card front for your fireplace.
3.  Cut River Rock "mantle" (3/4″ or 1″ x 4-1/2″) using Top Note die, being sure to cut the longest side.   Stamp Woodgrain on with Early Espresso ink if desired.  Adhere to card front:  flat-use Snail; for 3D effect: place one Dimensional at edge then place 2 Dimensionals stacked together next to the 1 Dimensional (do at both side edges and in center).  You want the top of the mantle to be close to the striped embossed card stock, and you want the mantle raised/higher toward the Gray card stock.  Hopefully this is clearer than mud.  🙂
4.  Stamp stockings on Whisper White cardstock and decorate as desired.  Punch with Stocking punch.  If using Baker's twine, punch hole with Paper Piercing tool and thread twine through hole and tie a bow (You can also pierce a hole in the mantle to attach the stockings with Baker's twine).  If using Mini Jingle Bells, adhere with glue dots.
5a. If you want a flat card, attach the whole card front to the 5-1/2″ x 8-1/2″ Whisper White card base.  You are finished!
5b.  If you want an Easel Card:  score the 4-1/4″ x 11″ Whisper White card base at around 3″ (depending on how you want you easel) and 5-1/2″.  Fold as shown in picture.  Lay the card front over the card base with the extra fold.  Adhere card front to the card base at the lower half only-the top needs to be adhesive free so the card can stand up properly. (See photo)  Now make a rug using the Nestability, an oval punch or die cut, or a rectangle piece of card stock.  It needs to be wide enough and deep enough to look nice in front of the fireplace and to help your card stand up at the desired angle.  Stamp or decorate as desired.  Adhere with Dimensionals.  Stand it up and admire your beautiful card.
Happy Stamping!