My Daughter-in-law came over Friday and we worked on our August Paper Pumpkin Kits together.  She finished hers while over here.  I finished mine later.  I helped my grandson make a Wooden Crate using the Big Shot-he did most of the work himself.  My 2-1/2 year-old granddaughter made a card using some of the leftover Paper Pumpkin Pieces.
Here are the cards.  The only additional thing I used was regular Glue Dots from Stampin' Up!  I am just not coordinated with the ones that come in the Kit.  My older grandchildren (age 5+) find them easy to use.
Here are the two cards made as shown: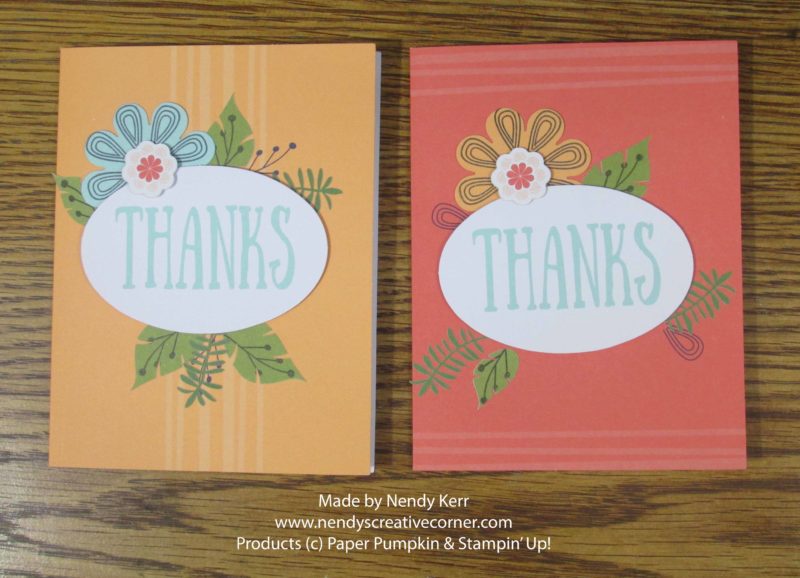 Here are the two stepped up cards.  I used the Lovely Inside & Out stamp set  Wood Mount #144008, Clear Mount #144011.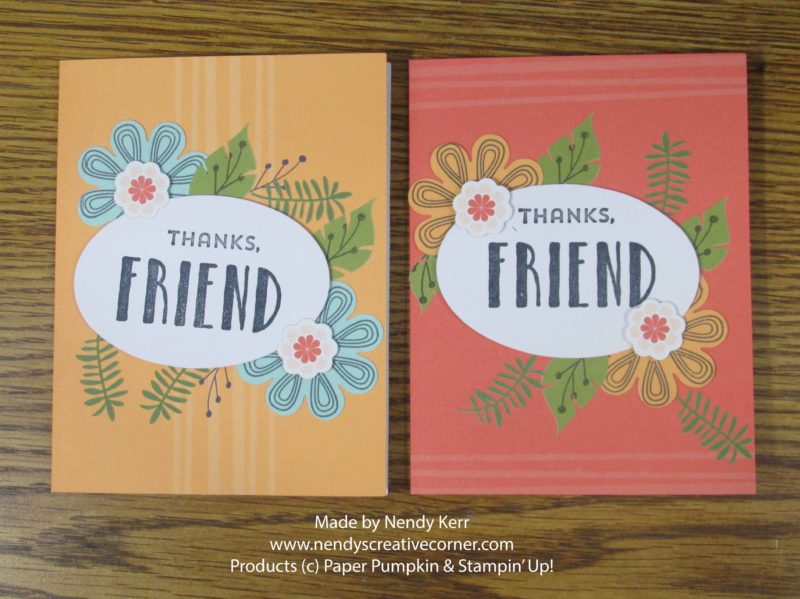 Here are the Tags: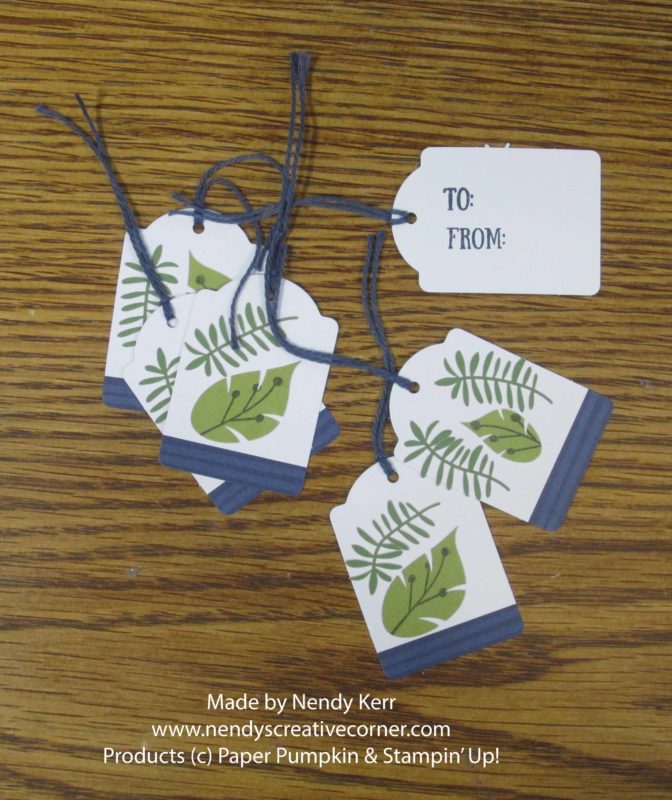 Here are two extra Blank Tags: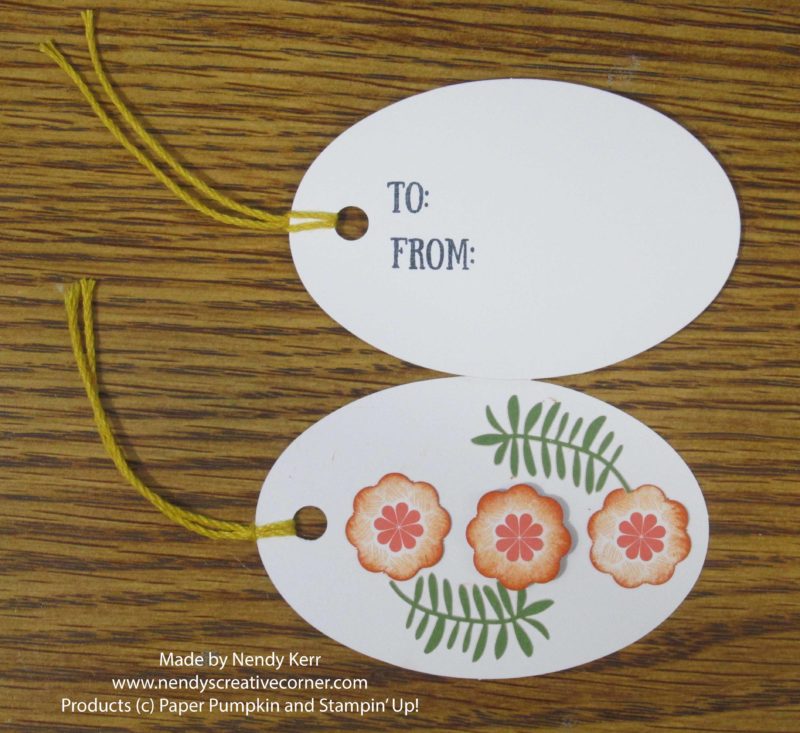 Here is the whole thing wrapped up in the included Gift Box: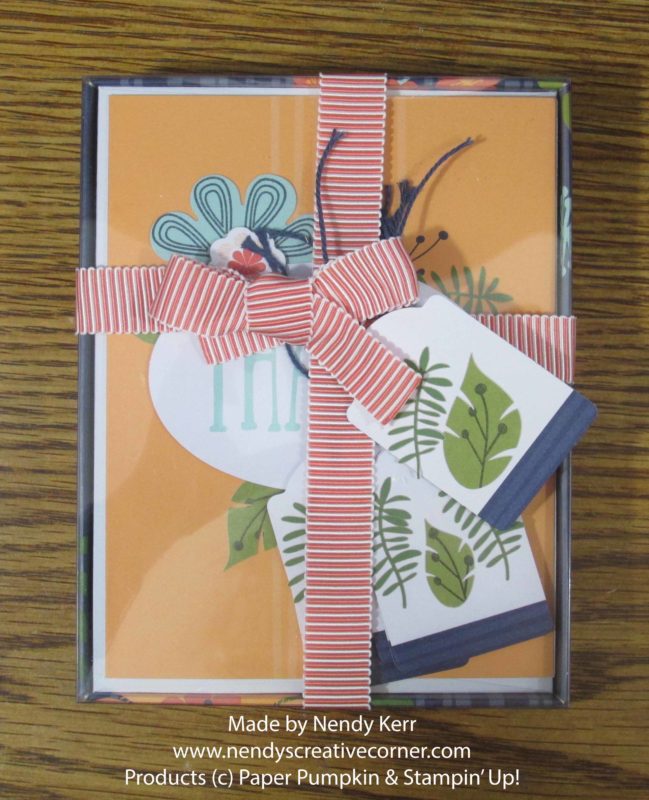 I had lots of extra fern leaves lett.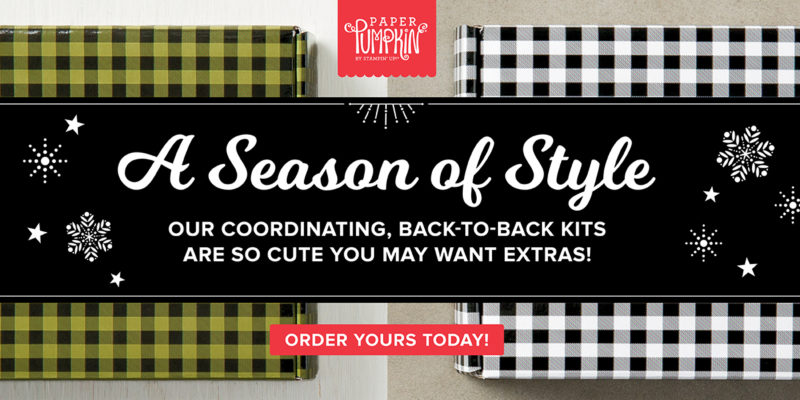 Get YOUR OWN Paper Pumpkin Kit every month…. Something FUN in your mailbox and a seasonal surprise for your to have some playtime!  Take some ME time to work on your kit.  Invite your children to play with you.  My East Coast grandson was disappointed I did not bring a Paper Pumpkin Kit for us to play with together last time I was there.
Each Kit includes a Paper Pumpkin EXCLUSIVE Photopolymer stamp set, (your first kit also includes a clear stamp block to be used with future kits), 1-2 one inch ink pad(s), all the card stock, die cuts, envelopes, embellishments, etc to make the projects PLUS a sheet of glue dots and sometimes other adhesives.  The projects are usually cards, but there have been gift bags, treat bags, a small wreath, a mini scrapbook, and some other non-card items for you to make.  Each Kit reflects the current season.  You will usually get something Christmas related in November, Valentine's Day in January.  A video link will come in an email sent to you after your Kit has been mailed so you can watch it to get an idea of how to put it together.  OR follow the instructions included on the sheet with the Project Picture included in your Kit.
1.  Monthly subscription is $19.95 + tax each month for your complete craft kit.
2.  Prepaid subscription for either 1, 3, 6, or 12 months.
Come joint the Paper Pumpkin FUN!