I have finally finished the next My Digital Studio 101 Video – Make Your Own Printables.  This is a simple process.  It took me less than 15 minutes to make the two cards and print them on one sheet of 8-1/2″ x 11″ card stock.  It would have taken me less time but I was talking while making the video.
Here are the cards all cut, folded, and ready to use!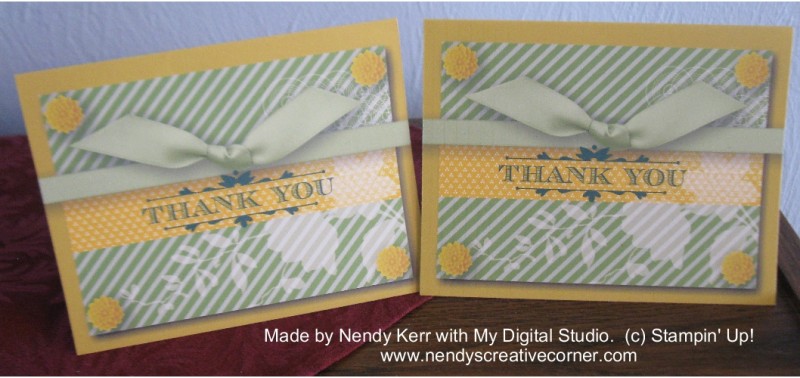 Now watch the video.  Feel free to pause it while making your own Printable.
SUPPLIES:
My Digital Studio Software
Summer Starfruit card stock included with My Digital Studio.  All Basic card stock colors are included in MDS.  There will be a FREE update sometime after May 31st to add the NEW Colors!
Tea Time II Designer Kit-DSP Pattern 1  #129882
Dahlias – Daffodil Delight  #130979
Satin Ribbon-Certainly Celery  #121063
Celebrate Any Day Designer Kit-Thank you stamp brush in Handsome Hunter #127757
NOTES:
Here are a few notes to help clarify parts of the video and so you can get the project started
1.  Choose "Custom" from the Project Options.  Then choose 8-1/2″ x 11″ Landscape.  Click "Create" and the project will open.
2.  Grid Lines.  Click on the desired line on each ruler.  Lines can be selected and moved using your cursor and mouse.
2a.  Top Ruler Grid Lines:  1/4″, 1/2″, 5-1/4″, 5-1/2″, 5-3/4″, 10-1/2″, 10-3/4″.
2b.  Side Ruler Grid Lines:  1/4″, 1/2″, 4″, 4-1/4″, 4-1/2″, 8″. 8-1/4″.
3.  Cropped DSP measurements:  width:  4.71, height: 3.43
4.  When I talk about using arrows I am talking about using the arrow keys on your keyboard to make fine position adjustments of the item you are working with.
5.  Keyboard Shortcuts:  These are standard shortcuts for most computer programs.
Tip:  If you are using a PC hold down your "CTRL" (Control) Key and then (while still holding down your Control Key) hold down the Key mentioned also.  This means you are holeing down both Keys for a few seconds.  If you are using a MAC follow the same process except hold down your "Apple" (Command) Key instead of the PC "CTRL" Key.  These shortcut codes can also be found in the "File" dropdown menu at the top left of most programs.  Most items in the dropdown menus on this top toolbar will have shortcut codes listed next to the action item.  Items with "*" are MDS Only shortcut codes.
Save = CTRL + S
Start New Project = CTRL + N
Open a Previous Project = CTRL + O
Copy = select the desired item, CTRL + C
Paste = CTRL + V
Cut or Remove = CTRL + X
Undo = CTRL + Z
Select All = CTRL + A
*Select All Embellishments = CTRL + Shift + E
*Group Items so they will stay together when moved = CTRL + G
*Ungroup Grouped Items = CTRL + Shift + G
*Add a Page = CTRL + =
Print = CTRL + P
These are the short cut codes I use most.

6.  Printing.
~Select "Share" then Print on the right sidebar OR use CTRL + P.  They both work!  There is also a button under "File" in the top left corner.
~Look over the items in the right half of the Printing Box.  You will especially want to click the "Properties Button" to select the quality of printing desired.  For your first printings test out several settings and decide which you want to use for different projects.  I started with the one that uses the least amount of ink and move up a couple of choices.  The lower ink choices work for most projects in my opinion.
~Now go to the "Page Setup" Button in the lower left corner under the picture of your project.  Set your Margins.  I use .25 because that is the minimum border my printer will accept.  Test out other Margin Options if you want.  Click OK.
~I always review the options in case I forgot to do something.
~Put Whisper White card stock in your Printer.  Select Print.
Happy Digital Project Printing!
Nendy