Happy St. Patrick's Day whether you are Irish or not!  Today I have a MDS Frameable to share with you and a recipe.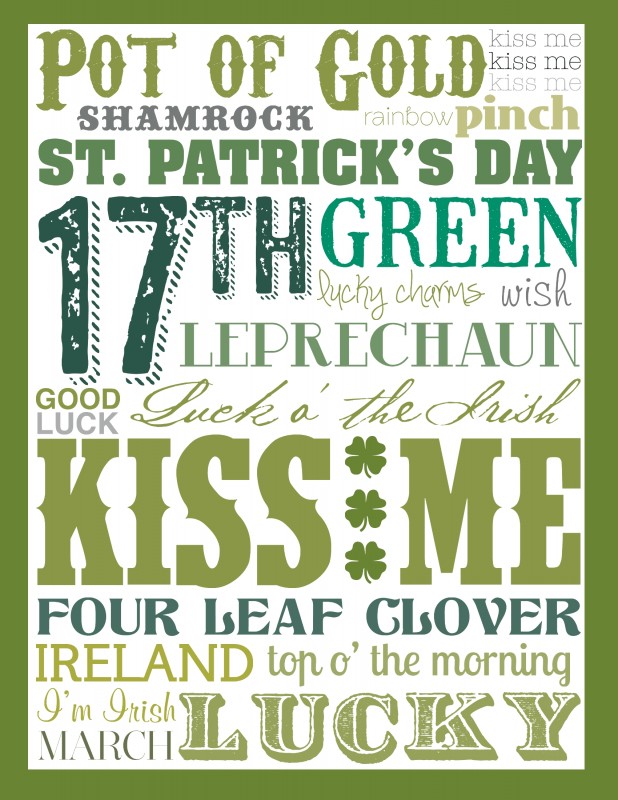 Lucky Frameable Designer Template-Digital Download  #129930  $1.95
Each of the images in the Frameable is a stamp.  I did change the color and opacity of quite a few images to get it the way I wanted it.  It took me about 5 minutes.  They just left too many gray in my opinion.  So I changed them to different colors of green.  They also had the opacity set at varying levels.  I moved most of them back to 100% opacity.  I did add a Whisper White page layer resized so it would fit behind the words.  I then added a Gumball Green background.
My DH has Irish in his ancestral lines so we have enjoyed celebrating St. Patrick's Day with Corned Beef, Cabbage and Potatoes.  This is a fun meal and is quick to make in a Crockpot.  If you have less time, just do it on the stove top.
Just put the potatoes in the bottom (I like to use 1-2″ Dutch Gold Potatoes or other small potatoes). Put in the Corned Beef and sprinkle with the spices that come with it, then cover with water and cook for about 7 hours.  One hour before dinner time, cut your cabbage in enough wedges for the number you are serving and add them to the Crockpot, making sure they are in the liquid.  Cook for 45 minutes to 1 hour until the cabbage is as soft as you want it.  Put the cabbage and Corned Beef on serving platters and the potatoes in a bowl and serve.  The potatoes are seasoned enough we just eat them plain.
Happy St. Patrick's Day!
Nendy Kerr