Today is the day YOU can order from the NEW Holiday Catalog.  Since my computer and I are separated, for the time being, click on the picture for a PDF of the catalog for you to enjoy.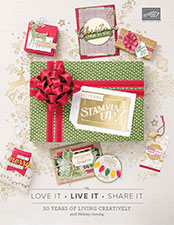 Something NEW:
Have you ever wished you could get everything to make the cards shown on the catalog page?
NOW YOU CAN!!
Check out these "You Can Make It" pages in the Holiday Catalog:
Page 7 Making Christmas Bright Cards #150094
Page 21 Santa's Workshop Cards #150095
Page 35 Wishing You Well Cards #150096
Page 44 Pleasant Pheasants Cards #150097
Look at the pages above to see what is included as they include a variety of supplies.
Check out My Online Store to order from the NEW Holiday Catalog and also the Annual Catalog.